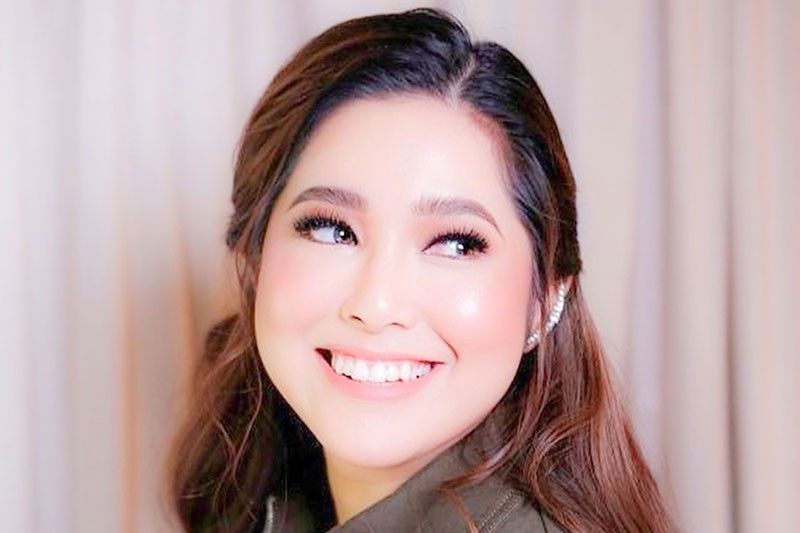 A 'Braver Moira' goes to Cebu
Karla Rule
(The Freeman) - September 30, 2019 - 12:00am
CEBU, Philippines — Using her talent to remember the seasons of her life, Moira Dela Torre paints a picture of what bravery looked like from her point of view. Despite still reeling from recent setbacks, it seems the cracks on the surface are just tell-tale signs of the light and love that's ready to break out.
"Braver Moira," the title of the singer-songwriter's concert series which is accompanied by her upcoming album, is coming to Cebu on Oct. 25 at the Pacific Grand Ballroom of Waterfront Cebu City Hotel and Casino.
In a digital press conference Friday night, Moira and her husband Jason Marvin Hernandez told Cebu media aboard the Wish 107.5 bus parked at the Garden Row of IT Park about the inspiration behind the newest album which was built around the idea of winter time.
She said her "Malaya" album last year (accompanied by the "Tagpuan sa Kia" concert) was about the season of fall, and the art of letting go. Now, winter has come and it's about loving the choices we've made in the past seasons of our lives, sticking by them, and persevering despite the harsh conditions.
"It's everything, even the good times, not just the challenging times," said Moira, 25, when asked how she realized that she's gotten braver throughout her shaky 2019 which not only saw a dreamy wedding with Jason, but also the bashings she received as an "Idol Philippines" judge, and most recently, a botched nose operation that led to three months of "house-arrest," numerous hospital trips, and risk of blindness and death.
"In a perfect set-up, I would say that what made me braver is that I don't feel scared or I feel stronger. But it is really persevering even when I don't feel brave, when I don't feel strong. It's rising up to the challenge even when I don't feel enough. It's keeping my feet on the ground and sticking to the fight and finishing the race even when I want to quit," the hitmaker said.
Moira talked about how she was diagnosed with depression. But she was fortunate to find strength in her pain which was mirrored in her song "Tagpuan." The track was meant to be a heartbreak song, sitting unfinished in her drafts for two years. When her husband came along, she was able to finish it in ten minutes. That's when she realized that the things she once thought were meant to hurt were actually lessons meant to teach her strength.
"We won't see that come to pass, we won't see the strength you never knew you had in you if you gave up. It's not just about me being brave, it's about letting people know the strength I found in me that I know they have in them."
Moira has signed up for workshops while preparing for "Braver," where she discovered a lot about herself – how she can also somehow belt, and make snappy moves on stage. She also found her strong personality and her ability to be a finisher. For someone as shy as Moira, these are feats she never knew she had in her.
One of the things that used to be scary for her was collaborations. She has overcame that fear with not one but many joint projects with Ben&Ben, I Belong to the Zoo, Yeng Constantino, Erik Santos, and international artists Harv, and Us the Duo.
"I actually enjoy celebrating other people. It's something I'm passionate about, to bring everybody with me," said Moira. "I love that I get to share my dreams with people."
Of course, who better to ask about knowing Moira than her husband, the singer-songwriter who has learned much about his wife throughout their eight-month-old marriage.
"Moira is a great leader," Jason began. "Ang galing niyang mag-assign ng mga kailangan gawin at alam niya kung sino yung dapat kunin. She has an eye for talent. Nakukuha niya ang tamang tao for her team. We write songs together but actually genius behind it is really her. No one tells her what to do."
Apart from the problems posed by Moira's recent necrosis experience which made her fear for her career and eventually her life, what inspired "Braver" was also her other half.
"At one point Jason cried to me and prayed for me. If there was one person that really made me brave and inspired so many of my songs, it's my husband," she shared.
"He really stuck by me. It wasn't the easiest thing to just get married, go to the honeymoon and pagbalik wala na, in and out of the hospital. It wasn't easy living with somebody who was in pain, depressed, who really didn't know what to do and where to go next. Jason was patient, he was kind, he was loving. Without complaints, he just held me and showed me that he was more than the husband I prayed for."
For her Cebu concert next month, Moira is beyond excited to perform for her waiting fans. She said that Davao and Cebu are among the cities that welcomed her the warmest when she was just starting out. It was here, she said, where she had her first mall shows, where the crowd turnout was far from the empty seats she used to get.
"Cebuanos can expect authenticity from me. I admit, I'm not the strongest singer, I'm not the strongest performer but I am a really strong songwriter. I know I'm a great storyteller and that's what they can expect."
"Braver: Moira" in Cebu is the third leg of the series after her Manila and Davao performances. Among her guests are Ice Seguerra and I Belong to the Zoo.
"While Cebuanos are hard to please, they have the greatest hearts and they're so warm. It's such an authentic crowd. I'm just so excited. It's going to be hard to please Cebuanos if I tried to be somebody else. That's when the pressure's going to be felt by me. But I'm going to go as me. I'm going with my new songs, performing my new songs. It's not out yet. I have a story to tell so I'm very excited."