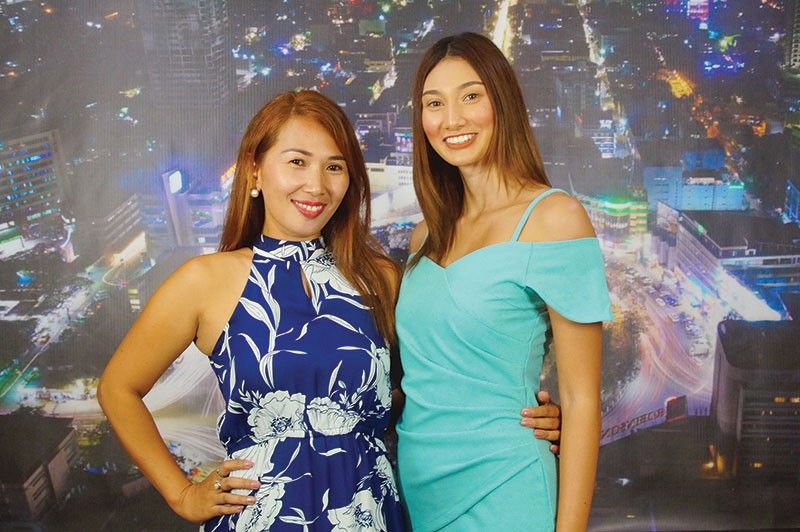 Em-Em Hann and daughter, Miss Mandaue 2019 Lorraine Hann.
Yasunari Ramon Taguchi
Miss Mandaue's mom to represent Philippines at Mrs. Global International Queen
CEBU, Philippines — Emilia "Em-Em" Hann was invited last year to represent the Philippines at Mrs. Global International Queen, but the pageant was held in South Africa the same month she was up to the neck with preparations for her daughter's debut. A mother's pursuits often take a backseat to their kids, after all.
With her daughter Lorraine just fresh from being crowned Miss Mandaue 2019 and no major commitment in the coming months, Hann no longer had a pressing reason to decline when she was once again asked by Mrs. International 2017 Jee Eribal to participate in this year's pageant.
Eribal, a Cebuana beauty queen, had been appointed as the National Director of Milestone Pageants here in the Philippines and among her tasks is to handpick a Filipina delegate for Mrs. Global International Queen.
Hann and Eribal know each other from My Pretty Mama Philippines, a Cebu-based pageant for mothers that had Eribal as its first winner in 2012 and Hann placing second runner-up in its 2014 edition.
"This year Ms. Jee asked me again and I said yes especially upon knowing that we are the host country," the 42-year-old mother of two said.
"The other reason I said yes is to grab this opportunity and to fulfill my dreams to be on the international stage to represent our beloved country and to make Cebuanos proud. This is a once-in-a-lifetime experience and I am so honored to be chosen."
Mrs. Global International Queen was formed by a group of media professionals from the print, electronic, public relation, events management, and advertising sectors based in India. With the aim of women empowerment and gender equality all over the world, the pageant has around 30 countries participating including those from Europe, Asia and the Americas.
This is the first year the Philippines is fielding a delegate as it plays host to the pageant in September. Mrs. Global International Queen organizer Mak Malik thought to venture into the country after seeing the winning streak of Filipinas in international pageants and after sitting as a judge in Mrs. Universe 2018 which was held in Cebu. "He saw how beautiful our country is," said Hann.
A Secondary Education major in Mathematics degree-holder from the University of San Jose-Recoletos, Hann joined her first pageant in 1994 at 17 years old. She is married to Steve, an American doctor, whom she shares two kids with: Lorraine, 18, and William, 15.
"I am so blessed and happy that I have such a supportive family. They give me their all-out support especially my husband who is always so excited every time I join a pageant."
When not taking her children to sports events and service club activities , Hann spends her free time bowling.
For Mrs. Global International Queen 2019, which will hold its coronation night on September 22 in Manila, Hann didn't look far when it comes to her trainers.
"I haven't really prepared yet other than practice my walk with Lorraine. I'm kind of busy since I'm helping my husband for his club's medical mission for harelip and cleft palate operation which runs one week starting June 1 and after that I'll be out of the country with my husband," she said.
"So I will start my serious preparations when I come back the middle of this month. As for mentors and trainers, Jee Eribal and my close friends from My Pretty Mama Philippines, Cheloe Ylaya and Daisy Rabaya, are more than willing to help me prepare for the pageant."
As for what was going through her head when her firstborn bested early favorites to nab the 50th Miss Mandaue title, Hann shared, "As a mother, of course, I was the one who was the most nervous that night and when she was announced as Miss Mandaue I thanked God for blessing her. I was overjoyed because I saw how hard she fought that night and I know how hard she worked to get the crown and she deserved it."