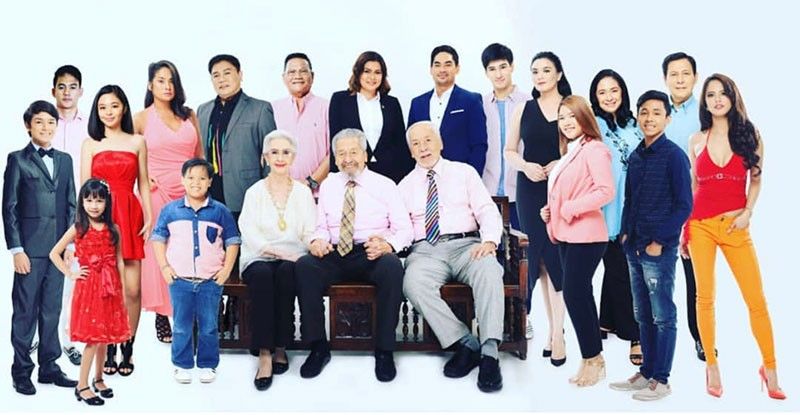 The cast of "Rainbow's Sunset"
'Rainbow's Sunset' picks up momentum, 'Fantastika' underperforms
After winning 11 major awards at the 2018 Metro Manila Film Festival, Joel Lamangan's gay-themed film "Rainbow's Sunset" finally gained momentum. As of this writing, the film has moved up to fifth place in the unofficial box-office ranking of festival entries.
The movie, which won Best Picture, Best Director and the Gatpuno Antonio Villegas Cultural Award, regained some of the theaters it lost after the first two days of the festival. With only 21 theaters during the awards night (theater owners pulled it out of 40 cinemas due to alleged lack of audience), "Rainbow's Sunset" is now showing in more than 100 cinemas going into the last two days of the festival.
The awards it won boosted the chances of "Rainbow's Sunset" to have some legs at the box-office. People got curious why it won majority of the awards and this enticed them to watch.
The film produced by Heaven's Best Productions truly deserved its awards. From the script of Eric Ramos, the acting trophies won by Ms.Gloria Romero, Tony Mabesa, Aiko Melendez, as well as the Special Jury Prize given to Mr. Eddie Garcia and Max Collins, there's no doubt that "Rainbow's Sunset" is the most outstanding movie of the festival.
We felt sad that during the awards night, producer Harlene Bautista and Direk Joel had to appeal to theater owners in their victory speeches to give their movie a chance. What's the use of winning all awards if the audience who wants to see your film can't?
Since "Rainbow's Sunset" did not pack cinemas on its first two days, it lost a great number of theaters.That is why Direk Joel appealed that if it was agreed upon that three guaranteed days will be given to all film entries, he was hoping theater owners would fulfill their promise. Even just for three days.
But we are glad that "Rainbow's Sunset" was able to get a run at the box-office and as line producer Dennis Evangelista said, "Kumikita na kami."
While Vice Ganda's outrageous comedy "Fantastika" is still the frontrunner in the unofficial tally of box-office results, there were reports that the film is underperforming compared to the comedian's previous movies.
We've read comments from those who've watched the film that they didn't like "Fantastika" that much compared to other movies that Vice fielded in the MMFF.
But according to a source, "Fantastika" has earned more than P400 million and if it does well in the last three days of the festival, there is a possibility that Vice will break his own box-office record. But he won't be able to get the P1 billion gross that he was hoping for "Fantastika."
Prior to the film fest, we read messages from social media calling for a boycott of Vice Ganda's movie because of his association with Gov. Imee Marcos. This issue was denied by both Vice and the aspiring senator.
A group which calls itself Army of Truth Seekers is asking Vice to stop his style of comedy that insults people and their deformities to elicit laughter. The group posted on social media their displeasure with Vice's double meaning jokes that is not suitable for children who make up the majority of his audience.
Army of Truth Seekers is wondering why ABS-CBN and MTRCB has not called Vice Ganda's attention regarding this. Well, it is probably because no one has come forward and complained about the "It's Showtime" host's comic style.
Vice Ganda is a very influential showbiz figure. He is an idol of many. He ought to be careful in making jokes on TV and in his movies because he has a lot of fans who are young and impressionable.
There is nothing wrong if Vice and his producers would like to make lots of money. Movie-making is a business after all. But we hope they don't do so at the expense of decency and good taste.