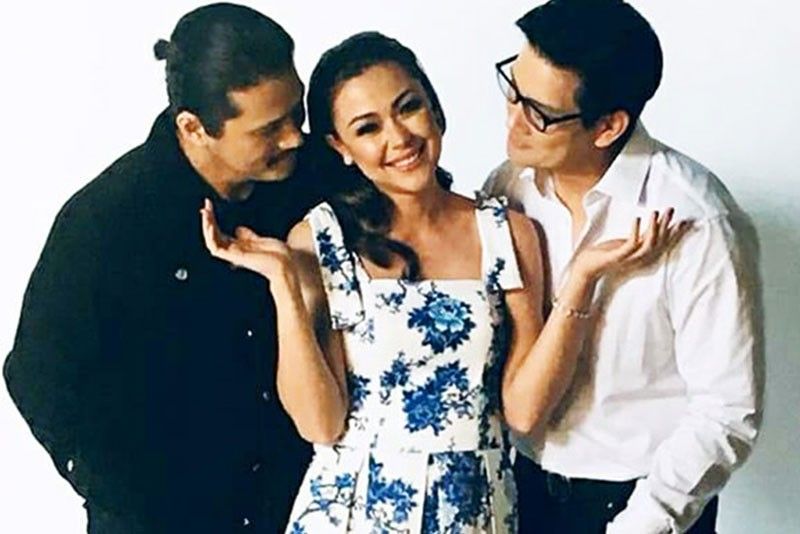 'Sana Dalawa Ang Puso' gets extension
Senator Manny Pacquiao won another championship after beating Argentinian boxer Lucas Matthysse in Malaysia.
And now that he is a world champion again, the fighting senator said he is looking forward to doing more fights, even naming possible opponents to defend his crown.
Pacman's statements runs counter to what he said when he ran for the Senate and won. He said then that he will quit boxing to concentrate on his job as a senator.
Since he won and is a world champion at that, don't expect Pacman to hang up his gloves because he didn't keep his word that if he becomes a senator, he will quit prize fighting.
For him to name possible opponents in the post-fight interview after knocking Matthysse, it is as clear as day that he is fighting again.
We hate to say this but Pacman seems to be motivated by greed that's why he continues to fight despite the fact his popularity as a boxer has dropped immensely. He is only after the prize money that he will earn whether he wins or loses, money that we ordinary mortals can only dream to amass in our lifetime.
We don't buy the fact that he is fighting for the country. That would have probably been the case before but now we take that as crap.
Pacman continues to fight because of the lure of money. The sound of the cash register is music to his ears, most especially since he is also the producer and promoter of his fights. He stands to earn much more.
He has more than enough to buy more Hermes bags for his wife Jinkee and more shopping money for his mom Dionisia. He has more than enough for his family's future.
Another thing that probably motivates Pacquiao to fight some more is because he wants to prepare a big kitty if and when he runs as president of the Philippines in 2022, heaven forbid. That is, if there will still be elections, and the desire of President Duterte to switch to federalism gets derailed permanently.
We used to rejoice each time Pacman comes home triumphant after a fight. We enjoy watching his fights because we believe that he has brought honor to the country.
And when he ran for the Senate, we thought he'd really make good his promise to quit boxing and do his job as a senator diligently. But we were wrong. We wanted him to lose last Sunday with the hope that if he loses, then it would send the message that he ought to keep his word to focus on his job as a senator.
But if the lure of fighting and the color of money that he stands to earn is more important for Pacman, then we rather that he quit his post as a senator. He doesn't deserve to be in those hallowed halls. And we are not the only one who share that opinion.
Oh another thing, Pacman is very passionate about his faith and his belief in God. But how come he didn't issue a statement when President Duterte called God stupid?
Is Duterte's God same as Pacman's God so he didn't see the need to defend the real God, the Supreme Being we all believe in?
***
We are happy for our dear friend Direk Julius Alfonso. His show "Sana Dalawa ang Puso" has been extended until November. The series stars Robin Padilla, Jodi Sta. Maria and Richard Yap.
"Sana Dalawa ang Puso" started airing last January. This is his first TV show under ABS-CBN after his debut film "Deadma Walking" gained critical acclaim at the 2017 Metro Manila Film Festival.
Because of "Deadma Walking," Direk Julius was offered to be part of the director's pool of the top-rating morning series. Due to the good ratings and favorable feedback from viewers, "Sana Dalawa ang Puso" has been extended.
We feel there is a chance for "Sana Dalawa ang Puso" to continue airing till January to complete a year of airing.
Direk Julius is very pleased with the way the audience has embraced the program. He is likewise thankful with the opportunity to work with Robin, Jodi and Richard.
Incidentally, Direk Julius has finished his sophomore film titled "Harry & Patty" which features Ahron Villena and Kakai Bautista as lead actors.