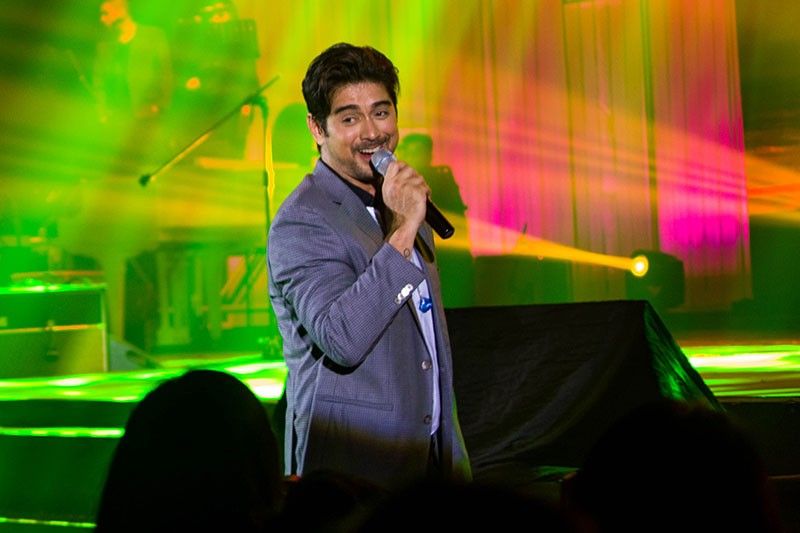 Ian Veneracion lit up the stage of the Grand Pacific Ballroom of Waterfront Cebu City Hotel and Casino Saturday night as he performed original compositions and cover songs in his first concert dubbed "Ian in 3 Acts."
Photo by Nina Princess Teriapel
Ian Veneracion delivers in first concert
Karla Rule
(The Freeman) - April 24, 2018 - 12:00am
CEBU, Philippines — "What were you thinking?" Ian Veneracion asks in disbelief as he smiles at the crowd at the Pacific Ballroom of Waterfront Cebu City Hotel and Casino Saturday night.
After more than three decades in the spotlight, the actor finally plucked up the courage to showcase his musical side via a full concert dubbed "Ian in 3 Acts."
Promising young talents like "The Voice Kids" contender and 14-year-old Cebuana Jolianne Salvado, plus 17-year-old Star Music talent LA Santos were among the guests.
Divided into three parts, "Ian in 3 Acts" was directed by Ian's good friend, director Mike Alcazaren. The two first worked together in the 2013 mystery-thriller film, "Puti." It was a nerve-wracking day for the duo, since the passion project was Ian's first concert, while Direk Mike, a film and commercial director, was trying his hand at concert directing for the first time as well.
The show promised to present the heartthrob in his entirety: the Ian we know, the Ian we don't know, and the Ian who is both public and private. And who better to execute that than the man himself, and a person who saw him not only as a co-worker but also as a friend. Indeed, Ian kept the show true to himself, with a repertoire of songs that he himself enjoyed, and not only those that pleased his fans.
"Uso ngayon yung hugot. Pero may hugot na dati pa. It's called the blues," Ian quips right before going at another song. Between guitar changes, Ian performed songs by Sting, Eric Clapton, The Beatles, Bill Withers, The Police and Phil Collins, among many others, showing just how well he knew his audience.
Apart from dusting a few "kilig" songs here and there, Ian took the opportunity to show what he really enjoyed, never mind if they shared the same taste or not. In turn, his audience delivered with him.
Starting off with Sting's "Englishman in New York" and "Wild World" by Cat Stevens, Ian switched to playing a Jose Mari Chan medley. Chan's songs were featured in Ian's recent teleserye "A Love To Last" with Bea Alonzo. Playing the dashing Anton Noble IV, Ian had given a glimpse of his musical orientation through the show, playing the piano and guitar, and even singing. This became the lynchpin that put this whole musical endeavor in motion. Hence,"Ian in 3 Acts."
Vina Morales came through in a duet with Ian of Cyndi Lauper's "True Colors," following a string of solo performances of classic hits from the Cebuana singer-actress.
Veering slightly away from the wholesome matinee idol image, fans got to see the cheeky side of Ian. He replied "I love you more" to every I-love-you's thrown at him without fail in between songs. He messed up what little Bisaya he knows much to the amusement of Vina and the fans. He constantly jested with fans, telling them not to believe everything they read and hear about him, saying that he was actually 28 years old. He feigned refusal at singing such "malambot" and "unmanly" songs as Air Supply's "Two Less Lonely People, but of course singing it anyway with LA Santos. And what good is a show without a little fan service?
The maiden staging of "Ian in 3 Acts" also served as the first time for Ian to perform his original music live to a crowd as big. The actor, who also paints, performed the inward and moody "We're All Alone," a single he released with Star Music. Ian also played the romantic and nostalgic "I'll Miss You The Most," which he wrote for his wife.
"This is crazy, this is awesome. You know there will only be one first and I'm so glad to be able to share this experience with you. As you know, this is my first time. This is unbelievable. And this started only as an idea," Ian gushes.
Throughout the show, Ian revealed tidbits of himself. Recalling how apprehensive he was when he heard he was supposed to sing in "A Love To Last," how he has always written songs but have never bothered to record them until recently. He shared how he preferred hugs instead of selfies, reminiscing old films, and the music he listened to after school. He shared his love of riding his motorcycle and the time he had breakfast in Los Angeles, lunch in Nevada, and dinner in Utah. Ian revealed that he is a sentimental person, also shy, and torpe. He shared his musical theory that there are songs that make you go back and forth, and certain songs that make you sway sideways.
Ian, who hates lip-syncing, also shared how he loves to add his own spin when playing music.
"Basta ayoko yung pina-plaka," Ian quips in a video. "If I'm gonna play a certain song, might as well add or subtract a little something, or just do something with it so it's not exactly that. Otherwise, makikinig nalang ako ng CD, hindi ko na ipe-play."
Ian gave in to fans' pleas of more, and comes right back out with an encore performance: a stripped-down version of A-ha's "Take on Me" on the piano.
Music has always been a huge part of his life, but Ian has always been shy about his singing – until Saturday night. He doesn't know where it came from, but he has learned to not overthink when he started singing in "A Love To Last." Ian had no problem playing instruments, and would feel fine about his singing when no one was listening, but when they were, he would get conscious. He wouldn't even sing in front of his parents, wife, and kids.
But that has finally changed.
Ian never failed to express his gratitude for the crowd that came through for his very first concert. He always talked about the culture of kindness that he has been surrounded with. In a way, "Ian in 3 Acts" is a gamble for someone who has never openly showed his musical skills. And yet the actor delivered.
Really, unless you were a die-hard fan of Ian's, why would you buy a ticket to hear a matinee idol slash outdoorsman who has never proven his musical prowess, perform? But those who did, somehow saw the fact that apart from wanting to merely entertain, Ian was enjoying himself. He was not there to prove what a musical talent he was; instead he proved that he could be open and try new things. He proved that others can have a good time when they see that you are too.
The former child star who is but a relative rookie in the music industry knows just how surprising things can become when you throw caution to the wind. He has always lived with the notion that there is only now.
"My whole life I've been in showbiz and I feel like I'm still testing the waters. I'm not sure if I want to do this my whole life which sounds stupid because I've been doing this for 35 years. But I still feel like I'm testing the waters…I don't know," were Ian's last words in a video snippet, encapsulating how it feels to be a 43-year-old man diving headfirst into new things.