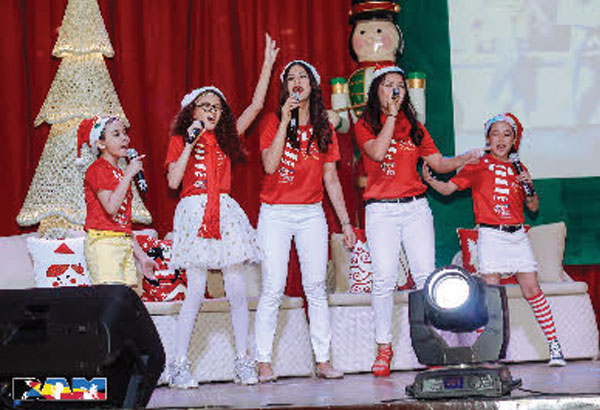 Miss Cebu 2016 Raine Baljak (center) performs with Brown Academy of Music students.
(The Freeman) - December 17, 2016 - 12:00am
CEBU, Philippines - Ending the year with a bang, Brown Academy of Music (BAM) held their first Christmas concert, titled "A BAMFam Christmas" at Ayala Center Cebu's Activity Center last December 9.
The show featured 70 of the students enrolled at the school during their October to December sessions. This was the fourth and final major show of BAM's first year in operation. BAM opened on January 8, 2016. It was announced during the closing of the show that the school taught over 500 students in their first year in business.
"A BAMFam Christmas" was truly an event for families as the show featured siblings and one song featured a pair of mothers and sons performing on stage together. Both mothers had been bringing their sons for music lessons and decided to enroll themselves in voice lessons.
The school realized how special it would be for them to share the stage during a show and they did a medley of "Santa Claus is Coming to Town" and "I Saw Mommy Kissing Santa Claus." The performers in "A BAMFam Christmas" ranged from six years old upwards.
The Christmas spirit came alive even before the show started with a photo booth for students as they posed with friends, family and co-performers to commemorate the event.
The show featured an hour and a half of traditional Christmas classics in English, Bisaya and Tagalog. One of the many highlights of the night was when all of the drum students performed "The Little Drummer Boy" in front of the main stage. Their energy was infectious as the crowd came to life during their performance.
The owners of BAM, Adam Brown and Anna Fegi-Brown, have announced that they would be renaming their Children's Music classes to the Aria Music Program as a tribute to their daughter who sadly did not survive to birth in November.
The word "aria" is Italian for melody and is a musical term used for a vocal solo song in operatic classical music. As they were looking forward to their baby Aria being a part of the school, they have renamed the children's programs in her honor.
The first class is called Baby Aria Music and is for students age six months to two years old, while the second is Aria Music and is for students age three to five years old. The specifically developed curriculum remains, which was designed by the school to meet the US National Association of Music Education Standards, and teaches the fundamentals of music through fun games and exercises.
BAM is located on the second floor of the Northgate Centre in Banilad across Country Mall and next door to UC-Banilad. They are currently accepting enrollment for their first batch of lessons for 2017.
Those interested may visit or call the front desk at (032)410-7580 for more information. The lessons begin on January 7, 2017 with a culminating show on April 8 at Ayala Center Cebu, which will be a tribute of the King of Pop Michael Jackson. (FREEMAN)