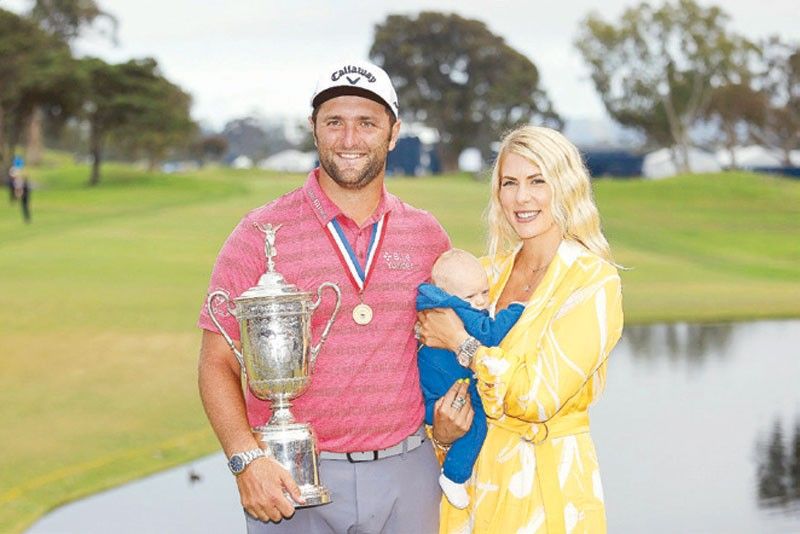 Jon Rahm with his wife, Kelley, and son, Kepa.
AFP
Rahm finds best place, time to win US Open
(Agence France-Presse) - June 22, 2021 - 12:00am
LA JOLLA – Jon Rahm knew after contracting Covid-19, missing his parents meeting his son and losing a near-certain PGA victory two weeks ago that he was due for something good to happen.
It turned out to be winning his first major title, which happened Sunday at the US Open at Torrey Pines, one of his favorite places in the world.
"This one is very incredible, very hard to believe, that this story can end up so good," Rahm said. "It almost feels like it's a movie that's about to end and I'm going to wake up soon."
Defending champion Rahm had seized a six-stroke lead after 54 holes at the Memorial when he was told seconds after finishing his round that he had tested positive. He spent the next week in quarantine until two negative tests allowed him to return to US Open preparations.
On the same course where he proposed to his wife Kelley Cahill and where he won his first US PGA title in 2017, Rahm sank birdie putts on 17 and 18 to defeat South African Louis Oosthuizen by one stroke.
Rahm, who said his biggest COVID-19 disappointment was not being there when his parents saw their grandson for the first time, celebrated his first Father's Day as a dad.