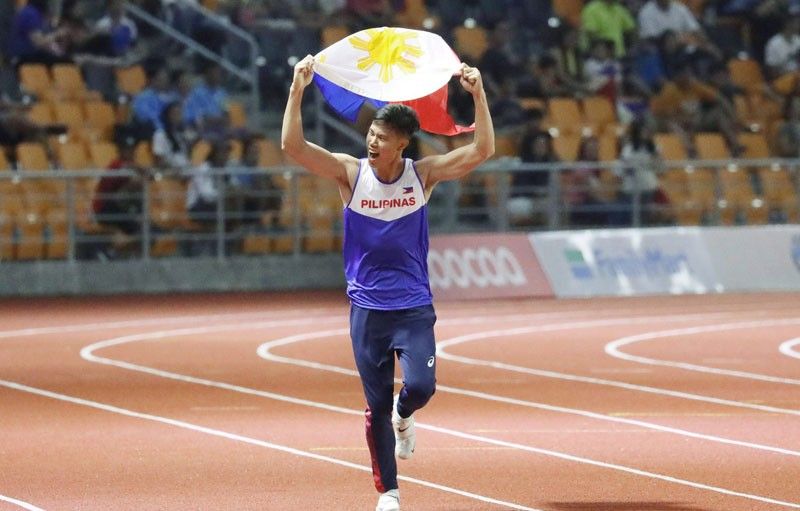 Obiena hopes for more Pinoy qualifiers
MANILA, Philippines — Olympic pole vault qualifier E. J. Obiena said yesterday he's confident the Philippines will bring in more athletes to the rescheduled Tokyo Games and with the postponement until next year, there is additional time for hopefuls to achieve eligibility standards.
In athletics, Obiena named recent Southeast Asian Games gold medalists Eric Cray (400 meter hurdles), Willie Morrison (shot put), Kristina Knott (200-meter) and Natalie Uy (pole vault) as among those with a line to make it to Tokyo. "The IAAF set very high standards to qualify," said Obiena in a WhatsApp interview from his apartment in Formia, Italy. "In men's pole vault, there are 32 slots but only 18 have qualified. When the qualifying mark of 5.8 meters was announced, we knew it wouldn't be easy. In shot put, I think Willie has a big, big chance. With Eric, it's a bit tricky but he's not peaking yet and he can still make it. With Kristina, it's hard to cut even .2 of a second from your time but she can do it. Natalie is supposed to be training at the Bell Athletics Club in Arkansas but because of the coronavirus, we don't know if clubs are open."
Obiena said he's in contact with another Olympic qualifier, gymnast Caloy Yulo. "Caloy and I go back a long way," he said. "I also trained in gymnastics so I've known Caloy a while. I also communicate with Hidilyn (Diaz) and Nesthy (Petecio)." Obiena, Yulo, middleweight boxer Eumir Marcial and flyweight boxer Irish Magno are the only Philippine athletes with Olympic tickets so far.
Obiena said he's staying put in Formia. "It will be a year to a year and three months before the Olympics," he said. "It's not a big problem adjusting to a new training schedule. We knew ahead of time Tokyo wouldn't happen this year. It's something we're not in control of. I continue to train every day, except Sunday, with (2016 Olympic pole vault gold medalist) Thiago (Braz da Silva). Our coach (Vitaly Petrov) lives about a 15-minute car ride away from the training center and meets us about five times a week. He supervises our gymnastics and jumps. When we do our fitness drills, he lets us do things on our own. What coach Vitaly wants is for us to train and improve. Now, there's more time to get ready, recover from injuries and raise our world ranking."
Obiena said there's no rush to come home. "I'm staying in Italy," he said. "We're waiting for the IAAF to announce if there will still be an outdoor season. Once it's announced, coach Vitaly will lay out our plan of attack. I live less than a kilometer from the training center and I have a pass to leave my apartment every day to train, three hours in the morning and three hours in the afternoon."
Obiena said because of the lockdown, he doesn't go out of his apartment unless it's to train and to stock up on provisions. "I cook my own food," he said. "Back in Manila, it's my mom who cooked. I only cooked breakfast. But now, I cook pasta and fix up hamburger patties and chicken breast. When I'm not training, I just stay in my apartment, doing therapy for my back, resting, watching movies, playing tennis against the wall, staying in touch with my parents and younger sister. I also communicate with other Olympic qualifiers, especially my two friends from Poland. The news on coronavirus hit me hard so I try not to focus too much on it. My focus is to get better, to continue training and to make an impact in the Tokyo Olympics."