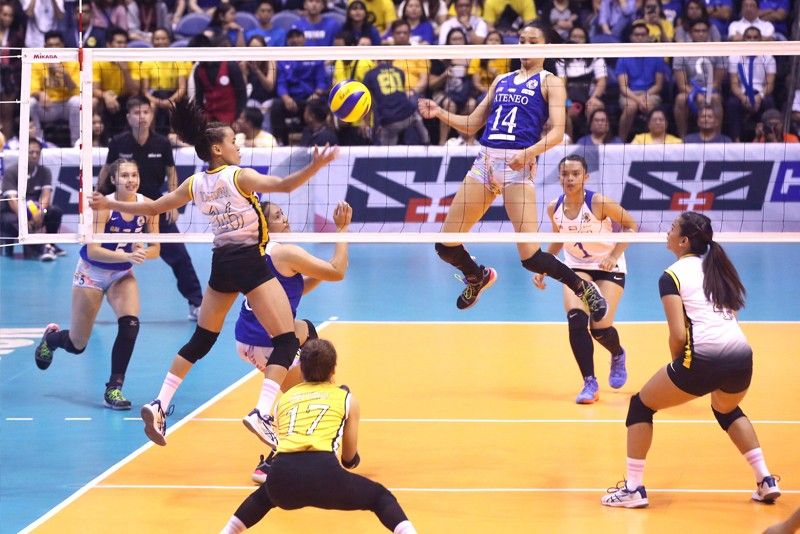 Sisi Rondina of Santo Tomas (No. 16) tries to keep the ball in play against the Ateneo Lady Eagles at the start of the best-of-three finals.
Ernie Pen?aredondo
Lady Eagles pushed to the wall
MANILA, Philippines — Sisi Rondina shone and got all the help she needed as University of Santo Tomas shellacked Ateneo, 25-17, 25-16, 25-20, to move a win away from taking the crown in the UAAP Season 81 women's volleyball at the Smart Araneta Coliseum yesterday.
Graduating hitter Rondina bombarded the Lady Eagles with 20 attacks, including the match-clinching hit to help push the Tigresses closer to their first title since Season 72.
Erika Raagas smacked her attack long to seal it for UST, which could wrap it up in Game 2 of the best-of-three series on Wednesday at 4 p.m. at the Mall of Asia Arena in Pasay.
"I don't put much emphasis on that. We play in the present. They say history repeats itself. It will just happen if we work hard for it," said coach Kungfu Reyes as the Tigresses also scored their first win against the Lady Eagles in seven years.
Rondina also had two blocks and an ace for a game-best 23 points and also gave a hand in defense, posting 12 digs and five excellent receptions.
She hugged a teammate as they huddled at centercourt after her match-clinching attack, and raised her index finger thereafter as they needed only a point to win.
ADMU gifted them with that and the yellow-clad supporters in the crowd of 17,682 that included former stars Ging Balse and Venus Bernal celebrated.
Rondina bowed to the crowd before joining her teammates' huddle at centercourt.
"I always tell my teammates that we have nothing to lose, we will learn from this. We should listen to our coaches, focus on the game, don't get intimidated by our opponent and we will stick together until the end," said Rondina.
Rookie sensation Eya Laure hammered 11 points, middle blocker Cait Viray dropped seven, newbies Ysa Jimenez and KC Galdones combined for 11 while playmaker Alina Bicar displayed her smarts and tossed in all of UST's 19 excellent sets she topped with six points, two from the service box.
"Coach told me to trust myself, just enjoy the game and trust my decision on the court. I trusted my spikers and they trusted me, too," said Bicar.
The Tigresses caught the Lady Eagles flat-footed, landing four aces to dominate the first set.
Bicar, Galdones, Viray and Rondina gave UST a comfortable 16-7 lead in the second. And while ADMU picked up pace, closing in within 14-18 behind Kat Tolentino and Jules Samonte, the Tigresses answered with combination plays by Laure and Jimenez to regain control.
The Tigresses, who landed 10 aces overall, closed the set with one courtesy of Jimenez.
Rondina then dazzled in the third set, powering UST with eight points to give it an 18-14 lead and quash a fightback by ADMU at 20-21.
Raagas erred on her attack then Rondina quickly followed up with a crosscourt hit and another spike for the match point.
The Tigresses outgunned Ateneo, 46-24, to negate ADMU's five blocks.
"We just studied how we could neutralize their blocking. They are the top blocking team so we will just find a way. I think we could do it since we have the top two spikers. We gave extra time on how we could counter their blocking and get a second chance," said Reyes.
Tolentino was the lone Lady Eagle in double figures with 12 points while graduating middle blockers Maddie Madayag and Bea de Leon were held to six and four points, respectively.
Jules Samonte scored six while Ponggay Gaston was limited to one for ADMU.