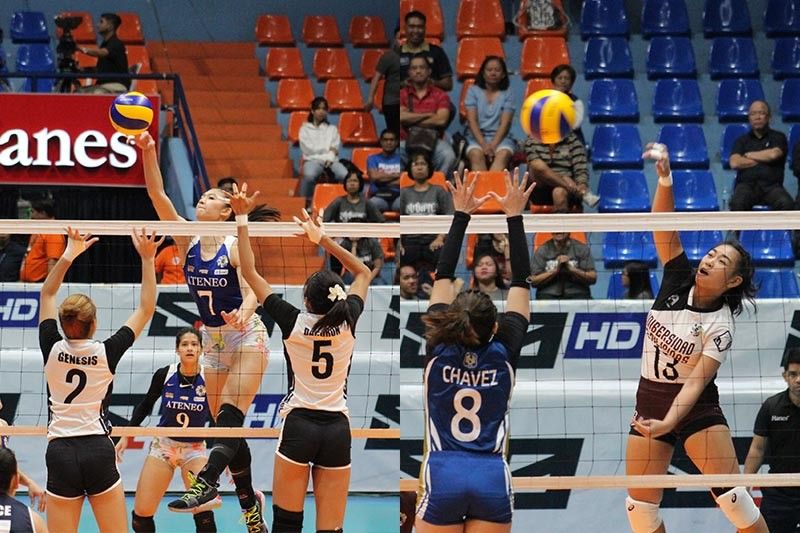 Ateneo's Maddie Madayag and UP's Justine Dorog
Philstar.com/Luisa Morales
UAAP volley: Gut check time for UP; NU continues to impress; Ateneo finds its legs
MANILA, Philippines — Two games, two contrasting wins. The Ateneo Lady Eagles continue to play well and surprise while Adamson struggles for form and consistency (the former won 25-8, 22-25, 25-16, 25-10).
The NU Lady Bulldogs also continue to impress as the seeds they have sown in the girls division (as well as the women's) have seen them pick up their most impressive win not only this season, but in years past; a 25-17, 14-25, 17-25, 25-23, 17-15) win over skidding UP.
Here are three thoughts from Wednesday's UAAP women's volleyball action:
It's gut check time for the UP Fighting Lady Maroons
Three seasons ago, UP was on a tear then they ran into Ateneo, which sent them tumbling not only into a loss but into a tailspin that went all the way into the next season and ultimately chased away their head coach.
The Lady Fighting Maroons are learning the lesson that the NU Lady Bulldogs (of the time of the Santiago sisters) know painfully — that preseason success in volleyball doesn't always mean the UAAP is a cakewalk.
Of course, the season far, far from over. And there are adjustments to be made from both ends of the court for them and everyone else.
But you have to say that these past two losses are embarrassing and crushing. You lost to Ateneo in three sets where they were made to look like their old, disjointed selves. Then they lost to the short-handed and wounded NU Lady Bulldogs (17-25, 25-14, 25-17, 23-25, 15-17), which has seven newcomers and three holdovers, with two of the latter hardly seeing any playing time last season.
One supporter was telling me that the loss to UST was a fluke as they missed Ayel Estrañero. I think people have to understand that injuries are part of a season. And besides, they've had a full crew the past two games. Further, NU is missing their starting playmaker for the entire season and four starters from the last campaign with three opting not to play anymore while one unavailable due to academics.
People might wonder about adjustments on defense and offense. Sure, but if you ask me, this is a veteran team of seniors who have been around the block. They know the drill. At this point, it isn't about tactical adjustments, but about regaining that confidence.
One bright spot in these past two losses is Justine Dorog finding the form of the promise she first displayed as a rookie.
At 3-3, it is really gut check time for UP.
The NU Lady Bulldogs continue to impress
And speaking of the NU Lady Bulldogs, this was a massive win for head coach Norman Miguel's team. They have taken wins from two veteran squads in UP and UE. In the four defeats, they have lost six sets by three points or less (even their four-set loss to La Salle they were impressive).
In Princess Robles, we might have the next Tots Carlos. A tiny dynamo who can fly and spike with the best of them. Ivy Lacsina is doing better than expected in her rookie season.
And how about Joni Chavez? She came in as a libero under Roger Gorayeb then was left off the roster by Babes Castillo and has been pressed into setter duties with Joyme Cagande out. Chavez even did Estrañero better.
For all the losses of NU which we didn't rate highly entering the season, we nevertheless expected them to put up a fight because many of the Lady Bulldogs come from a winning program.
This is them building for the next season and beyond. Even at 2-4, they have been remarkably impressive.
The Ateneo Lady Eagles are looking really good
So when they made the PVL finals against Creamline, were they impressive? Of course. But people were iffy about them because La Salle is always there. UP looked ready for a smash and grab campaign. FEU and UST had the veterans and the rookies. Adamson is an island surrounded by a sea of question marks. UE is of unknown quality. And NU was going to take a step back before taking another step forward.
While I knew they would compete because they still have veterans from their title squad that seems like an eternity ago, how they come during the season was a question.
Like their Ateneo men's basketball counterparts, they took an early loss that jolted them and now, they have a five-match win streak — best so far this year — and are atop the standings with a 5-1 record with NU left to play.
Two things we want to point out — I like how different players are stepping up to the plate. Bea De Leon played her best game of the season in the four-set win over Adamson, and Kim Gequillana has really played so much better in these past two games.
Gequillana, in my opinion, is the glue that keeps this team together. She has played the utility position, come off the bench as a service specialist, and now played libero. As a veteran, she has also seen younger players take a starting role and she has done and given what her team needs. I have seen others quit and leave, but Kim… has gutted it out and given her team what she needs. Incredible. She in my book, is this team's MVP.
Against Adamson, they looked like the team that steam rolled UP in the first set. Looked shaky when they struggled with reception and decision-making in their attacks in the second, they picked it up in the last two sets.
Impressive if you ask me.