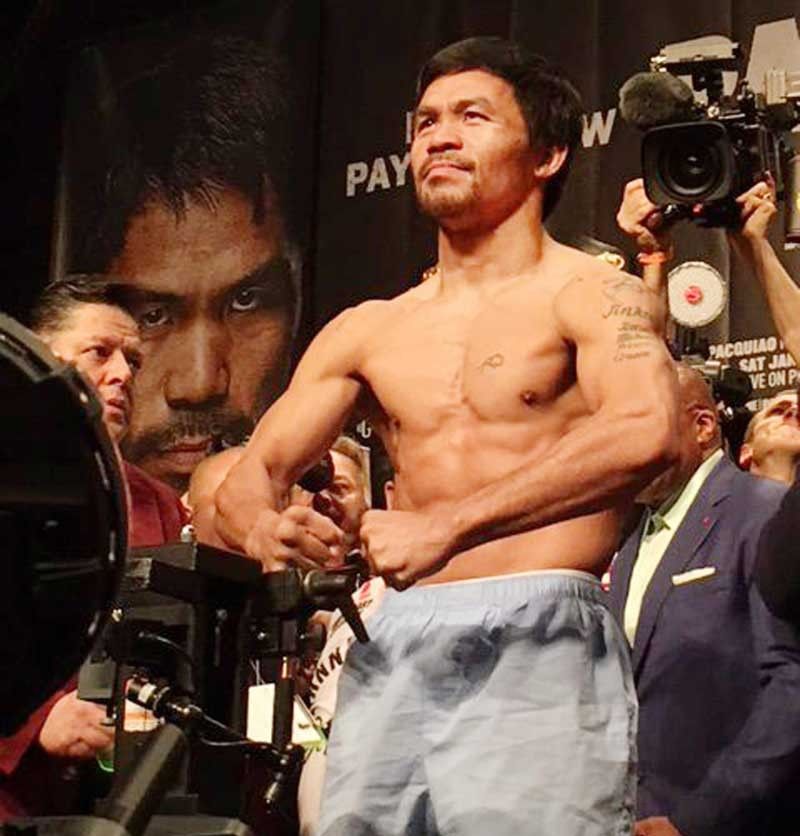 Pacquiao displays a fine physique at the weigh-in.
SPORTING CHANCE
-
Joaquin Henson
(The Philippine Star) - January 29, 2019 - 12:00am
LAS VEGAS. It was vintage Manny Pacquiao who dazzled a sellout crowd of 13,025 at the MGM Grand Garden Arena here Saturday night to retain his WBA welterweight crown via a unanimous 12-round decision over brash Cincinnati challenger Adrien Broner. At 40, Pacquiao hardly acted his age as he dominated Broner from start to finish, pumping his fists at a frenetic piston-like pace to fluster an opponent who is 11 years younger.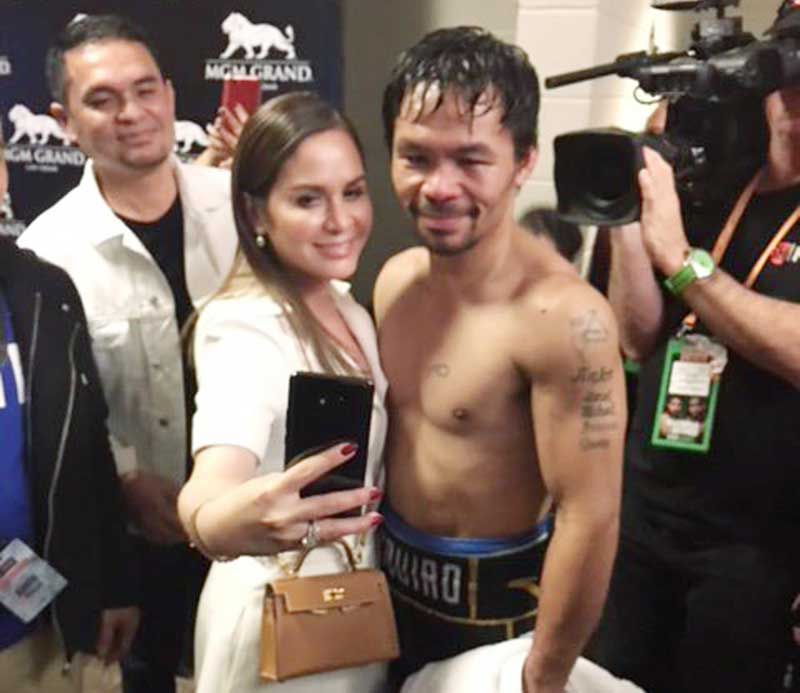 Pacquiao and wife Jinkee take a selfie in the lockerroom after the fight.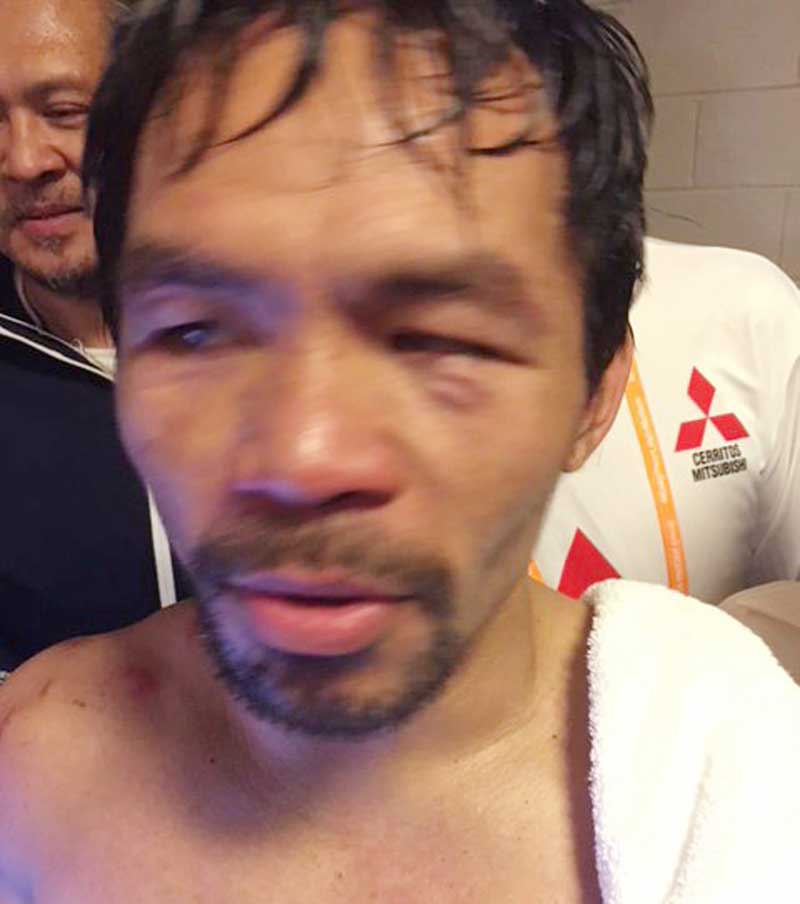 There's a slight bruise under Pacquiao's left eye which had a slight corneal abrasion.
The three judges' scorecards weren't close and reflected Pacquiao's dominance. Judges Tim Cheatham and Glenn Feldman saw it 116-112, awarding Pacquiao eight rounds and Broner, four. Judge Dave Moretti had it 117-111, scoring nine rounds for Pacquiao and three for Broner. The Las Vegas Review Journal and the English paper The Guardian both gave Pacquiao 11 rounds and Broner, one. The punch stats showed Pacquiao landing 112 of 568 thrown compared to Broner's connection rate of 50 of 295. The discrepancy made Broner look like a joke when at the end of the bout, he claimed victory.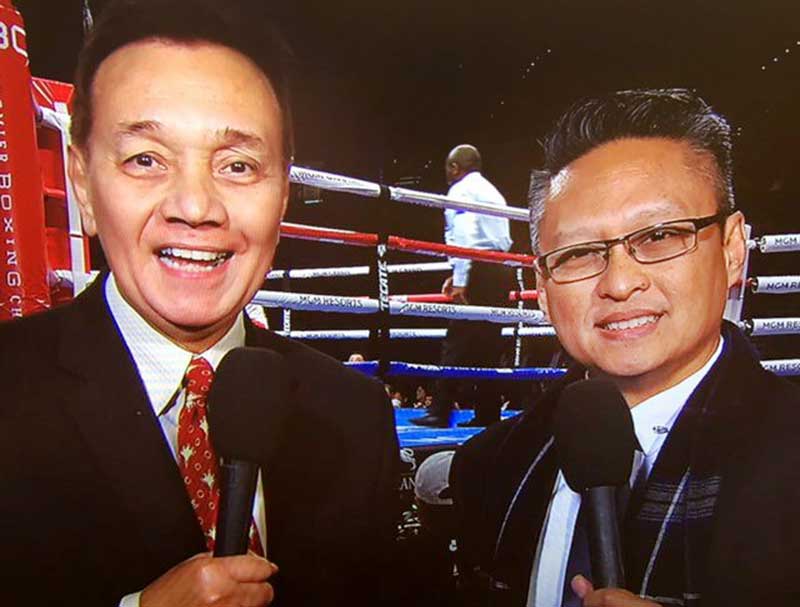 The author Quinito Henson anchors the TV coverage of the fight with Mike Ochosa as analyst.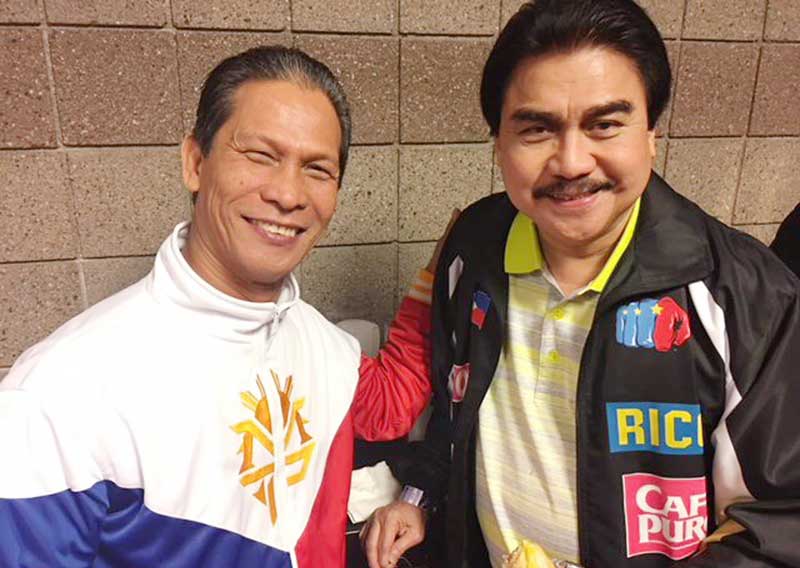 Bacolod City Mayor Bing Leonardia (right) held up the Philippine flag in the ring while pastor Antonio Torres led a five-man Christian choir backing up Angel Ram in singing the National Anthem before the fight.
"I'm still passionate about the sport and boxing is my passion and that's why I'm still here continuing to fight," said Pacquiao. "I really have accomplished what I want to accomplish in life. What I want to do is to maintain and stay at this level. I still have that killer instinct and the fire in my eyes. That aggressiveness, the interest in this career, the speed, the power are still there 100 percent. I'm so thankful to God. At the age of 40, I can still give my best and I'm so happy because God gave me this good health." For Pacquiao, age is just a number.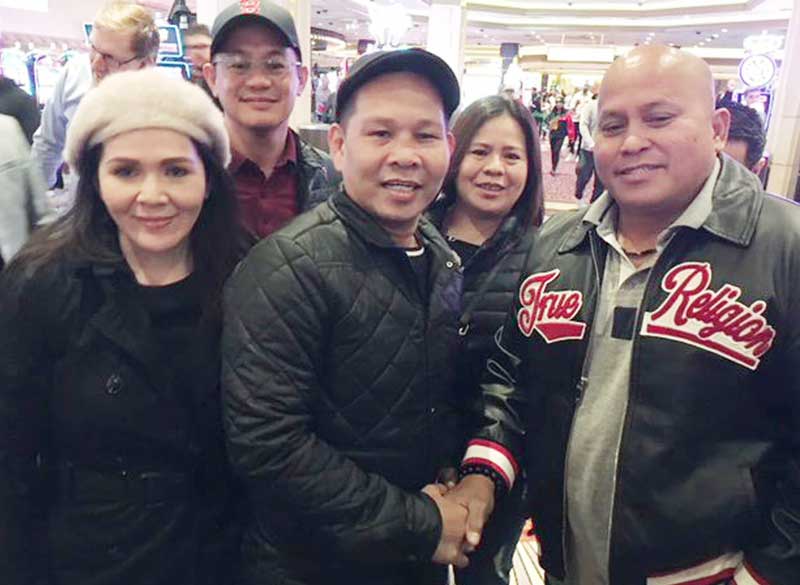 Gen. Bato de la Rosa with former twotime world champion Gerry Penalosa and wife Goody
It was Pacquiao's first fight in the US in two years and the fans came out in droves to witness another amazing performance, this time against a former four-time world champion. Rep. Abraham (Bambol) Tolentino, Rep. Toby Tiangco, Rep. Cesar Sarmiento, Gen. Bato de la Rosa, former Gov. Chavit Singson and Bacolod City Mayor Bing Leonardia were among Pacquiao's supporters who flew in from Manila to watch the fight. Tapped to sing the National Anthem in the ring was New York-based vocalist Angel Ram who was backed up by a five-man Christian choir from General Santos City. Former two-time world champion Gerry Penalosa and wife Goody took an active role in the promotion as the Philippine TV rights holder.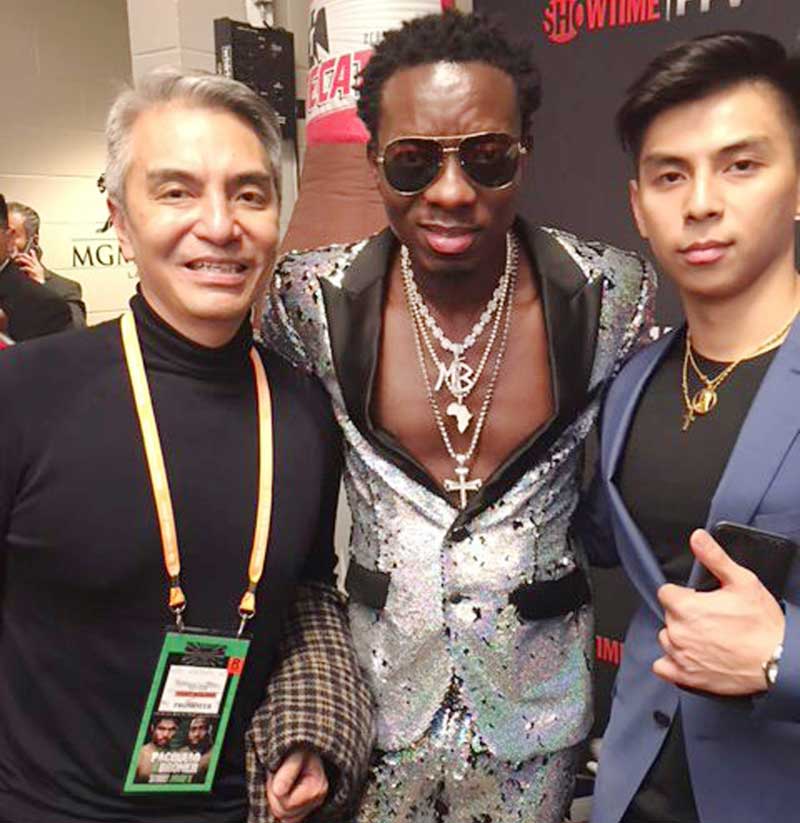 Rep. Toby Tiangco and son Tommy are with actor Michael Blackson
The morning after the fight, Pacquiao showed up at a Christian Sunday service wearing a patch over his left eye but said it was nothing serious, just a slight corneal abrasion. The next day, the patch was gone and MP Promotions head Joe Ramos confirmed the minor injury was completely healed. That night, Pacquiao, wife Jinkee, their youngest child Israel, relatives and friends were at the Staples Center for the NBA game between the visiting Golden State Warriors and Los Angeles Lakers. After the game, Pacquiao and his family met up with Steph Curry, Kevin Durant, Andre Igoudala and the rest of the Warriors in a blocked-off corridor outside the Warriors lockerroom.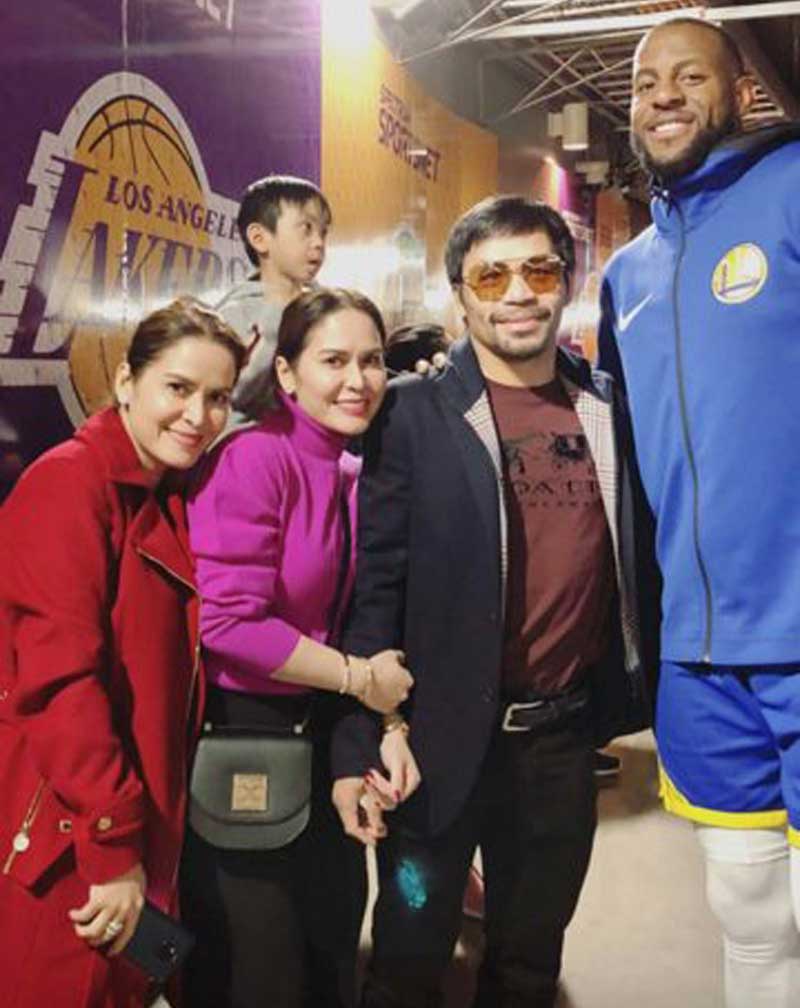 Pacquiao, Jinkee, their son Israel and Jinkee's twin Janet meet Golden State's Andre Ingoudala at the Staples Center in Los Angeles two nights after the fight.
If Pacquiao has his way, he'd prefer to take on Floyd Mayweather, Jr. next in a rematch. They've been bumping into each other in events lately and the speculation is the encounters were deliberate to test public interest on a possible return engagement. "Tell Floyd to come back and we'll fight," said Pacquiao. "I'm willing to fight Floyd again if he's willing to come back to boxing."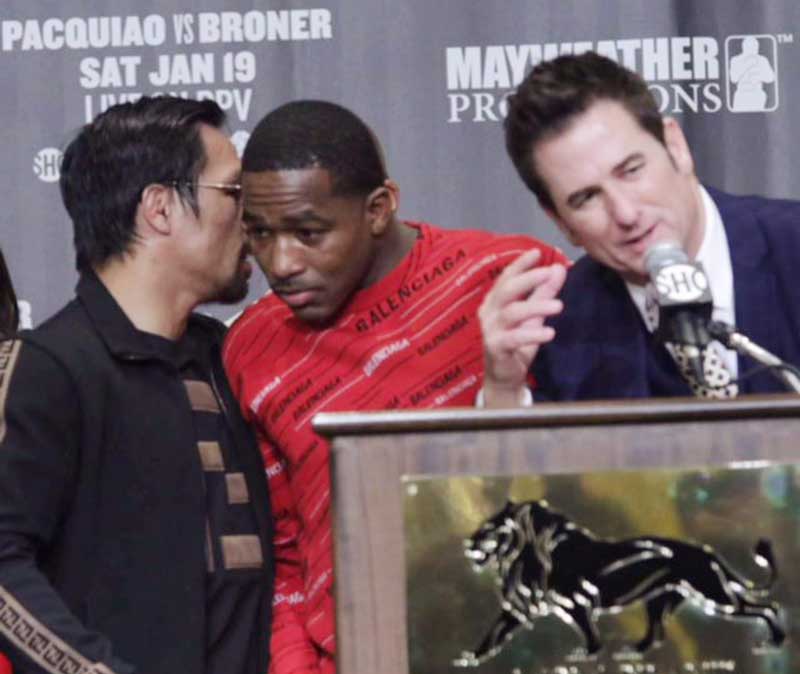 Matchmaker Sean Gibbons eavesdrops on Pacquiao whispering to Broner during the post-fight press conference.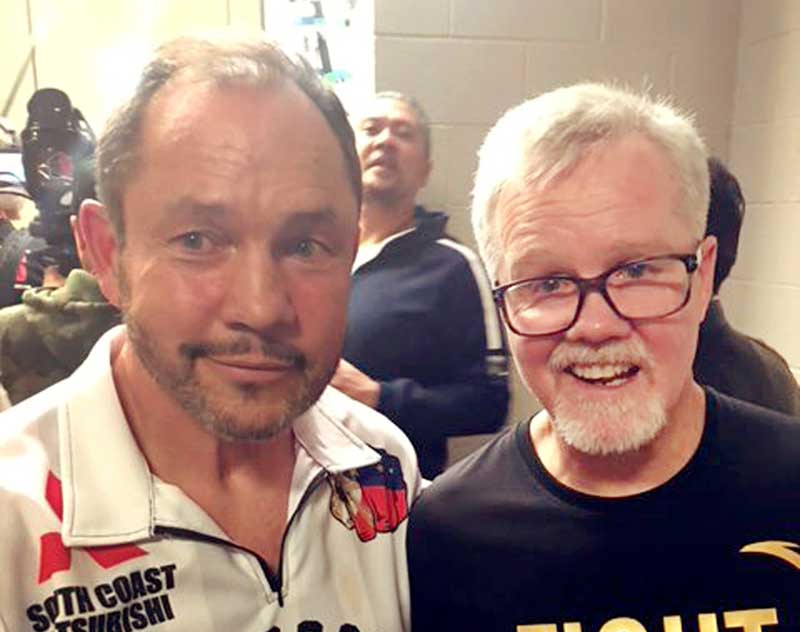 Trainer Freddie Roach (right) is reunited with strength and conditioning coach Justin Fortune in Pacquiao's corner.
As for rumors that he's eyeing the Presidency of the country, Pacquiao said it's not on his mind at the moment. "I'm happy serving people as a Senator," he said. "I'm so happy that my fans and the Filipino people came out to watch my fight live. I feel so happy because I did my best in the fight and in training. The Manny Pacquiao journey will continue."