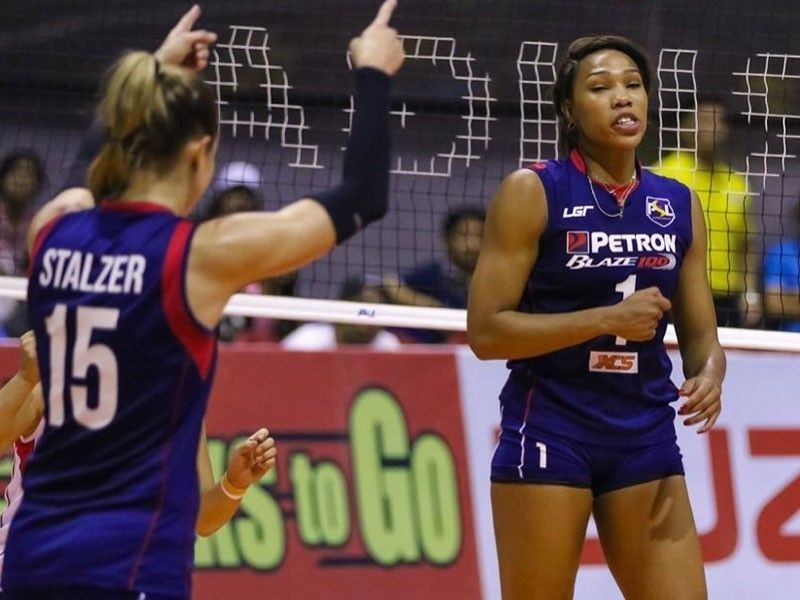 Katherine Bell (No. 1) will be back for the Petron Blaze Spikers in the Philippine Superliga Grand Prix next year.
Philippine Superliga
Katherine Bell confirms return to Petron in PSL
MANILA, Philippines – Katherine Bell formally confirmed her return to help Petron defend its title in the Philippine Superliga Grand Prix next year.
In a social media conversation, Bell stressed that she will be back for another tour of duty and would see action from start to finish in a bid to power the Blaze Spikers back to the throne in the import-flavored conference next year.
Her statement reinforced the earlier claim made by Philstar.com sources that the Blaze Spikers already struck a deal that would pair her with another super import in Stephanie Niemer.
"This is true," Bell said when a fan reached out to her in social media.
"I'm happy to come from the beginning and finish to the end."
With Bell and Niemer all set to see action, the Blaze Spikers will have a fearsome twosome that is capable of wreaking havoc at the attack zone.
Niemer is a powerful server who made a record when she dropped 17 aces in the Green Women's Volleyball League while Bell is a terrific attacker who can light up the scoreboard.
In fact, a couple of weeks after Gyselle Silva of Cuba surpassed the league scoring record of 41 points tallied by Sara Klisura of Serbia, Bell emerged to register 42 points against a tough-defending F2 Logistics side in Game 1 of their best-of-three finals series.
"Petron definitely raised the bar so high," said a league executive when reports floated that Bell is set to return.
"Now, everybody is scrambling to find very good imports who could match the firepower and explosiveness of Niemer and her potential partner."
Sources said other teams are now reaching out to other super imports like Lindsay Stalzer, Hillary Hurley, MJ Perez, Martha Drpa and Klisura.
Stalzer already expressed her willingness to return while Hurley, Perez, Drpa and Klisura are reportedly still tied up with their respective clubs overseas.