LeBron-less Cavaliers starting anew with Love as focal point
October 11, 2018 | 1:19pm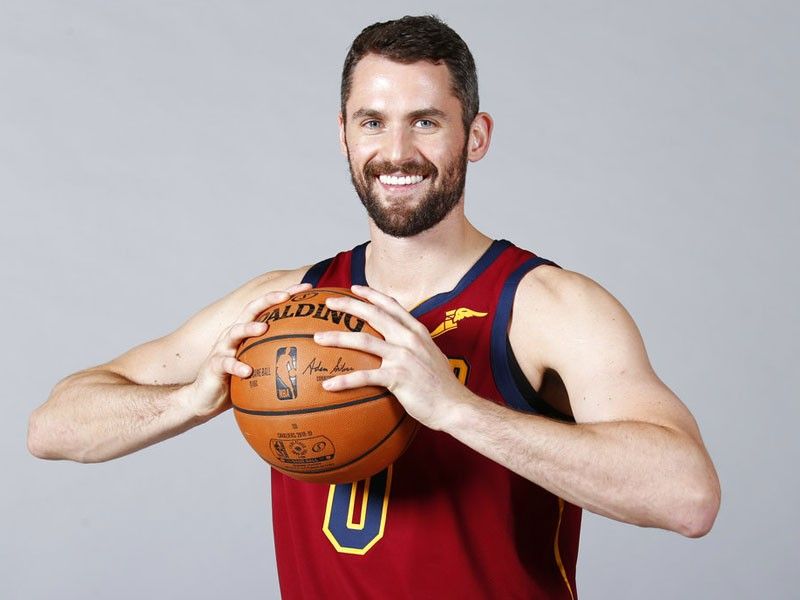 CLEVELAND — Kevin Love wore a pair of LeBron James' signature sneakers on media day. It's the last time he'll try to fill them.
Four years after aligning with James and Kyrie Irving to form a Big Three of stars that ended Cleveland's five-decades-long championship drought by winning an NBA title in 2016, Love is the only one who remains with the Cavaliers.
While James left for Los Angeles as a free agent this summer, and Irving forced his way to Boston via trade a year ago, Love has found a home — and peace — in Cleveland.
Before James announced that the next chapter of his career would be written in Hollywood, Love — who had been the focus of trade rumors almost from the moment he arrived — told the Cavs he was willing to lead.
"I'm staying," he informed general manager Koby Altman. "I want to be a part of this."
"This" is life without James, the end of the four-year run and start of a rebuild as massive as the $140 million renovation taking place at Quicken Loans Arena, the Cavaliers' downtown home that is no longer one of the league's hottest spots with James gone.
But while the Cavs are no longer an elite team or national TV fixture, Love believes Cleveland's competitive days aren't done.
"We're going to be a team that surprises a lot of people," said Love, who signed a four-year, $120 million contract extension. "(Coach) Ty Lue knows what he wants from us and vice versa. We have guys who have been here. We have guys who know how to win, knowing in losing the best player in the world we're going to have a fresh start."
Relief.
None of the Cavaliers players, coaches or front-office members would ever use that word publicly to describe not having James. However, there is a sense of freedom that didn't exist while waiting and wondering about his next move.
Everything will be different going forward for the Cavs, who must learn to play a different brand of ball.
"Life's going to be a lot different for us going forward, basketball-wise," veteran forward Kyle Korver said. "We went to LeBron because we were supposed to go to LeBron. Now, there's an opportunity for new. No one is LeBron, but we get to figure out new things. We get to create a new identity."
For the 30-year-old Love, who last year revealed he has had anxiety issues, Cleveland's new situation is reminiscent of his six seasons in Minnesota. He was the focal point — on and off the floor.
He is the main man again, and Love is relishing the chance to show he can still carry a franchise.
"I know what I'm capable of," he said. "I was the second option last year, the third option a couple of years prior and I had to learn how to sacrifice. Now I'm considered the first option. It's a constant evolution. I'm heading into my 11th year, so I have to figure out with this team how it's going to affect us in the best way possible in order for us to win."
Young gun
The Cavaliers are beyond excited about rookie guard Collin Sexton, the No. 8 overall pick. The former Alabama standout has impressed teammates with his attitude, tenacity and confidence. Upon arrival, he asked for No. 2 — Irving's old number in Cleveland.
Sexton will begin the season coming off the bench behind George Hill, as the Cavs' preference is to ease him into his first season. However, it might not be long before he cracks Lue's starting lineup.
The knock on Sexton is his outside shooting, but his game is built on breaking down defenders and getting to the rim.
Tanks, no tanks
The Cavs believe they can develop Sexton and other youngsters like Cedi Osman, Larry Nance, Jordan Clarkson and others while contending. It's a difficult path, but the team has no intention of following other franchises by losing and bottoming out to get lottery picks.
"No tanking," Lue said. "You can see that with (owner) Dan (Gilbert) giving Kevin Love an extension. Not a rebuild at all. It's a challenge. We want to compete for the playoffs. It's not about wins and losses. It's about wins and lessons. These guys are going to have an opportunity to play meaningful games every night. Most of player development comes from playing games."
There is a price at staying competitive. Cleveland's first-round pick is protected if it's in the top 10, otherwise it goes to Atlanta.
New lue?
Lue feels re-energized after he was sidelined by health issues last season. He dealt with anxiety and insomnia during a drama-filled season that ended with Cleveland being swept in the Finals by Golden State.
A longtime assistant, Lue is embracing the chance to mold young players and perhaps show he had something to do with the team's dominance the past few seasons. It wasn't all about James.
https://sja.sportradar.com/w/Philstar Global/3432-43374/393100