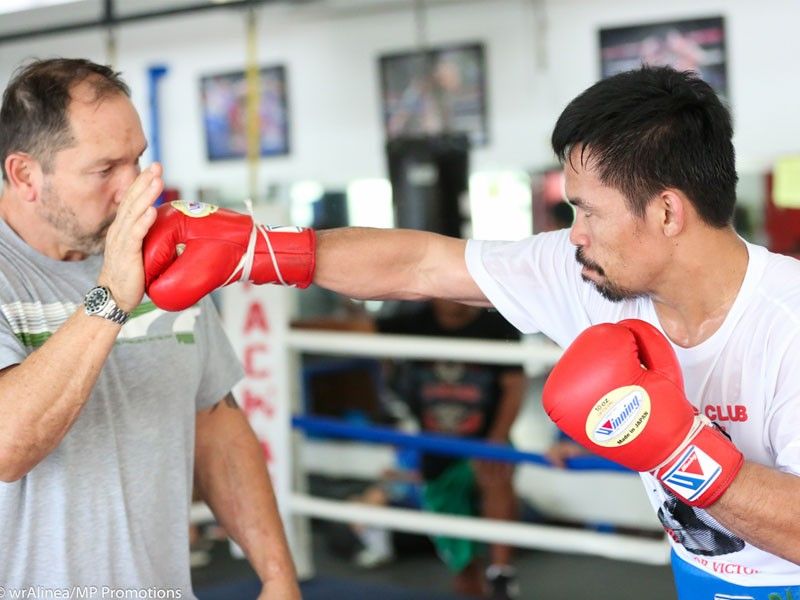 Strength and conditioning coach Justin Fortune works with Manny Pacquiao during a training session in General Santos City.
Wendell Rupert Alinea/MP Promotions
Pacquiao can stop Matthysse – Fortune
MANILA, Philippines – There's only one thing that Manny Pacquiao's strength coach likes about Lucas Matthysse: the welterweight champion from Argentina is beatable.
"Matthysse is good to stop. He'd been stopped," Justin Fortune told The STAR, referring to Pacquiao's opponent on July 15 at the Axiata Arena in Kuala Lumpur.
The reason, according to the ex-boxer from Australia, is because Matthysse loves to slug it out. He's been quite successful at it, winning 39 of 44 fights, 36 of them by stoppage.
But Matthysse had been knocked out, too, once in his four defeats. It came in 2010 against Ukrainian Viktor Postol, a former sparring partner of Pacquiao.
Matthysse went down in the 10th round, and did not bother to get up, later on citing an eye injury that reportedly needed surgery and sidelined him for 19 months.
Fortune has watched Matthysse's fights, on tape and in person, and established that the 35-year-old would rather stand in front of his opponent than move around the ring.
"He's right there," said Fortune.
"I've been viewing his tapes. I used to watch him. He's a puncher and I like watching punchers. He can't change his style," added the strength coach.
Fortune is with Pacquiao in General Santos City, helping supervise the training together with Filipino trainers Buboy Fernandez, Nonoy Neri, Haplas Fernandez and Nonito Donaire Sr.
Fortune said they've all spent time reviewing Matthysse's style.
They know what they're up against.