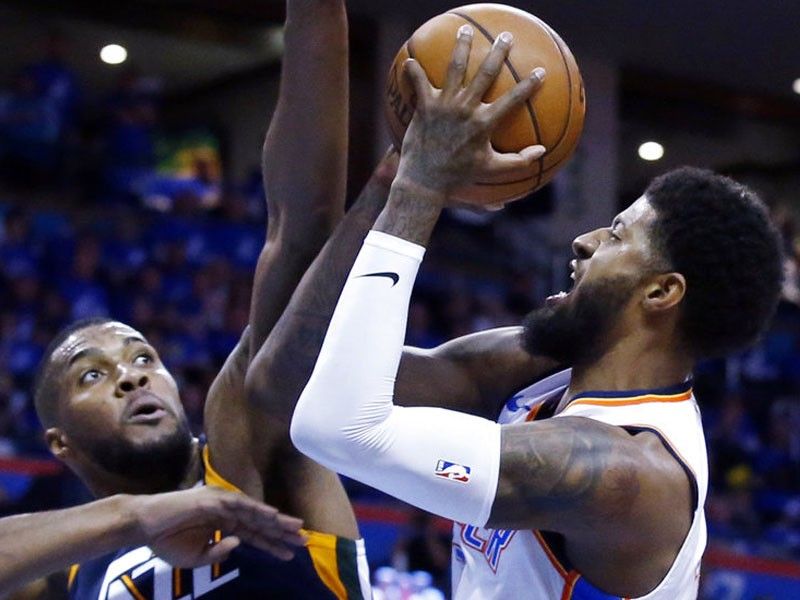 Oklahoma City Thunder forward Paul George, right, shoots as Utah Jazz forward Derrick Favors (15) defends in the first half of Game 1 of an NBA basketball first-round playoff series in Oklahoma City, Sunday, April 15, 2018.
AP/Sue Ogrocki
George powers Thunder to Game 1 win over Jazz
Cliff Brunt
(Associated Press) - April 16, 2018 - 10:57am
OKLAHOMA CITY — On Saturday (Sunday Manila time), Thunder forward Paul George told reporters about an alter-ego he calls "Playoff P." On Sunday, he gave the media, his teammates and the Utah Jazz a formal introduction.
He scored 36 points to help Oklahoma City defeat Utah, 116-108, in Game One of their Western Conference playoff series Sunday night (Monday Manila time).
"That's his new name?" seemingly perplexed teammate Carmelo Anthony asked with a smile.
George lived up to it. He set an Oklahoma City playoff record with eight 3-pointers, blowing past the previous mark of five. He made eight of 11 shots from long range, and 13 of 20 shots overall.
It was his first playoff game with the Thunder since being acquired in a trade with the Indiana in the offseason. He had averaged more than 27 points per game in the playoffs for the Pacers the past two years.
https://sja.sportradar.com/w/Philstar Global/608072-43374-3418/373100
"I'm going to bring it to that level every night," George said. "Obviously, I was hot tonight, but that's the level I'm going to bring every night."
Russell Westbrook had 29 points, 13 rebounds and eight assists and Anthony added 15 points for the Thunder, who will host Game Two on Wednesday (Thursday Manila time).
Westbrook, who seemingly was Oklahoma City's only scoring option for much of last season, appreciated the help.
"When he's aggressive, man, it changes the game for us," Westbrook said. "You saw that tonight. He had it going. Our job is to make sure we find him, make it easy for him. As long as he stays aggressive, we'll be a better team."
Many of George's makes were contested. His success made it difficult for the Jazz to cover other players.
"He made a couple and we changed up what we were doing, and he went to something else," Jazz coach Quin Snyder said. "He went to pick-and-roll and he made a couple more, and then we tried to take him and he passed the ball."
Utah doesn't expect George to keep making those tough shots.
"If those shots start to affect you, then the whole game plan goes away," said rookie Donovan Mitchell, who led the Jazz with 27 points and 10 rebounds. "So we just kept sticking with it, and hopefully, he doesn't go 8 for 11 the rest of the series. But we played great defense, and we are proud of that."
Mitchell left the game in the second half with left foot soreness. He returned, but played sporadically.
"I feel fine," he said. "Think I just stubbed my toe. Nothing major."
Rudy Gobert scored 14 points, and Joe Ingles and Jae Crowder each added 13 for the Jazz.
The Thunder recovered from a 16-4 deficit to tie it at 25 at the end of the first quarter. Oklahoma City led 54-48 at halftime behind 20 points from George and 14 from Westbrook.
George hit his seventh 3-pointer to push Oklahoma City's lead to 79-66. He hit a deep 2-pointer to close the quarter and give the Thunder an 81-72 lead.
Alex Abrines hit two 3-pointers early in the fourth quarter to give Oklahoma City a 92-80 lead and force Utah to call timeout. The Thunder held off a surge in the final minute.