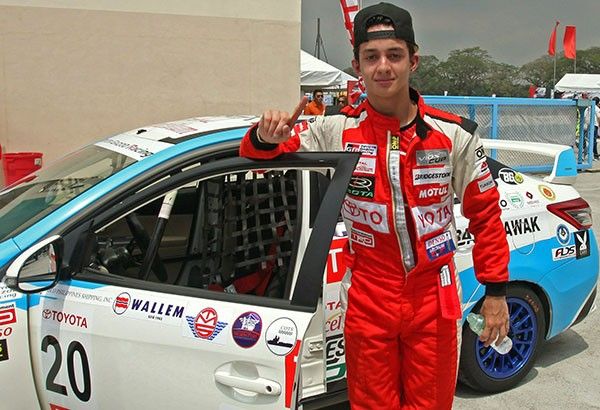 Daniel Miranda tows the field in the Vios Cup Season 4 at the Clark International Speedway.
JESSE BUSTOS
Miranda dominates in Vios Cup
Olmin Leyba
(The Philippine Star) - April 30, 2017 - 12:00am
CLARK, Philippines – Daniel Miranda of Obengers washed away years of heartaches and misfortunes as he swept the two opening races of the Vios Cup Season 4 Round 1 yesterday at Clark International Speedway here.
Pouncing on his pole position in the grid in Race 1, Miranda zoomed right ahead and didn't let go til the windup to the race that finished under safety car conditions to cop his breakthrough Super Sporting Class crown.
The 20-year-old Miranda checked home in 27:59.770 to beat 2016 Vios Cup overall champion Allan Uy of Toyota Quezon Avenue (28:00.973) and Gerard Loy of Team Biskeg (28:01.987) for top honors in the morning hostilities.
"The goal was to finish the race in one piece. This is my third Vios Cup and in the last two seasons, I've been in a lot of accidents, (had) damages to car. I'm so happy my car's in one piece and finishing first is amazing," Miranda said.
The 20-year-old Miranda sustained his fiery form in the afternoon, maneuvering his car expertly despite a 30K weight penalty given to the morning winner en route to annexing Race 2 in 25:06.498 over Uy (25:08.697) and 2015 titlist Andres Calma of Toyota Bacoor/GM Motorports (25:09.273).
"It's amazing," said Miranda, giving credit to his team for the twin triumphs. "I couldn't have done it without the team's support.They did a very good job with this car; when I was driving it, I was so relaxed, everything was so chill."
Because of the new reverse grid system, Miranda was positioned at No. 6 at the start of Race 2. But that didn't stop him from sneaking in front from the second lap on.
"My start was so amazing that I went to third right away so it feels very good. And I 'm happy I came in with no accidents or bumping," he said.
Miranda finally enjoyed crossing the finish line in full glory. In the morning's Race 1, they were forced to a safety car finish after Bryan Co, Dominic Ochoa and Jette Calderon figured in a three-car collision in the eighth.
"Well of course I wanted to finish with the checkered flag but when I saw the safety car, I knew I had the win so I just made sure I finish the race in one piece," said the Cebu speedster, who seized a six-second lead against Uy and Loy through six laps.
Tonton Ramos of Toyota San Fernando (Sporting Class), Don Vic Portugal of Toyota San Fernando (Promotional Class) and Fabio Ide (Celebrity Class) also pulled off victories in the morning sessions.
Ramos clocked a winning 29:51.336 against runner-up Paul Lomax (29:53.459) and Mark Sy (29:56.582) in the mid-tier Sporting Class while Portugal won the Promotional division in 30:07.052 against Evelyn Coseteng (30:07.953). Ide finished Race 1 in 30:17.814 to beat Jasmine Curtis Smith (30:33.199) and Dominic Roque (30:49.933).
Lord Seno of Toyota Cebu (26:20.165) topped the Sporting Class of Race 2 while Red Diwa of Toyota Isabela (30:04.031) reigned in Promotional category to join the Race 2 honor roll.