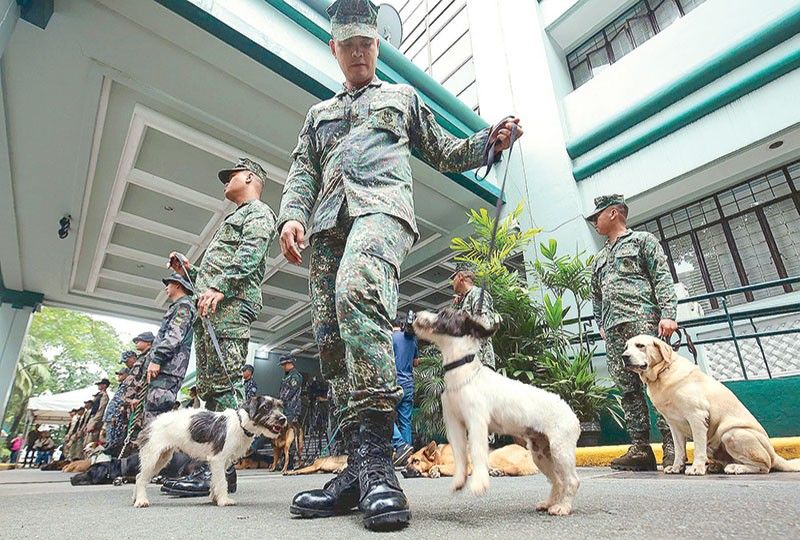 Officers and their new partners at the graduation of the basic handlers course of the K9 unit of PDEA.
Michael Varcas
Man's Best Friend & Best Protector
MANILA, Philippines — Dogs are man's best friend, loyal pets who love and will never leave their owners. But they are not just wonderful companions; some of these canines play an important role in the crackdown on illegal drugs.
A pack of well-trained drug-sniffing dogs belong to the Philippine Drug Enforcement Agency's (PDEA) K9 Unit tasked to secure airports and seaports from international drug syndicates intending to smuggle illegal drugs into the country.
PDEA director general Aaron Aquino has spearheaded a program to improve the capabilities of the country's premier anti-drug law enforcement agency. Included in his agenda is their 174-strong K9 unit.
Aquino, a grizzled veteran police officer who supervised the government's anti-drug campaign in Central Luzon before he became PDEA chief in September 2017, said dogs are highly capable in helping prevent illegal drugs from being smuggled in through the country's seaports and airports.
"The superior sense of smell of dogs, which is a thousand times stronger than humans, makes them a valuable tool in the detection of concealed illegal drugs," Aquino said.
He added: "The dog's natural capability, when properly trained and assisted by their handlers, continues to be an invaluable asset in the ongoing war against illegal drugs."
The strong bond between handler and dog is formed after six months of rigorous training at the K9 units' training facility in San Jose del Monte City, Bulacan.
The 5,000-square meter training facility situated in a residential community has been the home of elite members of PDEA's K9 unit. Here, the handlers and their assigned dogs spend each day developing their partnership.
The bond is so strong that handlers see their dogs not as just animals but partners, said K9 trainer Andrew Lazarte.
Lazarte, who has been working at PDEA for more than 15 years, said he has seen how handlers become so attached to their dogs they treat them as equals.
He recalled one scene in 2003 when a dog was about to give birth. "The dog was moaning, so the handler accompanied and comforted her until she gave birth to her puppies," he said.
In his years as a trainer, Lazarte has seen how handlers and their dogs go on daily morning jogs and how the handlers personally bathe them. These simple daily routines are more than enough to develop a friendship so strong it lasts until the dogs reach their twilight years, even well beyond the dogs' retirement after working for close to a decade.
Lazarte has witnessed how painful it is for handlers to give up their dogs who have already served their time in the agency.
"You work with these dogs every day for several years, so getting separated is really difficult," he said.
During an adoption ceremony in 2017, most of the handlers became emotional when their dogs were taken away by their new families.
"Our agents cried when they had to let the dogs go. It shows just how close they became," Lazarte said.
The agents maintain an open line of communication with the adoptive families so they can visit the dogs regularly.
These touching stories show just how dogs can perform extraordinary feats if given proper care and training.
Lazarte said people must always treat their dogs not just as pets but as their friends. With this concept, handlers should never impose physical punishments on dogs who commit mistakes.
"Dogs can not differentiate if what is being taught to them is bad or good," he said.
After working for years, narcotic detection dogs eventually retire and spend the remaining years of their lives relaxing under the care of their adoptive families.
"They eventually lose their endurance and capability to detect drugs," Lazarte said.
With only a limited manpower of 2,482 officers and personnel, the PDEA needs all the available muscle it can get in the anti-drug campaign.
It seems the PDEA is getting its money's worth as these dogs also cost a fortune.
For starters, the dogs are acquired from a private breeding company at a cost of around P100,000 each, said agent Diana Amar, who heads the PDEA's K9 unit.
"These are not yet trained but only have potential. If you will get a dog that has already undergone training, the price is around P400,000," she said in a recent interview.
The dogs are bought at a young age of six months to ensure they can still adapt to the rigorous training.
"We usually give our handlers and dogs about two to three hours a day just to do routine exercises," she said.
The smart and versatile Belgian Malinois is the most common breed in the pack with 79, followed by lively and independent Jack Russel Terriers with 23 and the friendly Labrabor Retriever with 18.
The maintenance costs for these special dog breeds are no laughing matter. For ensuring the dogs remain healthy, the PDEA spends about P3,100 a month for every dog in vitamins, food rations and vaccines.
Keeping the dogs healthy is important as it will ensure their endurance on the field.
Despite their limited resources, the men and women of PDEA's K9 unit are determined to carry out their mandate to prevent the entry of smuggled drugs into the country.
"We are always enhancing our interdiction capabilities," Amar said.
But are these dogs really performing well in the government's anti-illegal drugs campaign?
Based on the agency's report, the dogs were responsible for the seizure of hundreds of kilos worth of assorted narcotics worth billions of pesos from January to July this year.
Included in the K9 units list of accomplishments is the interdiction of at least 276 kilos of shabu worth P1.8 billion at the Manila International Container Terminal (MICT) on March 22.
Other notable achievements are the confiscation of 12 kilos of shabu with an estimated street value of P81 million at the Clark International Airport last Jan. 14 and 4.075 kilos of illegal drugs worth P27.7 million at the same airport on Jan. 15.