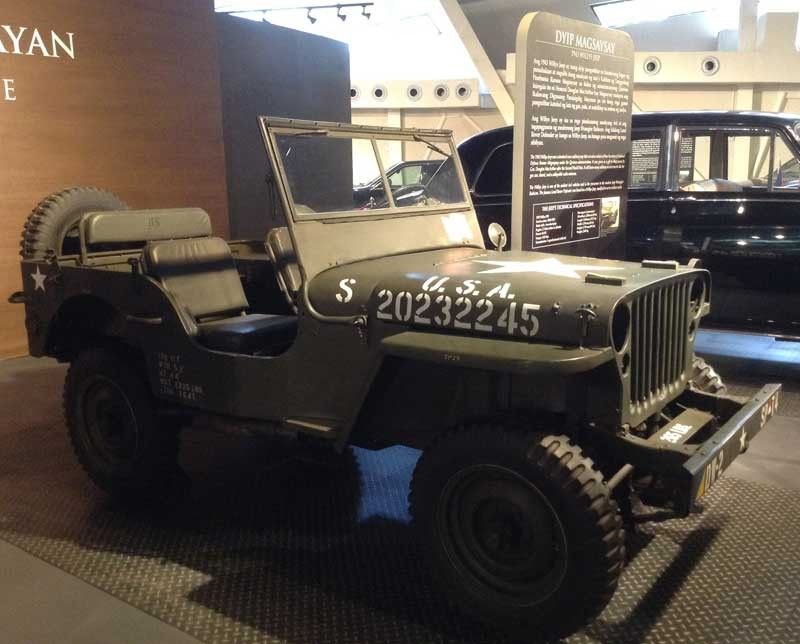 President Ramon Magsaysay's 1943 Willys Jeep.
Photos by Edu Jarque and Kenno Nishioka
Edu Jarque
(The Philippine Star) - September 30, 2018 - 12:00am
MANILA, Philippines — The Quezon City Memorial Circle along Elliptical Road has the newest attraction in town – the Museo ng Pampangulong Sasakyan (The Presidential Car Museum). And it's free and open to the public.
The 3,000-square meter depository, a contemporary three-story grey building, is home to 12 fully restored and recently refurbished limousines, several of which characteristically mirror the distinct personalities of our past chief executives.
Courtesy of the National Historical Commission of the Philippines (NHCP) with Ryan Tan as the present museum curator, the collection reflects the timeline of bygone eras.
We interacted with a digital board which displayed on call several common details, such as the iconic plate number 1, the makers, the motors of each vehicle, the made-to-order interiors and the all-important security features.
All-black cars were displayed beside true-to-life busts of the respective presidents, the then-current Philippine Coat of Arms, an enlarged copy of their signatures, plus a separate informative panel that showcased milestones of their lives and a record of achievements of their personal life and public service.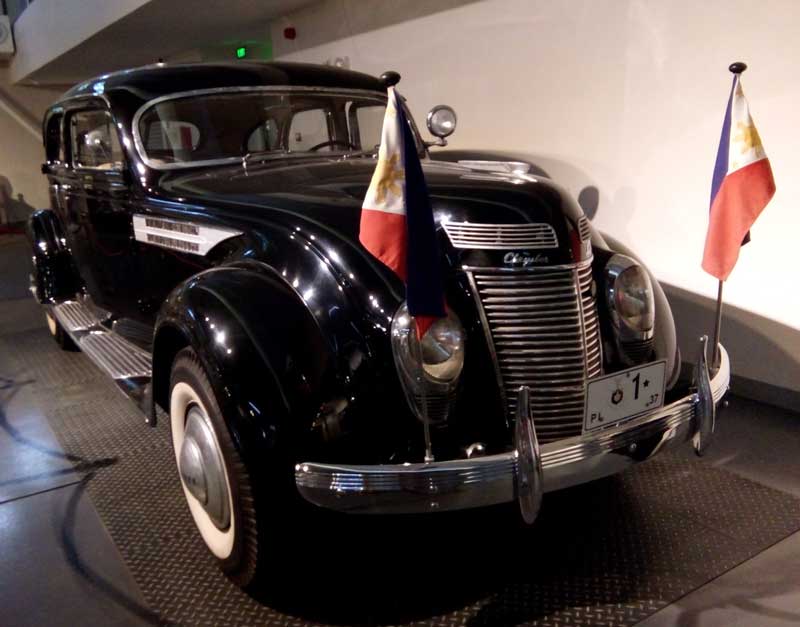 Manuel L. Quezon (1935-1944) – 1937 Chrysler Airflow Custom Imperial CW
During our recent visit, solely elevated at the entrance was the 1924 Packard Single-6 Touring of Emilio Aguinaldo (1869-1964), to commemorate the General's 150th birth anniversary. Though horse drawn carriages were the norm during the time of the Revolutionary Government, Aguinaldo obtained the Packard at a later date. This particular model was the favorite of the Russian czar and his family.
Sharing center stage were some Aguinaldo relics: a pair of silver-rimmed boots, his personal salakot, a set of binoculars, dependable compass, a leather map case and even his blue and white rayadillo shirt, and epaulettes of his rank, General de la Brigada of the Ejército Revolucionario Filipino.
The 1937 Chrysler Airflow Custom Imperial CW of Manuel Quezon (1878-1944) was the rarest gem in this series, simply because out of its limited run of 30,000 units, only one was imported into the country.
The Japanese government during its occupation gifted the 1942 Packard Custom Super Eight: One-Eighty Limousine to Jose Laurel (1891-1959). This luxury car was lined with the best fabric, leather and wool – a first.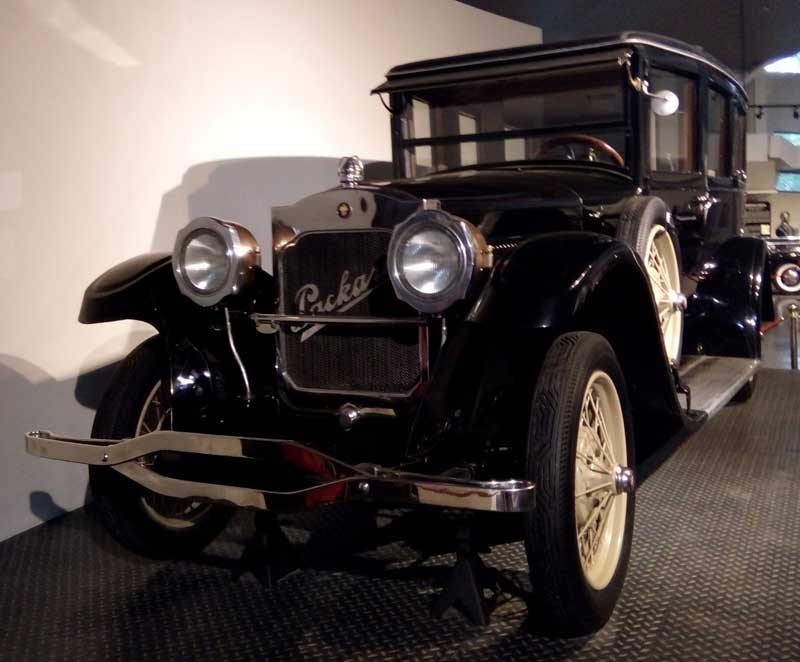 Emilio Aguinaldo (1899-1901) – 1924 Packard Single-6 Touring
It was hard times when Sergio Osmeña (1878-1961) assumed the post immediately after the devastation brought by World War II, which led him to utilize the previous president's car, which was discovered undamaged within the Malacañan complex.
The 1947 Cadillac Fleetwood Series 75 Limousine of Manuel Roxas (1892-1948) was a powerhouse, for it had eight cylinders tucked away under its conspicuous alligator hood and its trademark vertical grille that stretched to the fenders.
The 1953 Chrysler Crown Imperial Limousine of Elpidio Quirino (1890-1956) was an eight-seater beauty with a partitioned window, but likewise packed with an engine strong enough to spur this machine which weighed approximately two tons.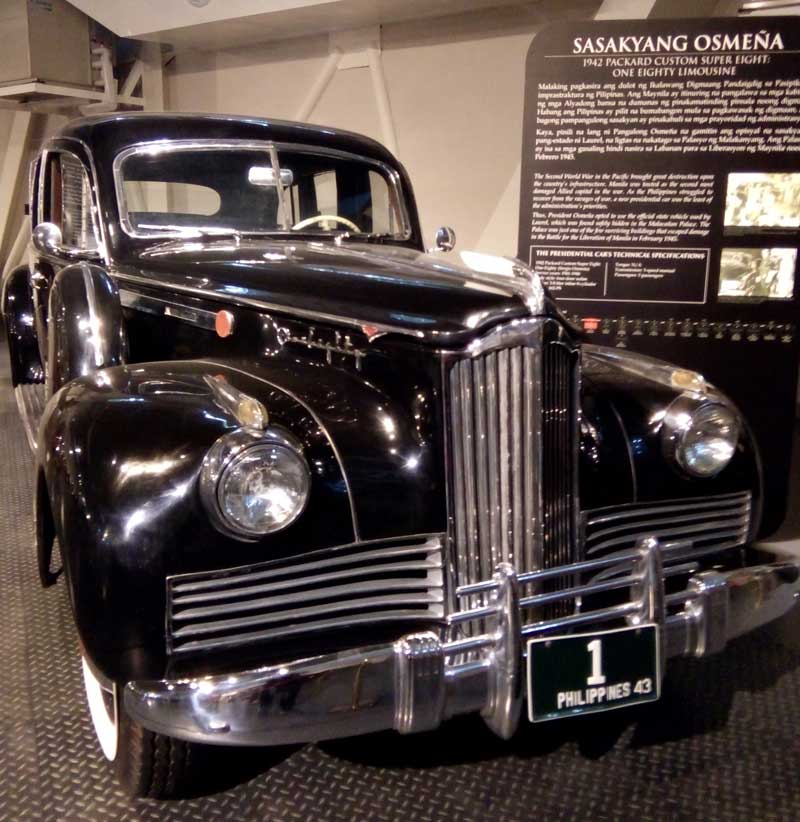 Sergio P. Osmeña (1944-1946) – 1942 Packard Custom Super Eight: One-Eighty Limousine
Though Ramon Magsaysay (1907-1957) chose to use his predecessor's Chrysler, the administration later acquired a 1955 Cadillac Series 75-23, which was used as a backup in several succeeding presidential terms.
I recall a similar model was on display at the Chiang Kai-Shek Memorial Hall in Taipei, Taiwan, which was presented by Philippine-based Chinese businessmen to the Generalissimo.
The 1959 Cadillac Sedan Deville of Diosdado Macapagal (1910-1997) took inspiration from science fiction, which made the vehicle seem like a flashy rocket ship – and may be spotted in films like "3,000 Miles to Graceland," "Pink Cadillac" and even "Ghostbusters."
The 1980 Lincoln Continental Mark VI Signature Series of Ferdinand Marcos (1917-1989) was an elegant stretch limo. His car carried some visionary features such as keyless entry and a digital screen which displayed gas levels and info on the estimated time of arrival, an early version of the GPS.
The 1986 Mercedes-Benz 500SEL of Corazon Aquino (1933-2009) was a gift from the German government. Though she chose a modest variant, it was the first to have high-security features like bulletproof panels and windows.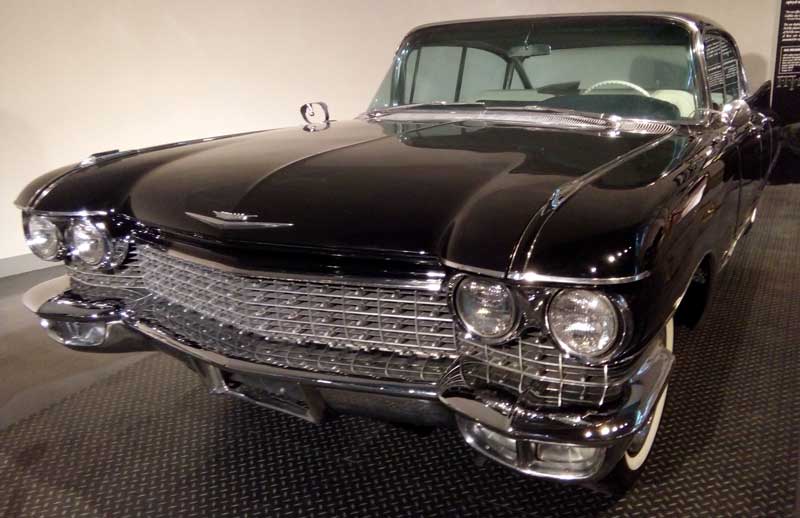 Diosdado Macapagal (1961-1965) – 1959 Cadillac Sedan Deville
True to his military background, the 1986 Mercedes-Benz 500SEL Guard of Fidel Ramos (b. 1928) was basically an armored car fancied by military men, specifically the GSG9, Germany's counter-terrorism team.
Meanwhile, the 1993 Mercedes-Benz S600 of Joseph Estrada (b. 1937) was built with bulletproof and bombproof Kevlar plates, but it was still installed with entertainment options such as a television and a telephone.
The 1993 Mercedes-Benz S600 Limousine V140 of Gloria Macapagal-Arroyo (b. 1947) was a heavily armored Benz, which had run-flat tires and was protected from sniper bullets.
The cars of Carlos Garcia, Benigno Aquino III and Rodrigo Duterte – once he finishes his term – are likewise in the process of acquisition.
And that's not all. There are four other vehicles – though not presidential cars, but just as historically significant.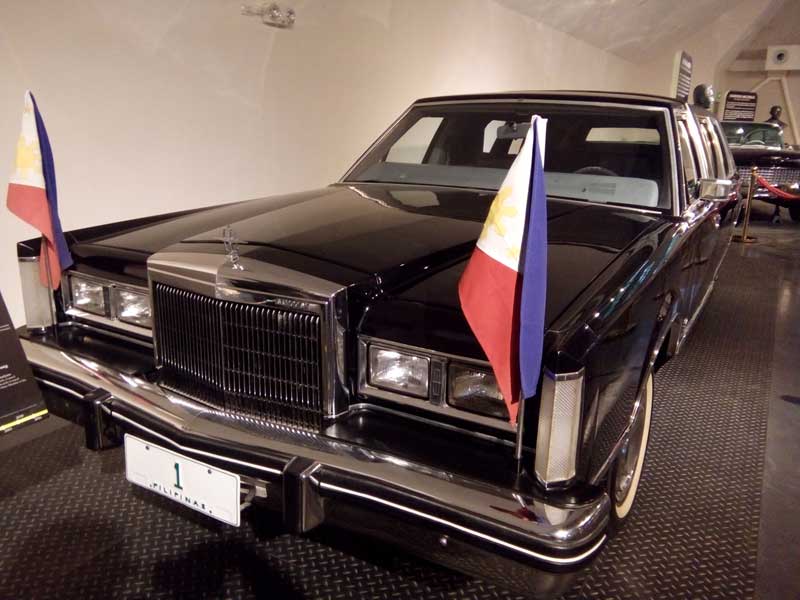 Ferdinand E. Marcos (1965-1986) – 1980 Lincoln Continental Mark VI Signature Series.
The 1934 Cadillac V16 Transformable Town Car Cabriolet, once a substitute presidential car, was a gift to Douglas MacArthur, as tribute for being the Field Marshal of the Philippine Army.
In turn, the General shared his 1943 Willys Jeep with Magsaysay, then-secretary of national defense. Though military in nature, it was modelled for civilian use.
The imeldific 1960 Rolls-Royce Phantom V of Imelda Marcos was the talk of the town due to its imposing pomp and pageantry, covered with leather, steel and wool, and bearing a dedicated section for champagne bottles and crystal flutes. Other figures who availed of this luxury were Queen Elizabeth II, the last Shah of Iran Mohammad Reza Pahlavi and Beatle John Lennon.
The Karwaheng Apacible of Leon Apacible, a delegate of the 1899 Malolos Constitution, was likewise given importance, as it was an iconic vehicle – though not mechanical – which showed how far the Philippines has developed.
Though these motion machines may be wood, rubber, steel and metal, there is more to what the eye can see – they exude a stature equal to the dignity of the president's office and serves as a historical lens through which we can view the making of a nation.
The Museo ng Pampangulong Sasakyan is open from Tuesdays to Sundays, 8 a.m. to 4 p.m. Admission is free.