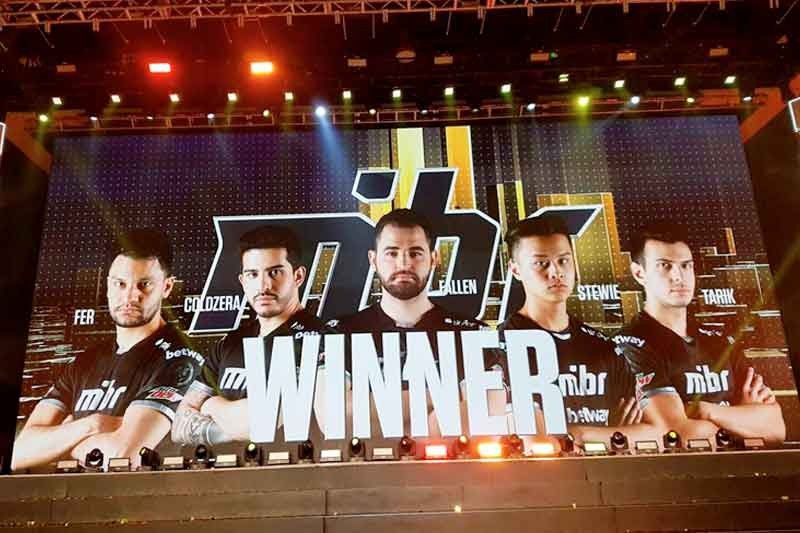 ZOTAC Cup 2018 winners Made in Brazil
Anything is possible in the virtual world
MANILA, Philippines — While the country's athletes gathered in Jakarta for the Asian Games last month, eSports gamers were battling it out in Hong Kong at the ICBC (Asia) eSports and Music Festival (EMF) held from Aug. 24 to 26.
The main event – the ZOTAC Cup Masters 2018 featuring video game Counter Strike Global Offensive – saw Made in Brazil take out Poland's Team Kinguin, winning over HK$2 million.
It is the first time for the ZOTAC Cup to be held in Hong Kong and the prize pool is the largest in the country's eSports history.
Only on its second year, the festival hopes to make Hong Kong an eSports hub. This year, it drew crowds with PlayerUnknown's Battlegrounds (PUBG), a multi-awarded online multiplayer game that was declared eSports Game of the Year at the 2018 SXSW Gaming Awards.
Two local teams and 12 international teams challenged each other in the online battle royale, with crowd favorite Cloud9, an American team, coming out on top, winning some HK$1 million.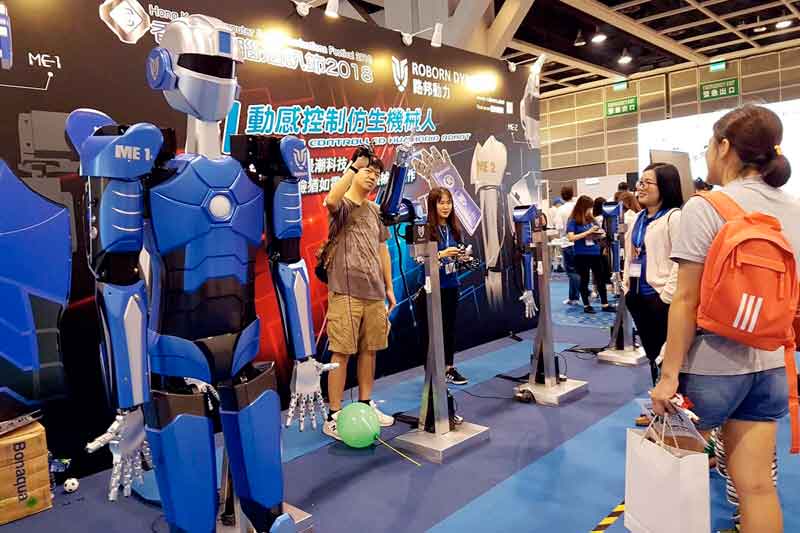 Robots on display at the festival's experience zone.
Rounding out the main event roster was "Return of the Legends," a tournament that brought back retired professional players forming Team East and Team West, to play one last game of League of Legends. Team West ended up taking the HK$100,000 prize.
Cheers and gasps – even winces of pain – could be heard from the crowd that gathered to watch each tournament at the Hong Kong Convention and Exhibition Center each time a player was taken out by a head shot or a team was ambushed. The festival truly turned the games into a spectator sport with fireworks, lights, sound effects and a live running commentary that kept the crowd hyped up.
Virtual future
The EMF likewise showcased new technology that gave festival goers an idea of what the future of eSports looks like. Virtual reality seems to be the next big thing in gaming. At the EMF, several companies let visitors try virtual reality games that let them do everything from shoot arrows, have light saber battles, try table tennis and soccer games, and more.
At Playdium Virtual Reality (2/F, 1 Cannon Street, Causeway Bay), co-founder Albert Yau is taking virtual reality to a new level, offering visitors a fast-growing library of titles to enjoy.
One game great for beginners is a ghostbuster type of game wherein the player explores a haunted house, exterminating cartoon-like ghosts. The graphics are vivid and bright, movement is seamless and smooth. It does not cause headaches, as first timers might assume.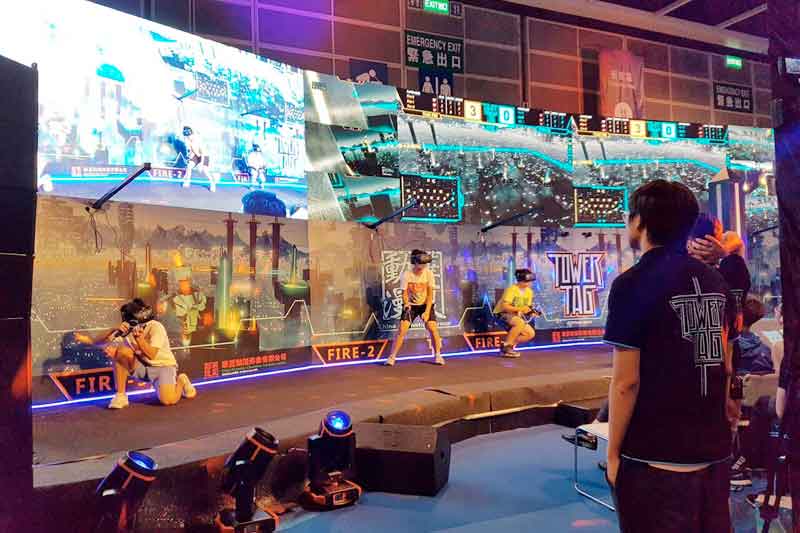 Visitors at the eSports and Music Festival try a virtual reality game.
"We try everything ourselves," assures Yau, attesting to the high standard of quality that they put on the games and equipment used at Playdium. "We do everything to try to make ourselves dizzy."
Players are encouraged to try the full range of movement as they explore the haunted house, from looking in all directions, turning around 360 degrees to survey the virtual world and even crouching down to find particularly clever hiding ghouls.
Among the other popular virtual reality games are sports games, shooting arrows and of course the zombie apocalypse.
Yau has already brought Lost, one of the trendy escape rooms that is popular with young adults and teens, to the Philippines with the Lost Philippine Station in Greenhills. He says he and his partners have plans to open a branch of Playdium Virtual Reality in Manila as well.
The trend of virtual reality is bringing the physicality back into play. Yau says players are moved to perform the actual actions needed to pick up and throw a ball or aim and shoot a bow and arrow. The action in a game is no longer controlled by a random combination of buttons, and will hopefully get players off the couch!
Space is a commodity in Hong Kong that can't keep up with the demand, Yau laments, together with every other local we talked to during our tour. The dilemma is echoed around the world, especially in Metro Manila.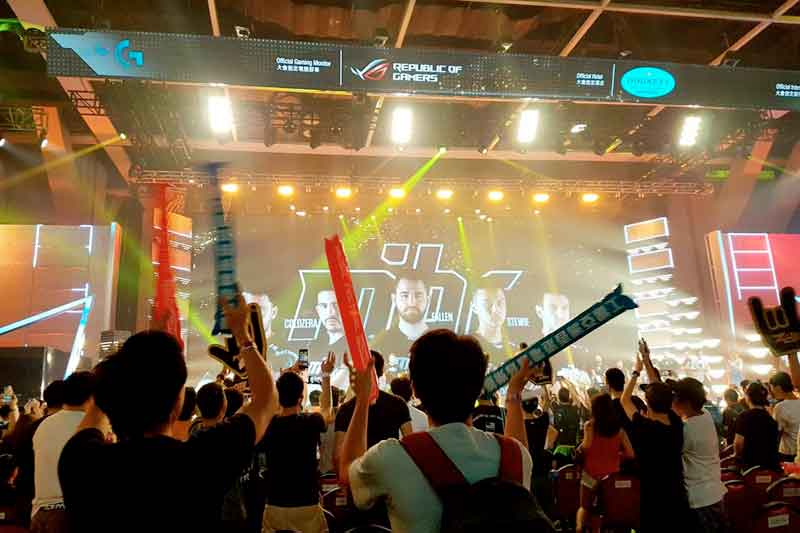 The crowd cheers for the ZOTAC Cup champions.
Yau says that what adds to the appeal of virtual reality is that the breadth of space that can be explored is so wide – it's practically limitless.
Racing Sideways
Another unique gaming venue in Hong Kong is Sideways Driving Club (1/F 65-65A Peel Street, Central), which offers virtual racing with actual simulators that make you feel that you are really racing on a track.
Sideways simulators are not your average arcade cars. The steering wheel is highly responsive and so are the accelerator and brake. Advanced players can choose to manually shift gears. Sideways has 15 simulators, letting several drivers race and compete against each other at once.
Even if you can't drive in real life, anything is possible in the virtual world. Non-drivers actually have an advantage because they are not held back by safe driving instincts.
Another factor that elevates that experience above the usual arcade race is that everyone is shown their stats after each run – how many times you braked and if you did it too soon; what you can do to turn the corners more smoothly; how to refine your steering technique. The expert coaching helps drivers improve with every race, making the experience even more fulfilling, whether you actually win the race or not.
In addition, if you live in Hong Kong, Sideways is a driving club, where members get regular updates on their progress, training and even take part in race events. One 13-year-old racer was training on the day we visited. He was first discovered when he attended a birthday party at Sideways and the attendants noticed that he was doing better than the other kids. "Then we realized that he was really good!"
He now trains regularly at Sideways, preparing for international competitions. "He's naturally a good driver, but he gets frustrated when he makes mistakes and falls behind. We're teaching him to stay focused and not lose his cool," the Sideways crew shares.
Everyone enjoys racing at Sideways, from children to businessmen, and anyone can win. "People are not afraid to drive fast because they know that it's not real. You can't be hurt," says our Sideways coach.
The Virtual Filipino
Though there were no Filipino teams at the EMF, the Philippines has already made its mark in the eSports realm as the underdog team TNC knocked out a major team at the International DotA 2 Championships in 2016. In 2017, though they bowed out early, they still won some P18 million. They were also champions of the World Electronics Sports Games DotA 2 tournament, taking home a prize of about P40 million.
Requiring lots of wits and thinking on the fly, eSports may just be something that Filipinos could excel in – especially considering the hordes of gamers that fill internet cafes at all hours of the day.
Considering the rising international interest in eSports and the huge prize pools, if you – or your children – are seated in front of the computer all day, playing, yelling at their teammates and skipping school – don't worry, there might be hope yet, to the tune of millions of dollars. After all, anything is possible in the virtual world.