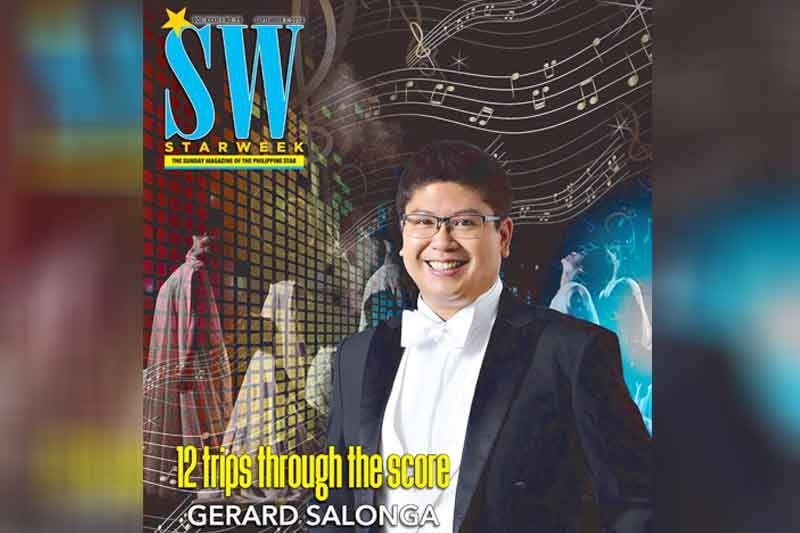 12 trips through the score and around the world with Gerard Salonga
MANILA, Philippines — Now on his second season as assistant conductor of the Hong Kong Philharmonic, ABS-CBN Philharmonic Orchestra conductor and music director Gerard Salonga has been making musical waves both here and abroad.
"This season my job as an assistant involves 14 weeks assisting and about four to five weeks on the podium conducting," he says on his stint in Hong Kong.
Salonga's year sees him traveling across the world, working with different orchestras.
One interesting project this season that Salonga is excited about is Cirque de la Symphonie. "We built trusses above the orchestra and had people swinging around, doing of sorts of circus acts. It's all set to classical music." He also conducted the same program in Malaysia with the Malaysian Philharmonic.
Earlier this year, he worked with the Sydney Symphony Orchestra. "We did the world premiere of a new Australian piece, Concerto for Taiko and Symphony Orchestra." In November, he is set to conduct the Singapore Symphony.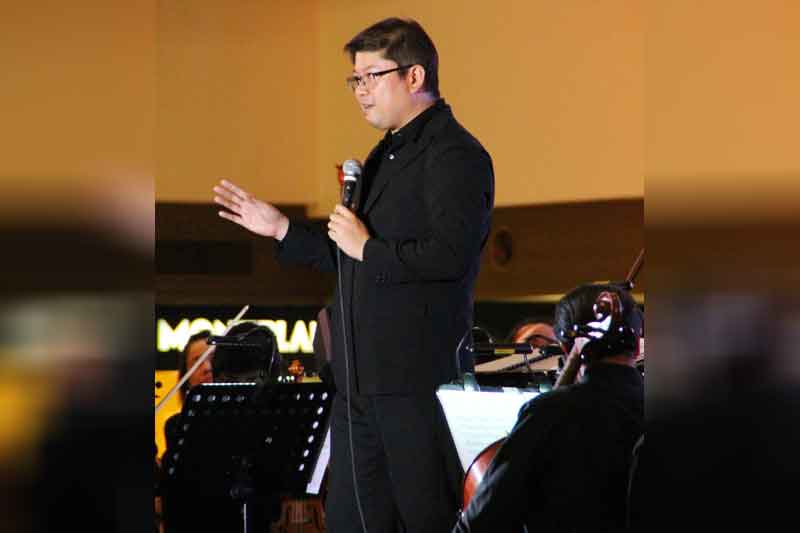 On top of that, he is tasked to assist Hong Kong Phil's music director Jaap van Zweden and guest conductors including Hans Graf and Vladimir Ashkenazy.
Interestingly, Salonga didn't think he would even become a conductor. When he was seven years old, Salonga was thrown into the spotlight when his sister Lea, who already had a budding career, volunteered him to be her accompanist.
"We were in Chicago and she was sent away to perform for audiences abroad. I came along for the vacation," he recalls. "Back then, your backing tracks weren't on your phone. They were in a piece of tape, on a reel, in a box, and you have to bring it around. And the machine for playing back wasn't working, it broke down. So she's like, 'Oh! My brother's here, he can play. He can play the song'."
So, the young Gerard was woken up from his jetlagged sleep to accompany Lea on the piano. "Nobody could see me because that was an upright piano and I was seven. My feet weren't even touching the pedals. That was the first time I accompanied her for an audience," he shares.
As they grew together in music, Gerard says he and Lea never worried about competing against each other.
"When you are kids, once in a while, you fight. I've got these scars to prove it," he jokes. "Growing up, I don't think you could've asked for a closer, stronger bond. I am very fortunate to have that, to have her like that. She's been like a third parent and she has really taken the role very seriously," he says. "Like when I was in school in Boston and she was living in New York, she shut down the New York apartment and we all lived in Boston. We're not living four hours apart, we will stay together, you know? It's like that."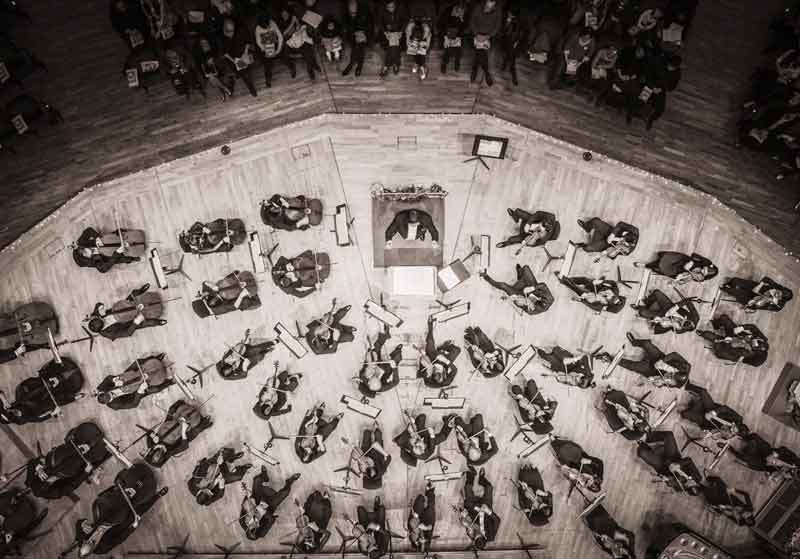 A bird's eye view of the Hong Kong Philharmonic.
Salonga went on to pursue a degree at Berklee College of Music, but was focused more on arranging music for orchestra. "To be a conductor was never really in my sights," he says, but several people started to encourage him to conduct.
Since then the siblings have teamed up for concerts in 2015, 2016 and 2018. They are looking forward to another concert with the Hong Kong Philharmonic in February 2019.
Very cool," Salonga enthuses about his whirlwind performance engagements around the world. Salonga says he has learned a lot, especially from Van Zweden, who is now also the upcoming music director of the New York Philharmonic.
"At age 19, he became the concert master of Amsterdam Concertgebouw. He's from Amsterdam. He didn't even finish college. He was in Julliard, went there when he was 16, at 19, Bernard Haitink hired him to be the concert master of the Royal Concertgebouw. He was there for about 17 or 18 years and moved on to conducting... He's conducted everybody; Berlin, Chicago Symphony, everywhere, he's just everywhere. He's a busy man. He works all the time," says Salonga with admiration.
"Aside from all the musical stuff I picked up from him, I've never seen anybody as committed as him. It's great to see somebody at that level... I mean, the amount of work that he puts in is just diving into the music. The first day I was with him, I felt like a slacker. He really made me realize, wow this is how hard I should work."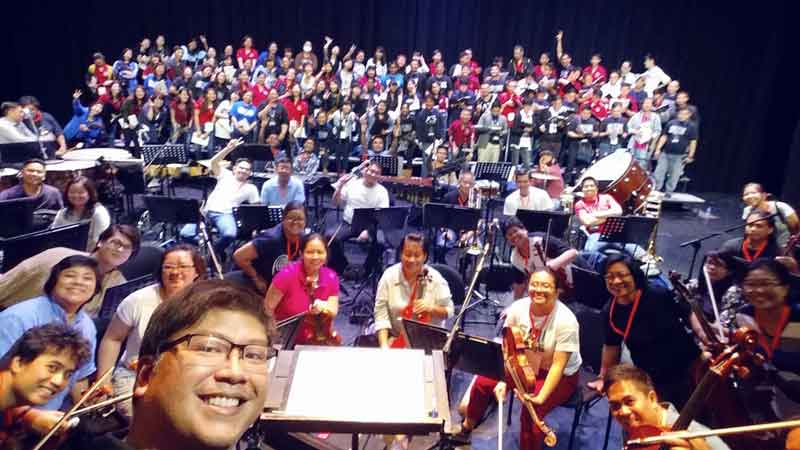 Salonga takes a selfie with the ABS-CBN Philharmonic.
For Salonga, this experience is changing who he is as a musician: "It's changed everything on the inside." He adds, "And this guy is very generous with what he knows. He's actually a really, really good guy. But when he is at the podium, nothing matters, just nothing. You're not friends, nothing, nothing matters, except music. And that's really how it should be."
Salonga bested 170 candidates from all over the world to score the assistant conductor position. Of those who submitted an application, only four were invited for the live audition.
"We had to conduct Beethoven No. 5 and Brahms No. 1. We were not told which part… just prepare. Just the first bar of Beethoven No. 5 could end your career right there. So he wanted to know if you know what you're doing or not."
By the end of the week, Salonga found out that he had the position, garnering both Van Zweden and the orchestra's vote.
"I never really thought I was able to do it until maybe last season," Salonga admits on reluctantly claiming the title and responsibility of being a conductor. "It started coming together. It's not just how well you beat time, it's not just that. Beating time, getting all the notes right, that's just the start of it. It's just the surface. The thing with classical music, symphonies, you dig deeper, you realize what's worthy to find."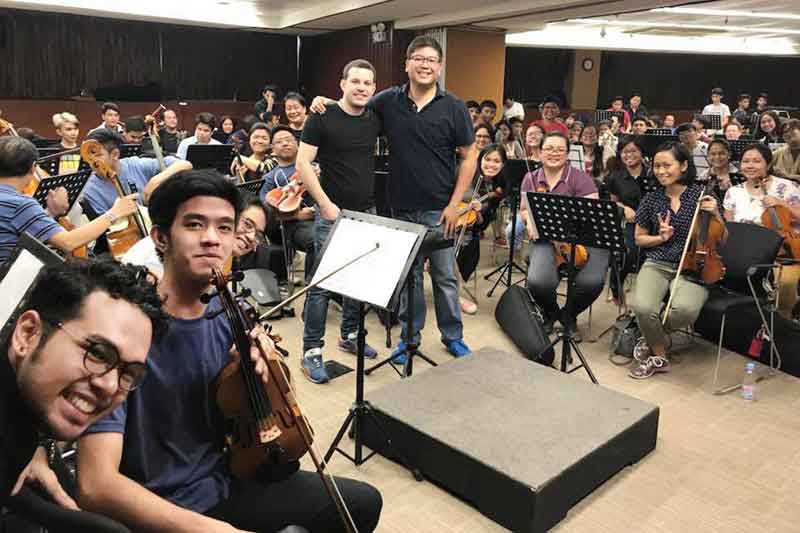 Salonga joins Ochestra of the Filipino Youth conductor Joshua Dos Santos with members from OFY and ABS-CBN orchestras.
Salonga's experience abroad is making him better as a leader of the ABS-CBN Philharmonic as well. "The first thing is the sound. You can't build a house until you know what it looks like. You can't draw an apple if you've never seen one. You cannot tell an orchestra what the sound is until you've heard the song," he says. "Spending this much time with Hong Kong Phil, you're there every day, different conductors, and there's Jaap, different pieces, different context... I've really learned from him that sound."
Salonga adds, "There's a technique called 'seven trips through the score' where you go through the score and study it seven times. I think I do more like 11 or 12. I think that is sort of where I found my sweet spot. After around twelfth trip, I feel like I'm really ready and I can hear it. I can sing it myself."
Salonga will helm the ABS-CBN Philharmonic in Ballet Philippines' 49th season opener, Carmina Burana, from Sept. 7 to 9 at the CCP Main Theater.
On working with BP artistic director National Artist Alice Reyes, he says, "I'm really looking forward to it. It's odd but the best ones are always the easiest ones to work with. The best artists put the performance and the work in front of themselves. I guess that's why they're so good. It's never about them."
Though he has known Reyes since he was young, he has not worked with her until now. "I've known her as Tita Alice since I was a little kid because Lea was always collaborating with Ballet Philippines as narrator."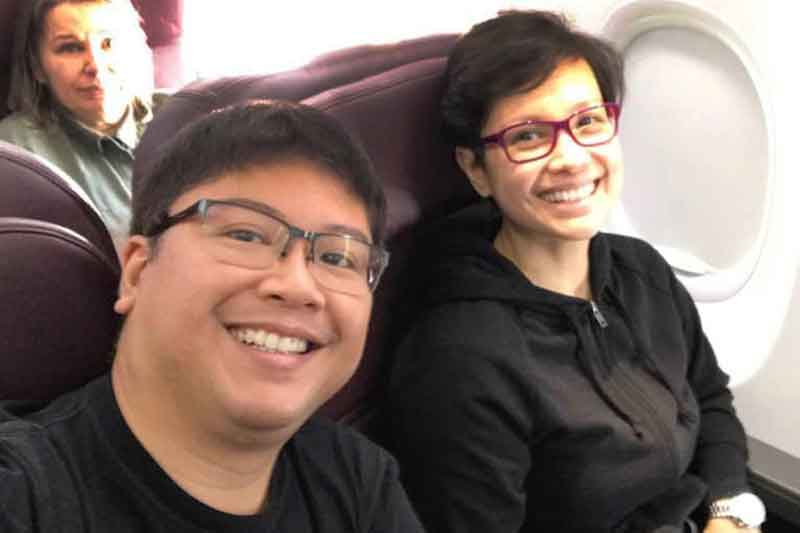 Gerard and Lea fly to their next concert.
Now coming into his own, Salonga says is it wonderful to work with Reyes. "Everything she tells me is always about how to make things better. She gives me handwritten notes which I absolutely treasure."
On taking on the massive work that is Carmina Burana (music is by German composer Carl Orff based on 24 poems from the medieval manuscript of 254 poems and dramatic texts), conducting the orchestra together with the Philippine Madrigal Singers, Salonga says, "I'm pretty psyched, it's a big work. Have to make my 12 trips through the score. It's going to be fun. Really looking forward to it."
Salonga and the orchestra are also playing music by Ryan Cayabyab for Ronelson Yadao's Sama Sama; Marius Constant for Norman Walker's Season of Flight and Antonio Vivaldi for Brando Miranda's Vivaldi Concerto.
Twelve trips through the score and he's home again, still making beautiful music.
* * *
For informationon Carmina Burana, contact Ballet Philippines at tel 551-1003 or visit www.ballet.ph. Tickets for Carmina Burana are available at Ticketworld, tel 891-9999 or www.ticketworld.com.ph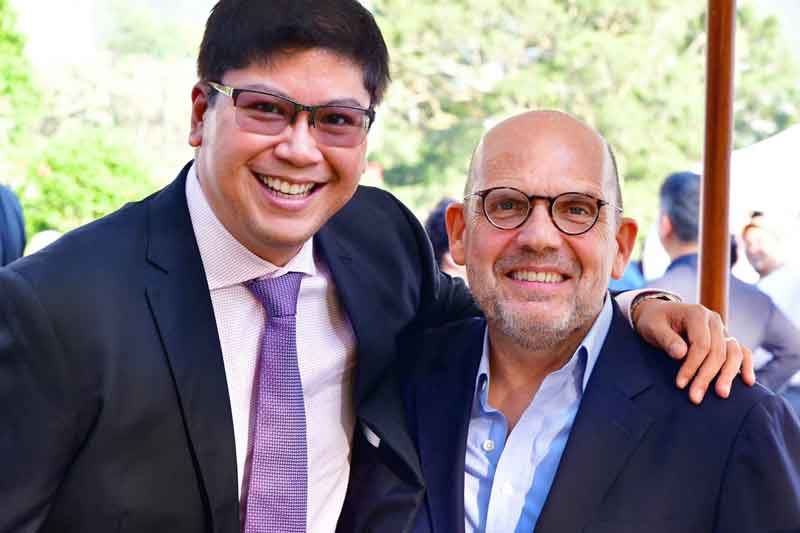 Salonga is assistant conductor to Hong Kong Philharmonic's Jaap van Zweden.