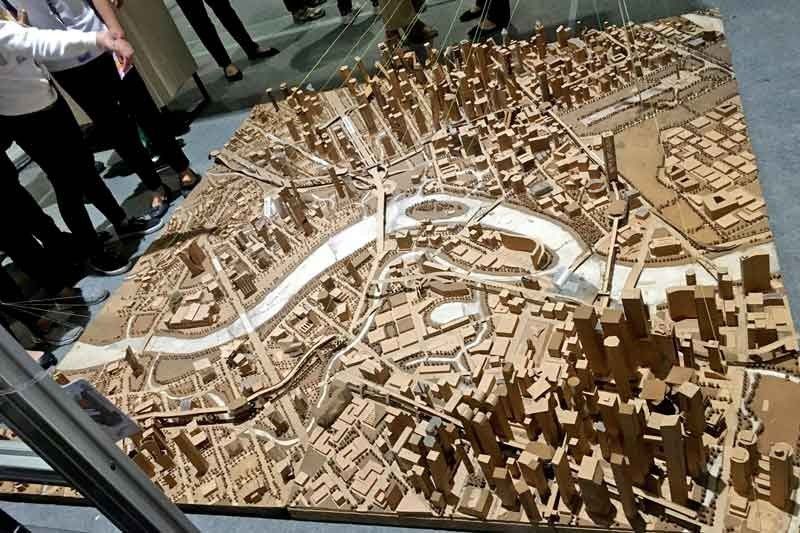 Interactive displays at the National Science and Technology Week exhibition
MANILA, Philippines — Even at a young age, a number of Filipino students have set their sights on solving some of the biggest problems of the country.
During the 2018 National Science and Technology Week exhibition held at the World Trade Center in Pasay City last month, students from different campuses of the Philippine Science High School (PSHS) showcased ideas that featured their scientific prowess.
From robotic waste segregators to automated low-cost home security systems, the projects exhibited by the students ultimately showed that there are no boundaries for dedicated, imaginative minds.
In addition to showcasing the latest developments in the field of science and technology in the Philippines, Department of Science and Technology (DOST) Secretary Fortunato de la Peña said the exhibit was also a suitable venue for students to feature their ideas.
"We are looking into areas where we can produce new products, new technology to contribute to economic activities," he tells STARweek.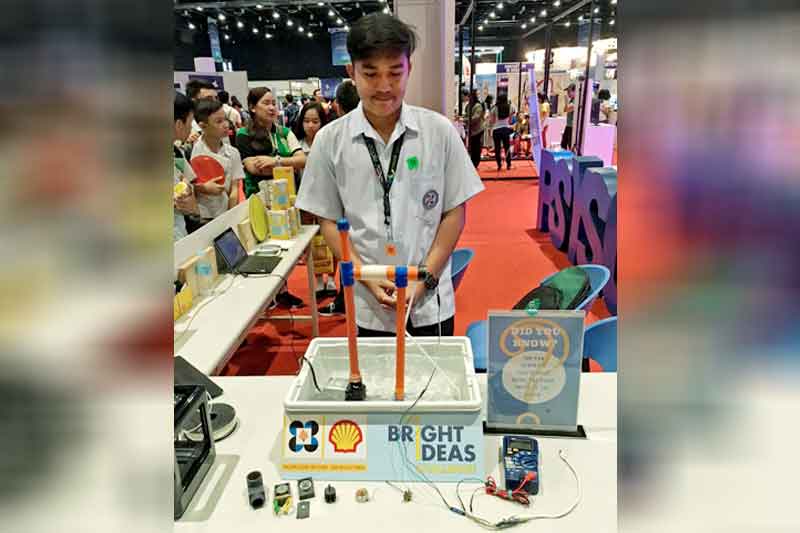 PSHS-Cagayan Valley student John Lian Mar Catli demonstrates how electricity can be generated by water going though pipes
Among the projects exhibited during the week-long event was "Pipe-to Manalo-to," a device that enables homeowners to harness electricity using force of water in the pipes installed in their homes.
Project proponent John Lian Mar Catli, a senior high school student at PSHS Cagayan Valley Campus, said the idea is a simplified version of a hydroelectric power plant.
"We made it small scale and modular so we can attach it to pipes in our homes," he says in Filipino. "We have a turbine system that turns when water flows in the pipes. That produces the electricity."
Using a voltage amplifier, Catli said the system can produce five volts of electricity – enough power to charge a gadget like a smartphone.
He says the project, a winner of Shell's Bright Ideas Challenge, is currently undergoing further development for possible mass production in the future.
While it may not produce electricity as much as the larger hydroelectric dams, Catli hopes that their idea would be able to help Filipinos, especially those who have limited or no access to electricity.
"We hope that it would be able to help others. It may even contribute to their livelihood as it would provide an alternative source of electricity," he says.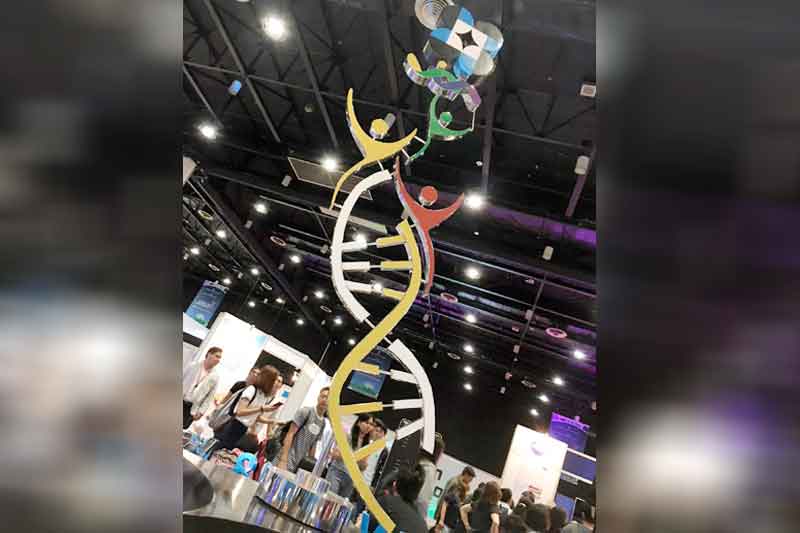 This year's NSTW exhibit aims to help Filipinos understand the impact of science, technology and innovation in their lives.
Meanwhile, expensive home security systems pushed a team of PSHS Cordillera Administrative Region Campus students to develop their own system that features a combination of sensors to alert owners of disasters and intruders.
The system, which uses open source electronic prototyping platform Arduino, combines different functionalities to provide homeowners with the ultimate security system.
In addition to an ultrasonic intruder alert system, it also has vibration sensors for earthquakes and temperature and smoke detectors in case of fires.
The system would also automatically send alerts in case of disasters, and may even allow owners to remotely activate their appliances to scare off intruders.
An idea that was born during one of their engineering classes, senior high school student Kristian Balisat, one of the proponents of the project, says they hope to get enough funds to come up with a full-scale prototype.
"What we want to do is make something that is cost-efficient and timely. Because right now, home security systems, especially the automated ones, are very expensive," he says.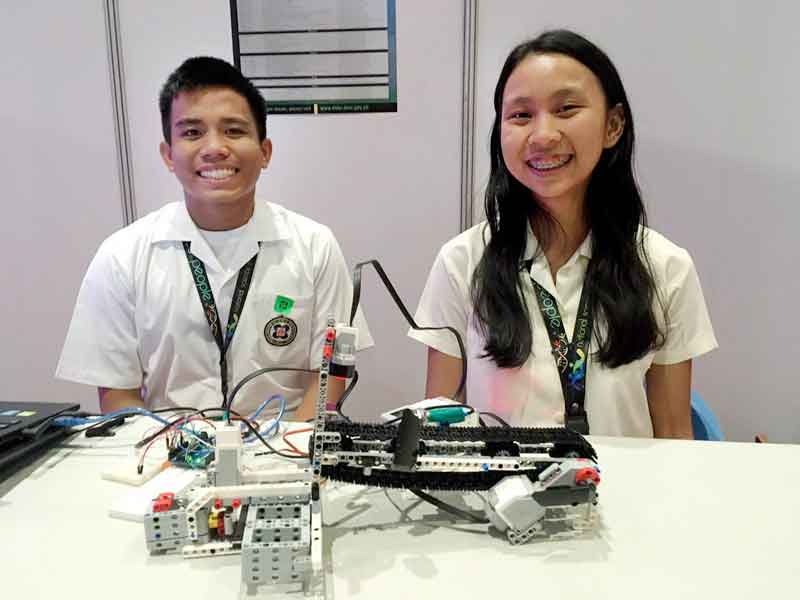 PSHS-Ilocos Region students John David Vidad and Trisha Kyle Sta Maria present their prototype robot that can segregate waste.
"We can actually cut costs, according to our research. In addition, right now, we have a lot of innovations (that we can take advantage of)," he says.
For PSHS Ilocos Region Campus students John David Vidad and Trisha Kyle Sta Maria, the perennial problem of waste management inspired them to use robots to help in segregating garbage.
Vidad explains there are sensors available on the market that would be able to differentiate between metallic and non-metallic materials, as well as plastics from those that are not.
Using what they learned from their classes, the students were able to write codes that would allow the robot to properly segregate the materials.
"They give us opportunities to come up with solutions to problems," Vidad says of their experience as PSHS students. "We have projects that are small-scale where we are tasked solve problems in school."
According to De la Peña, it is important that the public – especially the younger generation – is aware of the opportunities presented by science and technology.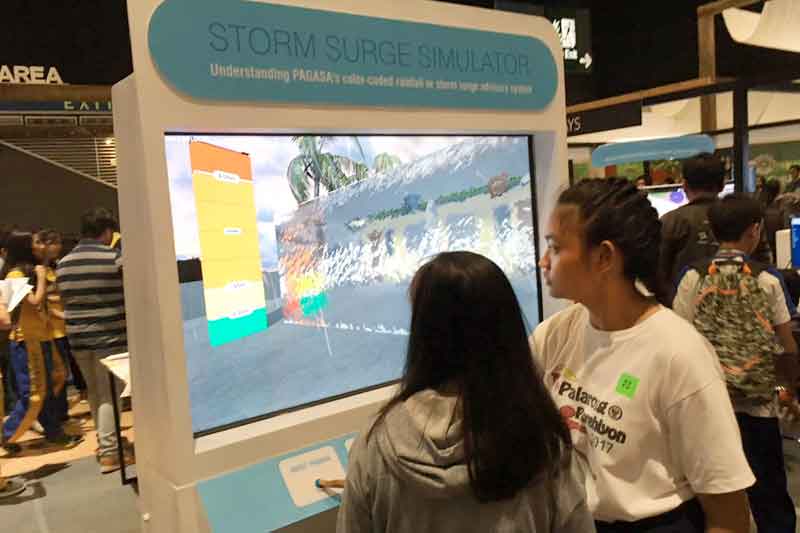 Visitors learn from different interactive activities exhibited during NSTW.
"It is important to create awareness among our citizens about science and technology, how it is contributing to development and how important it is to our daily life," he says.
"People are not too aware that there are many economic opportunities in science and technology," adds the science secretary.
Started in the 1990s, the National Science and Technology Week aims to highlight the role of science, technology and innovation (STI) in achieving national development. It also enables researchers and scientists to interact with potential investors, professionals, entrepreneurs, industry workers and students.
The ideas of the PSHS students were among the dozens of projects featured during the National Science and Technology Week exhibit.
Deviating from previous setups that divide the exhibition area per DOST attached agencies, De la Peña says they decided to cluster the projects in groups that Filipinos can easily relate to: STI at Home, STI in School, STI in the Workplace and STI in the Marketplace.
Exhibits include the newest developments in the field of science and technology in the Philippines, including in the fields of agriculture, textile industry, space science, transportation, robotics and medicine, among others.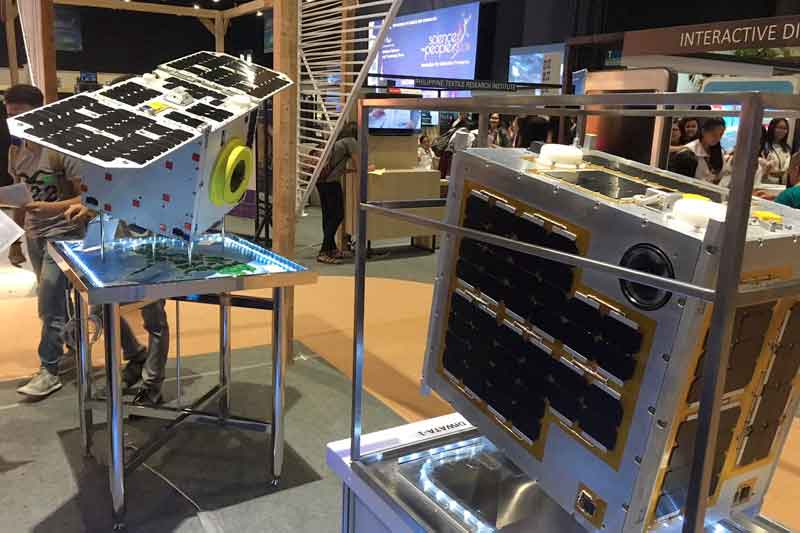 Among the exhibits are replicas of Diwata-1, the first Filipino-made satellite launched into space.
Also featured were different products of local micro, small and medium enterprises through the OneStore Marketplace, which aims to provide greater market for local Filipino producers.
Even with limited resources, De la Peña says they continue to work hard to provide support to science and technology programs in the country.
"We are trying to prioritize how far our resources can go. We are prioritizing areas where we are supposed to address pressing national problems, areas where we can contribute to better productivity, whether in agriculture or industry, in the service sector," he says.