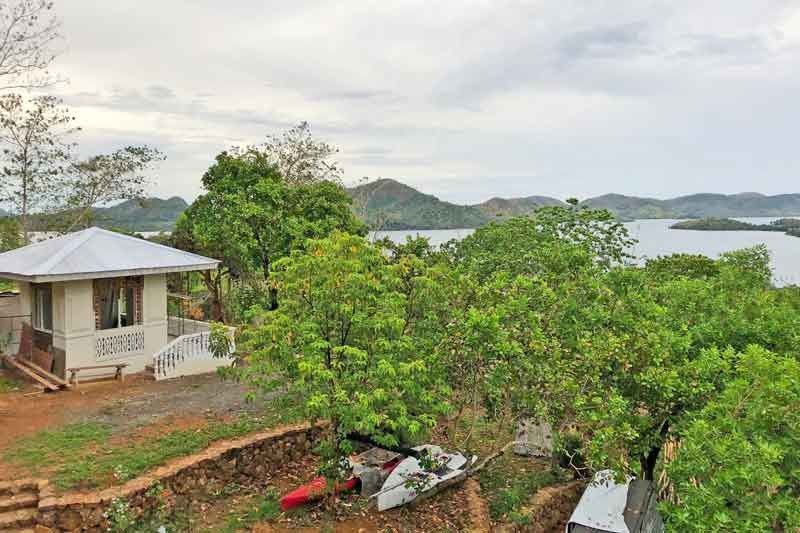 The Bulaong home has a view of Coron's waters.
Life is livelier…the second time around
Chit U. Juan
(The Philippine Star) - August 5, 2018 - 12:00am
MANILA, Philippines — Don't call them retirees; career shifters may be more appropriate. Raul and Ichay Bulaong, both just in their 50s, used to be corporate executives but once their nest emptied with the youngest daughter leaving for studies abroad, they looked at each other and asked, "Where do we go next?"
The answer was obvious.
"We are sailors," Raul says. "So we knew we had to be in a place where we could sail everyday, as much as we wanted." And the couple knew exactly where that would be: "Coron, hands down," he says.
The couple had a weekend home in Anilao – being divers, too – but soon found Coron, Palawan calling them not only to visit but to make the giant leap to move there.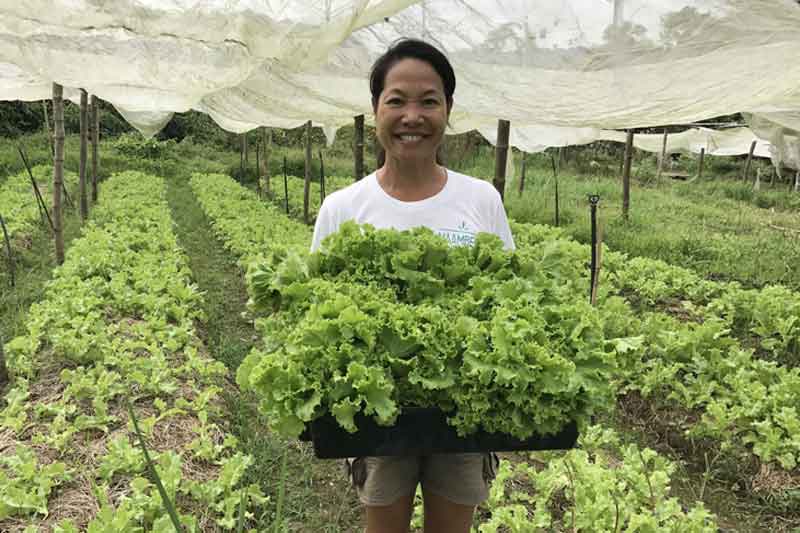 Ichay picks fresh lettuce at Maabeng Farm
So, for the past three years, the Bulaongs have called Coron home. At first, they stayed in a rented house as they built their dream house on top of a hill "where I could see my boat," Raul says matter of factly but with a comic undertone.
And how did he find this paradise about 100 meters above sea level? "I was parking my boat when I saw this empty patch and worked my way up to see where it exactly was," he proudly relates.
The house is nestled amidst trees and virgin forest, with an unobstructed view of the water. It is not an easy climb, but well worth the labor of building, rock upon rock, to finally finish the mountain top home. They now live with their four "kids" – dogs who keep them company: Sky, a golden retriever; Maru, a bull terrier and aspins Stanford and Bonifacio.
There is a drum set in one corner and I ask Raul, "So who owns this?"
"I do" he says. "Ichay and I decided to bring here all our hobbies and stuff we wanted to do but did not have time for when we were working." he continues. And now the couple mean business about doing things they always wanted to do but did not find time for in the past, in between keeping corporate jobs and raising two wonderful daughters.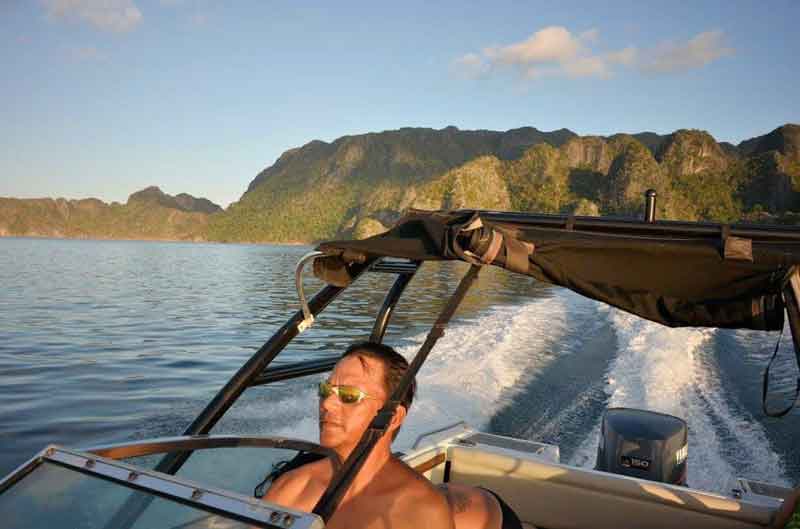 Raul takes the boat out for a spin.
The Bulaongs act like a couple who just started dating. They invited me for cocktails at their home, to hopefully catch the sunset and maybe have dinner after The Coron Sustainability Forum (on Water and Wildlife) all three of us attended.
"I go to market everyday," Ichay shares as she trims a lemongrass stalk to put in her cocktail. Today, she did not know they would have company for dinner so she bought fish and vegetables just enough for their dinner.
"Let's just eat out," I volunteer, although I would have wanted to try Ichay's sinigang of fresh fish and vegetables.
Ichay finds joy now tending a small farm where she grows organic vegetables not only for their consumption but as a small business. She supplies some chefs in town with edible flowers like blue ternate, microgreens and regular leafy salad greens as well as lowland vegetables. She tells me of her challenges the first year of her organic farm and we shared our experiences in running a farm for our needs as well as selling vegetables to others.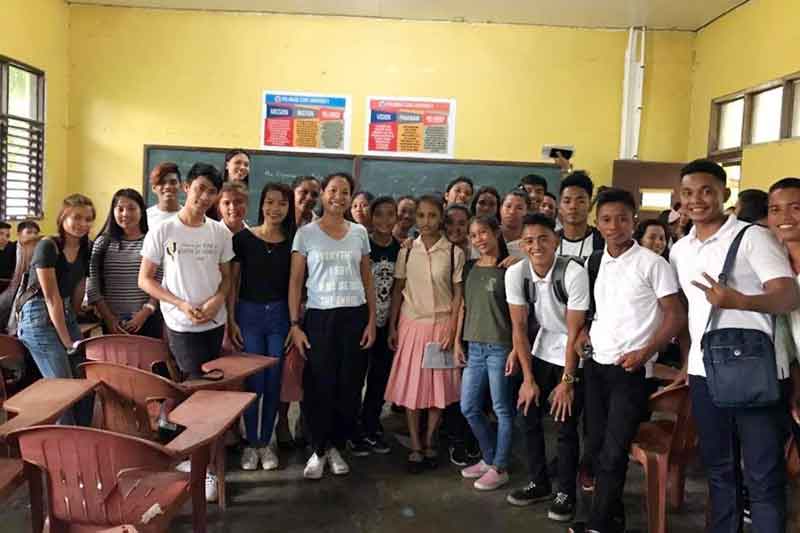 Ichay with her students at Palawan State University.
"I thought we would give up after the first year," Raul says of Ichay's organic farm venture. "But it's now breaking even at least." Well, that usually is the case when one tries to grow food – the first year or years are the most trying, after which you just go with the flow and roll with the punches.
Ichay has always been the green advocate. She used to supply ECHOstore with eco bags back in 2009 when eco bags just started becoming a trend. She gathered the mothers in Anilao to sew the bags and sold them through ECHOstore. Now we meet again and she's into organic farming.
Another business that the Bulaongs have brought to Coron is ice cream. Yes, Pedro's gelato in downtown Coron is Raul's new baby. Manned by one or two staff, the business is doing well as Raul introduces flavors he enjoys and has made into a cute little cash business.
It's a retirement package anyone would kill for. Have a boat. Grow your own food. Have two small businesses on the side, a farm and an ice cream store. Sail as much as you want. Wear shorts to work everyday. And still keep your retirement package intact.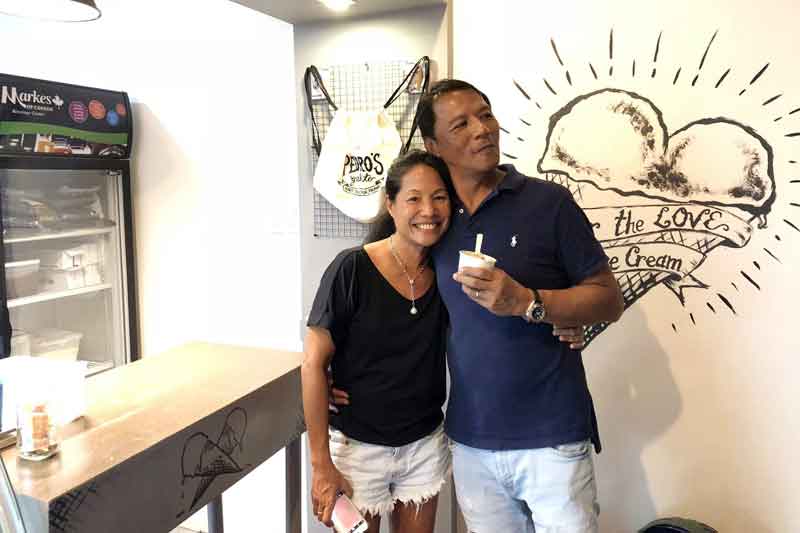 Raul runs Pedro's Gelato in downtown Coron.
But that's not all. Ichay has also taken on a teaching job at Palawan State University (PSU), sharing her experience in Marketing with Palawan's youthful community.
And Raul? He used to be a CTO of a major broadcasting company. Now there is no signal at their hilltop home and he doesn't mind – he goes unplugged the minute he gets home. Now, he's a driver, a delivery man and a boatman. But the couple knows how to enjoy this career shift. Cocktails at 6? They're ready. They don't have help at home so they can get busy – there are the pets, the house to clean and the boat to sail.
This is something 50-year-olds can definitely do. Move out of the city, take early retirement and do the things you've always wanted to do, whether it is to play the drums, sell ice cream, sail…