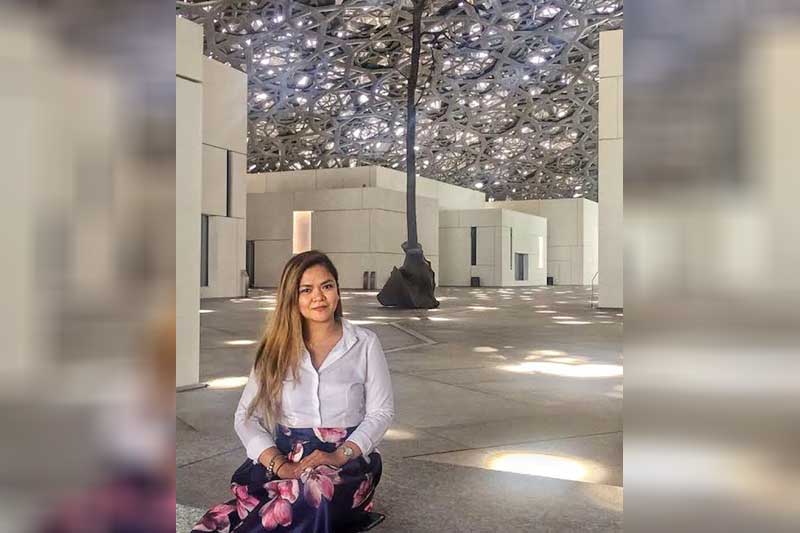 Cover photo by Edu Jarque
Edu Jarque
(The Philippine Star) - March 25, 2018 - 12:00am
MANILA, Philippines — The Louvre Abu Dhabi, the world's most exciting museum today, is where a winsome Filipina, Kristine Rigoroso, devotes her personal hours. Without a doubt, she is one lucky lady.
"I have been so blessed to have this perfect job at this time of my life," she tells STARweek.
Born and bred in Metro Manila, the middle child of three siblings proudly claims her father introduced her – at a very young age – to the hospitality industry, where she witnessed and experienced the wonderful world that it offers.
Pursuing her childhood dream, she graduated with a Bachelor's Degree in Hotel and Restaurant Management from Polytechnic University of the Philippines. After exposure to local jobs after college, Kristine relocated to Abu Dhabi, where she was initially a lounge hostess at the Abu Dhabi International Airport, then became a store manager for ice cream brand Haagen-Dazs. She has likewise worked as a food and beverage executive at the Naumi Hotel, and was assistant to the director of food and beverage at the Dusit International before moving to her new line of work.
Not one to rest on her achievements and laurels after several years in the service industry where she had honed her skills, Kristine abandoned her comfort zone and struck out to widen her horizons.
Following a battery of intensive tests and more tests, plus a series of extensive interviews and more interviews, she joined the Agence France-Muséums (AFM), an agency created by France in accordance with the intergovernmental agreement signed with the United Arab Emirates.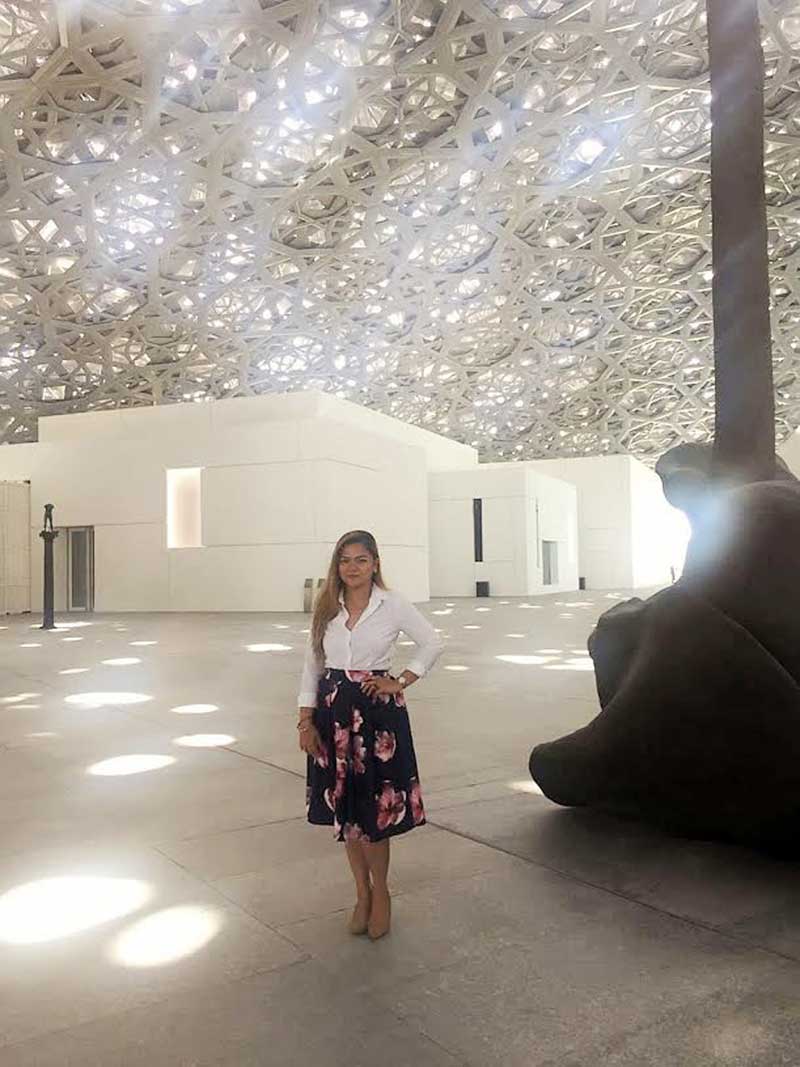 Kristine Rigoroso at the lobby of the Louvre Abu Dhabi, under the canopy of "stars" of the steel and aluminium ceiling.
"The team was entrusted with the task of carrying through commitments of France to the project, and structuring the expertise of the 17 French cultural institutions and museums involved," Kristine explains.
"We were responsible for the comprehensive training and smooth transition process to our Emirati partners by providing consultancy and expertise," she adds.
As time progressed, she was offered a position at The Louvre Abu Dhabi itself.
"I was ecstatic!" she enthuses.
Today, as museum affairs coordinator, Kristine ensures that the directives from the directors are carried out by all departments. This means being prepared for wildly varying day-to-day responsibilities in a breathtaking place bursting with history and culture and surrounded by priceless artifacts.
The Louvre Abu Dhabi offers more than just exhibitions to visitors. Artworks which range from different civilizations and cultures are displayed side by side to showcase their similarities as time unfolded.
"You wouldn't normally see this in other museums as many of the artworks are sectioned off in different galleries." she shares.
She recalls the museum's infancy days. "Just the excitement of the opening and its global reach was more than we ever dreamt of. The museum's offerings alone have been a magnet for international media. Our reach during November 2017 was a whopping 11 billion according to our analytics. That's more than the population of the Earth!"
The spectacle and its collection continued to be talked about all over the world, and is still marketed through various channels including publications, television, social media.
"Soon," Kristine shares with obvious excitement, "the museum will certainly gain another boost as we will unveil the most talked about artwork globally, Da Vinci's Salvator Mundi."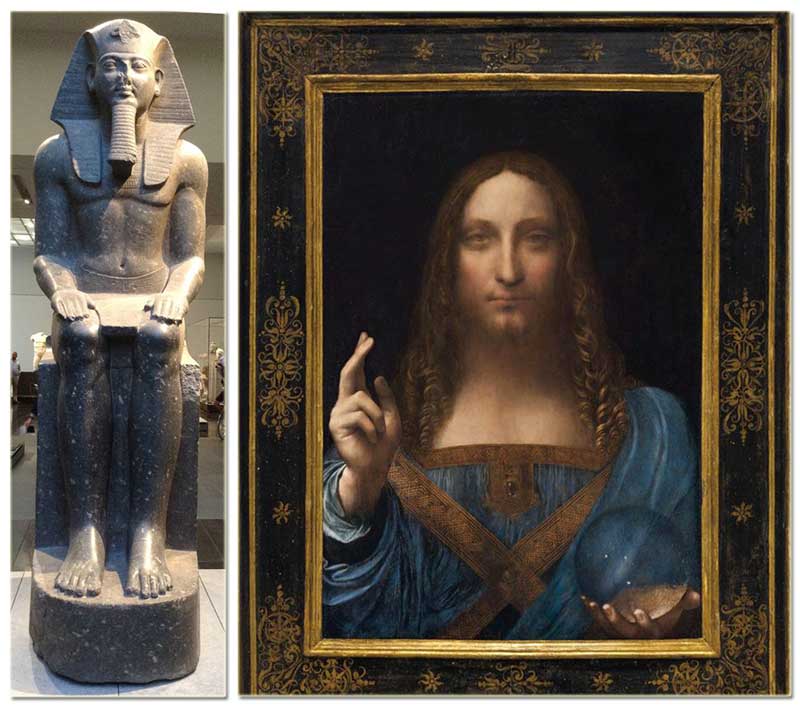 Da Vinci's Salvator Mundi (right), which the museum acquired at auction last year for $450.3 million, will soon be on exhibit at the museum. A sculpture of King Ramesses II (left) currently on display.
When asked about the challenges, she reveals that being relevant and meeting audience expectations are the two primary concerns.
"Audiences are increasing in number and diversity, so expectations heighten as well. We create different platforms to engage with our visitors to keep them entertained, and at the same time exposing the greater world to our mission of seeing humanity in a new light," Kristine explains.
At the end of our regrettably short chat, she expresses a piece of advice for those who wish to pursue a similar undertaking. "In whatever career path you choose, you need to have a deep love and undying passion for it. These traits will assist you to push yourself to achieve the best in whatever you do."
And even though Kristine is now in a different discipline from where she started, she still believes that the ultimate mission of both is to create memorable experiences for all guests to cherish.