Sa Pa sightseeing
December 8, 2022 | 12:00am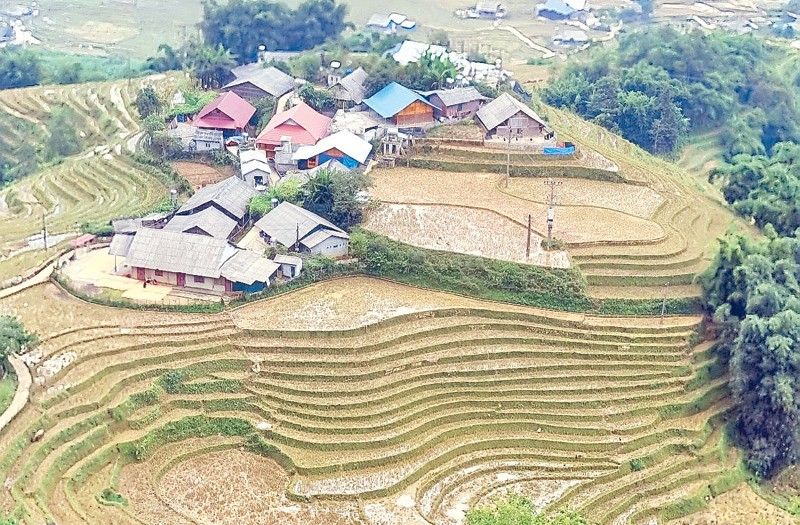 Sa Pa (sometimes written as Sapa) is a town in the Lao Cai province in the north of Vietnam. It can be accessed by an overnight train or a six-hour van ride from Hanoi.
We opted to take the van so that we could stop whenever we wanted to. It was a good choice, since we stopped several times to take stunning photos of many of their rice terraces. Unlike the grand ones we have in Banaue, the rice terraces in Sa Pa are smaller… but they have a lot of them! The six-hour ride from Hanoi seemed shorter as we stopped for photos, some shopping, and for lunch enjoyed delicious Vietnamese food.
Sa Pa is near the border of China and walking over the bridge connecting the two countries can transport you to the future or back! So who ever said you can't go back in time? Sa Pa is in the mountains and during the French colonial era, my guide Tom said a lot of French people built their vacation houses here.
We stayed at the Silk Path Grand Sa Pa Resort and Spa. The hotel was huge and more European than Vietnamese. Breathtaking mountain views were seen from our rooms and their breakfast spread was grand! The hotel was pretty much near everything to see and experience in Sa Pa.
Cat Cat Village, located in Muong Hoa Valley, is the village of the H'Mong Hill tribe and is a must-visit place in Sa Pa. Trekking around the village will take roughly three hours and 45 minutes, and you will see the H'Mong people and their homes.
Shopping here is delightful as their fabrics and brocade, both woven and dyed, are all colorful and unique. There are shoes, jewelry and several interesting tribal trinkets as well. Even their food, such as grilled eggs and smoked meats, are worth trying. They have a special black pepper (very similar to the Szechuan peppercorn) and forest mushrooms that are endemic to Sa Pa only and are definitely worth buying.
The views, flower fields, and waterfalls in this village are breathtaking. There are several H'Mong performances of dance and song that take place throughout the day.
Another main attraction is Mount Fansipan, the highest in Indochina at over 3,143 meters! A cable car inaugurated in 2016 takes you all the way to the summit in 20 minutes. The service holds the Guinness World Record for the longest non-stop three-rope cable car in the world spanning 6.3 kilometers. You will actually be passing clouds, and way above the clouds, before reaching the summit of the mountain, a garden complex with stone paths, ancient azalea trees, and 18 bronze statues. These sculptures lead the way to a 20-meter-high Buddha — the largest in Vietnam. Pause here to breathe in the freshest air you can. Then eat, shop, or enjoy breathtaking views above the clouds usually seen only inside airplanes! Once again, this entails a lot of walking!
Sa Pa is famous for hotpot. There are countless hotpot restaurants here. One can see illuminated and brightly lit buildings of several hotpot restaurants strolling around the city at night. The most popular types are horse and salmon. I didn't dare eat horse, but there was curiosity about the salmon. Rainbow trout was the first salmonid to grow in the clear freshwater lakes in Sa Pa, funded by government of Finland's Fisheries Innovation Centre. Now Sa Pa also grows its own salmon and sturgeon, another fish specialty in Sa Pa. The cold mountain weather permits these types of fish to grow here. Vietnamese salmon is also pink and fleshy, though smaller and less salty (since it lives in fresh water) and less oily than the salmon we all know. Aside from cooking this in a hotpot, they have raw salmon served with wasabi and soy sauce (just like Japanese sashimi) but here in Vietnam, salmon is wrapped in lettuce with your choice of herbs (coriander, mint, basil, etc.), like a spring roll. Grilled salmon is also wrapped the same way and with the same condiments as the raw salmon, but without the soy sauce and wasabi.
Grilled street food is everywhere! Walk around the streets and vendors will offer an array of food to be grilled, from meat, innards and sausages to seafood, fish balls, and vegetables.
Beautiful Sa Pa is not a place widely infiltrated by foreign tourists yet, but is full of local tourists. It is definitely one place in Vietnam worth visiting as it is not a tourist trap (yet). Just remember that this place is not one to be visited by those who do not like walking long and hilly places.
Our tour was seamlessly arranged by Travel Warehouse Inc. There was absolutely nothing to worry about when it came to our schedule, transfers, and even requests for extra activities. For a hassle-free trip with all arrangements or bespoke tours, visit Travel Warehouse at www.twi.com.ph or email [email protected] Travel Warehouse is located at Unit 1007 OMM-Citra Building, San Miguel Avenue, Ortigas Center, Pasig City.
Cebu Pacific currently flies once daily from Manila to Hanoi, Vietnam. Visit www.cebupacificair.com to learn more about their latest offerings, safety protocols, and travel reminders.
* * *
Follow me on Instagram @pepperteehankee