Cave hotels and hot-air ballooning in Turkey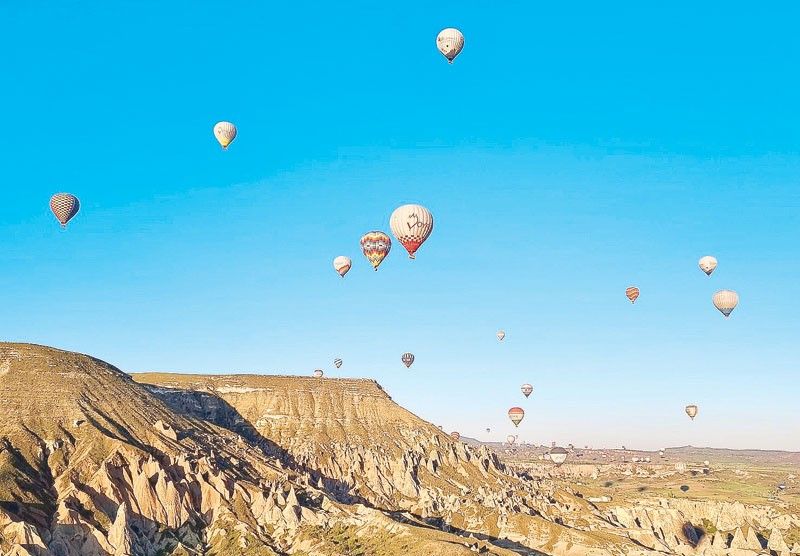 The Philippine IATA Agents Travel Association (or PIATA) travel agents and I arrive in the beautiful port city of Bodrum for them to network in the 17th Edition of the World Romance Travel Conference, which was presented by the International Association of Destination Wedding Professionals (IADWP).
This networking conference allowed them to meet leading wedding coordinators and planners around the world so they could offer their Filipino clients an all-in package for destination weddings anywhere in the world.
So if anyone wants to have a destination wedding abroad, just get in touch with any PIATA travel agent and they can arrange a hassle-free wedding package for you!
It wasn't all work as we got a chance to sail around the Bodrum Harbor and check out the town. Bodrum is very near Greece, so the Bodrum Harbor has a mixed Mediterranean feel — a combination of Turkey, Greece, and the south of France. It was beautiful! There were lots of cafés and restaurants and lots of shopping! Highlights here would include the Bodrum Bazaar, an indoor (and very clean) bazaar selling reasonably priced Turkish goods and Bodrum Castle, a historical fortification built from 1402 by the Knights of St. John as the Castle of St. Peter or Petronium.
Of course we wouldn't miss going to Cappadocia while we were already in Turkey. Cappadocia, or Kapadokya, is one of the most popular destination wedding cities in the world! The city has so much to offer since it can also be one's city base for visits to other Turkish tourist attractions in Ephesus, Konya, or Pamukkale.
Try to stay in a cave hotel in Cappadocia. They have several but we stayed in Gamirasu Cave Hotel (https://www.gamirasu.com/), which claims to be the very first cave hotel here. The rooms vary in size (some have a private sauna and Turkish hammam) and I had a wonderful stay there.
Cappadocia boasts one of the most unique landscapes in the world and you can admire it by riding a hot air balloon, one of the most popular activities in Cappadocia! I finally got to ride one after my third try (strong winds have often canceled ballooning) and was very happy with the 45-minute ride!
Another must-see is the UNESCO World Heritage Site Goreme Open Air Museum, home to some of the best-preserved churches from the Byzantine era. The nearby city of Uchisar also boasts the Love Valley, named because of several phallic rock formations and Uchisar Castle, a centuries-old citadel.
Other points of interest include Kaymakli Underground City and the old cities of Avanos and Cavusin. Do try testi kebapi — veal, lamb, beef or chicken baked with butter and spices in a sealed jar and broken right before you eat this delicious specialty in Cappadocia.
We flew back to Istanbul to catch our flight on Turkish Airlines to Manila. We had a slight delay and had about an hour to connect to our Manila flight, but we made it! What was more impressive was that Turkish Airlines managed to load our bags from a domestic flight to an international flight in less than an hour! It was a smooth flight back with excellent service on the excellent Turkish Airlines.
This was another memorable visit to one of my favorite countries and I can't wait to discover more of what Turkey has to offer!
* * *
Turkish Airlines has 10 flights weekly between Manila and Istanbul and three flights weekly between Cebu and Istanbul. For more information, call 8540-1733 or email [email protected], [email protected] or visit www.turkishairlines.com .
Check out the Philippine IATA Agents Travel Association page on Facebook.
Follow me on Instagram @pepperteehankee.