Czeching it out again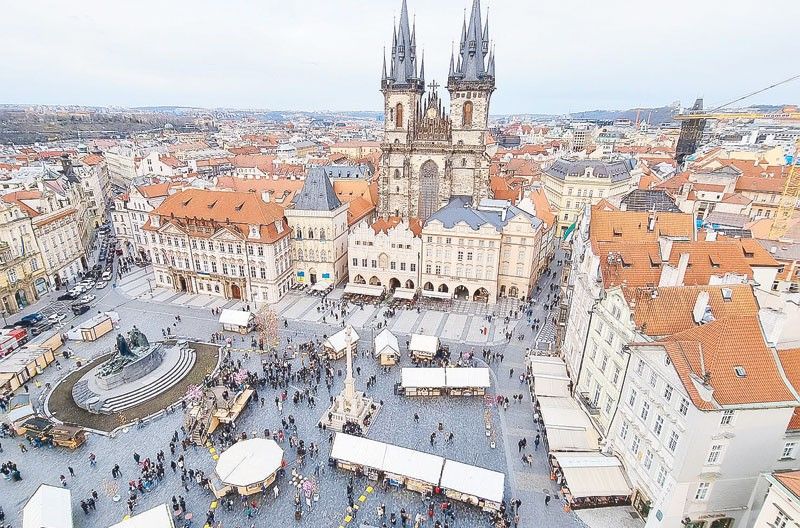 (Part 1 of 3)
This was my first foreign trip since the pandemic. I dropped my bags in the hotel and headed straight to the familiar Old Town Square, despite having less than two hours of sleep the day before. It was an adrenaline rush. It was good to be back in one of my favorite destinations.
There were fewer tourists compared to the last time I was here, but more than I had expected (after the lifting of travel restrictions) in the UNESCO World Heritage city of Prague's most famous tourist attraction. I had a bird's-eye view of the square from the top of the Astronomical Clock Tower. It was my first time up here in four visits to the Czech Republic's capital. Now I know that people can actually go up here.
We strolled around the Old Town and the New Town, passing their National Museum with a Ukrainian flag proudly displayed! The blue and yellow flag was a familiar and welcome sight all around Prague.
Passing stalls selling the delicious Czech sausage klobasa or the funnel cake trdelnik made me want to stop, but I was saving my appetite for dinner.
I did two more "firsts," discovering more of Prague. I went to a beer spa (www.beerspa.com) to relax and bathe in hot beer while drinking all the Czech beer you wanted and eating delicious beer bread. We were told not to shower after and to leave the beer nutrients on our skin. It didn't feel sticky at all and gave us softer skins hours later.
I had been to the castle and the famous St. Vitus Cathedral before but never went to the nearby Strahov Monastery. The stunning libraries of this monastery are heavenly. Looking at their collection of antique books and cabinets of curiosities was a delightful hour spent.
Of course, hearing a mass at The Church of Our Lady Victorious and the Infant Jesus of Prague was a must. The readers and choir were Filipinos and the priest welcomed us to the sacristy warmly since we were Filipinos. Dinner was the moment I had been waiting for and I had what every tourist in Prague should have: pork knuckle! Eating crispy skin and moist, tender meat while having Czech beer was a perfect meal!
I left Prague to head to another city I love, Karlovy Vary, which just got their UNESCO World Heritage designation last year. Now I visited without snow and the town is as beautiful as I remember it to be. I stayed in my old haunt, Hotel Imperial (https://www.spa-hotel-imperial.cz/en/), which has now more respiratory treatments (added during the time of COVID-19), oxygen injections, and a hyperbaric chamber in addition to their extensive wellness treatments.
The mineral water from the spa city of Karlovy Vary is used in Europe to supposedly treat everything from severe chronic problems of the gallbladder, urinary bladder, liver, pancreas, and prostate, including pancreatitis, gallstones, chronic hepatitis, to early stages of liver cirrhosis, gastritis, and stomach ulcers. Several people also stay here for days to drink the water to lose weight.
Karlovy Vary is also famous for their International Film Festival and is the town where Czech liqueur becherovka and the world-class glass manufacturer Moser Glass produces its wares.
A visit to the Moser Glass (www.moser.com) factory made me appreciate the intricacies of lead-free glass making and how tedious it is to produce a glass piece. The beautiful works of art made here have a hefty price tag to match. I couldn't afford the glass works, so I loaded my shopping bag with local beauty products made with the famous waters of Karlovy Vary.
* * *
(To be continued next Thursday)
Check out https://www.czech.cz/tourism/ and the hashtag #visitczechrepublic.
Follow me on Instagram @pepperteehankee.