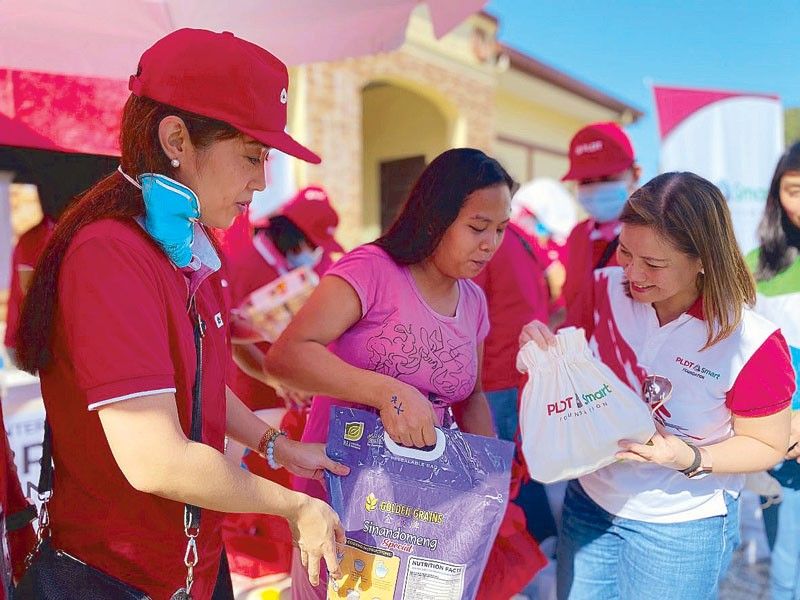 PLDT community relations head Katherine Diaz de Rivera (left) and PLDT-Smart Foundation president Esther Santos (right) in Santo Tomas North Central School in Batangas.
The afternoon of Jan. 12 changed the lives of many Filipinos forever. It was on this fateful day that Taal Volcano, after exhibiting signs of unrest, finally erupted. In a matter of hours, the alert level was raised from 2 (increasing unrest) to 4 (warning of imminent hazardous eruption) after the phreatic eruption.
As of this writing, the alert level status has remained, which means that a hazardous eruption can happen within hours or days. We continue to pray that this won't be so or that it won't be as severe as expected. In the meantime, residents within the identified danger zone areas around Taal had to be evacuated immediately.
In response to the call of President Rody Duterte and Sen. Bong Go for immediate assistance and relief to our displaced countrywomen and men, the MVP Group of Companies, through its Tulong Kapatid consortium, led the private sector effort in helping the Taal evacuees. It was all hands on deck with this one.
Maynilad Water Services Inc. partnered with the Department of Public Works and Highways to fill up 10 water tankers for cleaning purposes. Maynilad also donated 1,500 pieces of six-liter water bottles to displaced residents in Calaca, Batangas.
The water services provider also installed two static water tanks in Calaca for sanitation, hygiene, and ashfall cleaning purposes. Static water tanks will also be installed in other evacuation areas in coordination with their respective local government units and the Department of National Defense Office of Civil Defense.
PLDT-Smart, on the other hand, through its PLDT-Smart Foundation, distributed hot meals, relief goods, hygiene kits, and fruits to evacuees staying in Tagaytay City and in Batangas. This was also in partnership with Meralco's One Meralco Foundation and TV5's Alagang Kapatid Foundation Inc. (AKFI).
PLDT and Smart likewise provided free cellphone charging for evacuees as well as Libreng Tawag (free calls) and Wi-Fi internet booths in various relocation and coordination sites. They also provided communications support and load credits to volunteers from the Metropolitan Manila Development Authority, and have coordinated with the Philippine Red Cross and the Philippine Institute for Volcanology and Seismology (Phivolcs) for relief goods as well as hygiene kits and face masks for emergency responder teams.
While Smart's mobile phone network was operating normally in most of the areas affected immediately after the phreatic eruption, Smart has also been working to restore service in cell sites that are off-air due to the loss of commercial power. Technical teams have been dispatched to install generators in the affected cell sites.
Meralco, by itself and through its One Meralco Foundation, provided for solar mobile charging stations at evacuation centers, as well as portable electric generators along with the manpower to operate these sets. Meralco's linemen and engineers also worked round-the-clock to immediately restore power to affected areas.
Metro Pacific Tollways Corp. (MPTC) conducted ashfall clearing of the Cavite-Laguna Expressway (CALAX). The toll road developer and operator also ensured standby water supply for windshield washing for the unobstructed passage of motorists. Up to 2,500 families evacuated in the areas of Silang, Amadeo, Tagaytay, Alfonso and Nasugbu also benefited from relief distribution efforts from MPTC.
Alagang Kapatid Foundation Inc., oftentimes a first responder in efforts such as these, deployed its food truck to evacuation centers, also in partnership with the different MVP Group companies and their foundations. The food truck itself is also equipped with Libreng Tawag and mobile charging facilities.
The Makati Medical Center Foundation donated bottles of drinking water, offered free nebulization services from doctors and nurses, and provided for thousands of face masks and psycho-social first-aid kits.
Cardinal Santos Medical Center extended assistance through free medicines and consultations with affected residents.
Metro Pacific Investments Corp. gave care packs consisting of blankets, mats, and shirts for both children and adults. It also provided for water filters and other relief goods for families in evacuation centers.
Philex Mining Corp. donated N95 face masks and cash contribution from its employees both at corporate office and at mine site in Padcal. Philex maintains a ready supply of N95 face masks as part of its Personal Protective Equipment standard safety protocol in mining operations.
The respective companies of the MVP Group also undertook their own fundraising and donation drives for the Taal evacuees. Their respective officers and employees have likewise volunteered for relief good distribution and feeding programs, some even on their own personal initiative.
On top of all this, we also have the Philippine Disaster Resilience Foundation (PDRF), the country's major private sector vehicle and coordinator for disaster management that has been coordinating the private sector assistance, not just of the MVP Group, with the various government agencies. PDRF has likewise provided for face masks and, in partnership with AirBnb Open Homes, temporary accommodations for response teams.
The work is not yet done and far from over. Phivolcs predicts that this will carry on for some time — days, weeks, even for months or a year or more.
The MVP Group, through its Tulong Kapatid consortium, shall continue to soldier on in this regard — anchored on the vision of its chairman, Manuel V. Pangilinan, to be socially responsible not just for CSR's sake but because it is an impending duty for every Filipino to alleviate the plight of those in need.
We can only hope for the best in this endeavor. Godspeed to all.