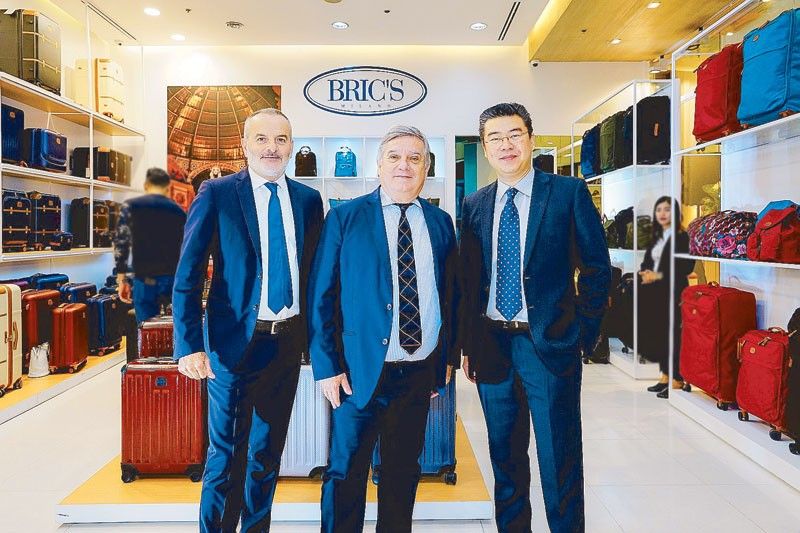 Bric's CEO Attilio Briccola and Italian Ambassador Giorgio Guglielmino with Melvin Sua, managing director of Jake Bros, distributor of Bric's in the Philippines.
Bric's is known all around the world for its stylish travel and fashion products.
I first learned about the brand when my mom told me she liked its suitcases, so I visited the store and fell in love with it. I even tell my friends who take Qatar Airways Business Class to bring home for me the airline's classy toiletry kits because they are exclusively made by Bric's.
It was in 1952 when Mario Briccola founded the luxury Italian travel brand in the region of Lake Como. He produced bags and suitcases and produced a larger production unit in 1965 employing 150 people. The brand Bric's (from Briccola) was created and registered in 1968 and presented to the Italian market. In 1992, the brand went international with four distribution units abroad. The Bric's flagship store opened in Galleria Vittorio Emanuele in Milan in 1999 and today, the brand is present in 41 countries.
My friend Tim Yap recently organized a small get-together at the Bric's store in Shangri-La Plaza in Mandaluyong City to welcome Bric's CEO and second generation of the Briccola family, Attilio Briccola, who went around the store to explain the different collections to guests. The night also saw the introduction of the brand's Bellagio collection.
The Bellagio collection has that vintage look recalling the era of classic bags and elegant travel trunks. It is vaguely square-shaped and enhanced by leather details covering the corners and the strap. There are other polycarbonate trolleys but what caught my eye during the event was the "trunk," available in large or extra large. It can store quite a lot and comes in cream or black. The Bellagio also has a cabin-sized trolley with a front pocket business organizer, which contains PC and iPad pockets and a flat pocket for notebooks. The front pocket makes it easier to access the interiors without opening the entire trolley. These come in cream, olive green, blue, and black.
The brand also has the Venezia collection, which consists of ultra-light trolleys. The thermoformed shells are created from a high-tech self-reinforced polypropylene, which is made in Italy and is life-guaranteed by the company. Check out its large suitcase that is only 3.6 kilos!
It was pretty hard to choose a favorite Bric's luggage since all were just so beautiful and stylish! I ended up getting the black Bellagio trunk, it was just too irresistible.
Check out Bric's new collections and fall in love with these beautiful Italian travel bags.
(For more information, visit its stores in Shangri-La Plaza East Wing and SM Aura Premier or @Bric's Milano on Facebook and @brics_philippines on Instagram.)