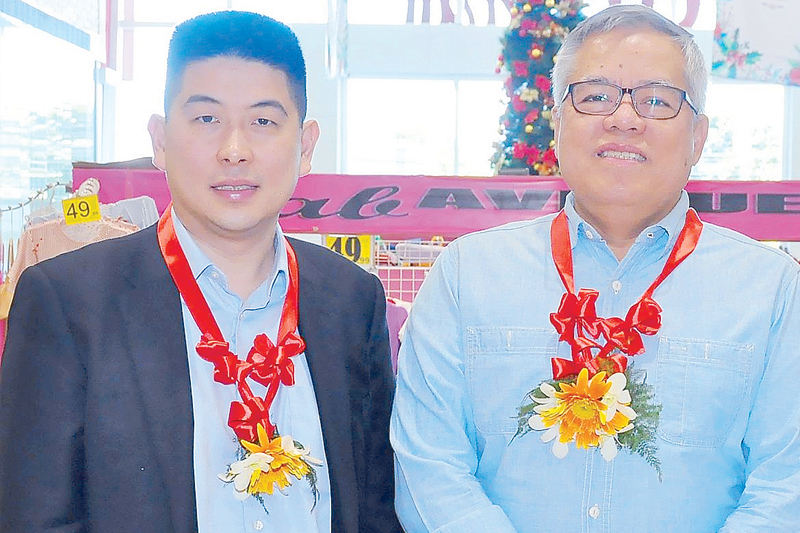 DoubleDragon chairman Edgar 'Injap' Sia II and DTI Secretary Ramon Lopez.
A fiesta-themed celebration greeted guests at the launch of Go Lokal! outlet at CityMall-Anabu in Imus, Cavite recently.
Organized by CityMalls (owned by publicly listed real estate firm DoubleDragon Properties) with the Department of Trade and Industry (DTI), the launch featured innovative and high-quality artisanal Philippines products. Other Go Lokal! outlets also opened at various CityMalls nationwide.
Go Lokal! is a key project of the DTI and a retail concept store that showcases Philippine goods. The partnership between CityMall and the DTI paves the way for mainstream market access to get hold of the country's best products.
Seen welcoming guests to the event were DoubleDragon chairman Edgar "Injap" Sia II, DoubleDragon president Ferdinand Sia, DTI Secretary Ramon Lopez and celebrity Xian Lim.
Secretary Lopez said, "In Go Lokal!, there is no listing fee or rental fee. With micro and small entrepreneurs comprising 96 percent of total businesses in the country, this is the government's way of supporting them, ensuring no one will be left behind."
Injap Sia added, "With CityMalls across the country serving as the platform for helping micro entrepreneurs from the region, we are sure that through this project, these microentrepreneurs can eventually grow and expand their businesses not just locally but globally as well."
For a brighter financial future
For most people, it is true that education matters when it comes to getting ahead in life. But now, more than ever, financial literacy and awareness is equally important to move forward.
About 80 million Filipinos or 78 percent of the population reportedly do not have access to financial services and are forced to rely on inconvenient and often risky means to manage their money. If this trend continues, these individuals are in danger of being trapped in a cycle of poverty without the ability to build better lives for themselves.
This is why the Department of Education, Meralco-Bayad Center and Marylindbert International teamed up for an advocacy called Bayad Center "Sapat Dapat" Comprehensive School Program, which aims to enhance and contribute to the financial awareness, education and literacy of Filipinos.
A partnership-sealing ceremony was recently held at The Lighthouse, Meralco Compound in Pasig City. Present at the event were Department of Education Undersecretary Lorna Dig Dino, Bayad Center president and CEO Manuel Lorenzo Tuason and Marylindbert International president and CEO Linda Legaspi.
"Since financial literacy is rarely taught in school, this program seeks to fill the gap. The program exposes our children to the basics of budgeting, spending and saving. These are practices that will help establish good money habits that will prove beneficial as they grow old," noted Wendell Labre, Bayad Center marketing head, who spearheads the initiative.
"Bayad Center is here not just to bring convenience and accessibility to the paying public but we exist because we want to improve the financial transactions in the country. We hope the "Sapat Dapat" initiative will help expand financial know-how not only for students, but for the parents and teachers as well," Tuason said.
On the other hand, Undersecretary Dig Dino said, "Soon enough, the younger generation will realize that accessing any financial services is the lifeblood of an economy that would enable households and businesses alike to save, invest and protect themselves against risk."
For her part, Legaspi explained, "If an individual or a household learns the importance of accessing financial services, he or she can save and plan for emergencies. By explaining to children how much money their family has to spend every week and how this money is spent, these children will better understand the cost of family life and how much can be saved for other things. Every member of the household can soon enjoy financial security and learn the skills to 'get ahead' instead of just 'getting by'."
'Premier' travel essential
The Hong Kong and Shanghai Banking Corp. Limited (HSBC) presented the newly upgraded HSBC Premier Mastercard at the Ascott BGC Ballroom recently.
Seen gracing the event were HSBC Philippines CEO Wick Veloso and head of retail bank and wealth management Kris Werner with Rustan's chairman and CEO Nedy Tantoco and marketing head Dina Tantoco, Philippine Airlines head of sales Ryan Uy, head of marketing Ria Domingo and head of loyalty Mayette Casanova, and MIASCOR PR officer Carla Martinez.
HSBC Premier cardholders booking through Agoda and Ministry of Villas can enjoy an exclusive 10-percent discount in more than 180,000 hotels worldwide. The credit card also includes lounge privileges and a visit to any of the four local MIASCOR and Skyview Lounges, or access a network of 850+ airport lounges worldwide through Lounge Key until March 31.
HSBC Premier cardholders who enroll until Feb. 15 are automatically qualified to enter an exclusive raffle where five winners will be awarded a holiday for two at the Bali Amankila including roundtrip Business Class tickets, a four-day/three-night luxury pool suite accommodation, full-board dining and a private morning cruise. *
(For more information, visit www.hsbc.com.ph/1/2/hsbc-premier/exclusive-features/exclusive-premier-offerings.)