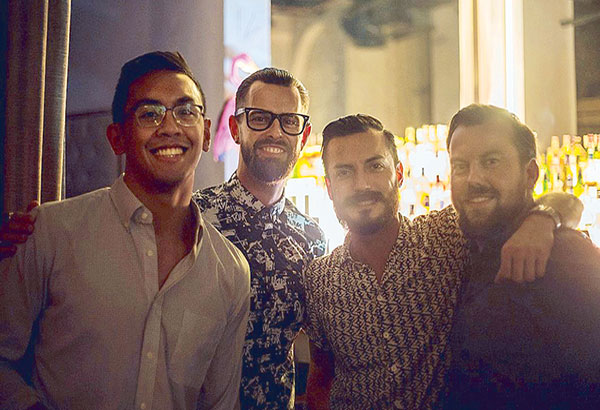 (From left) Bank Bar's EG Bautista and guest bartenders Pawel Mikusek, Edgar Santillan and Marek Vojcarcik.
THE PEPPER MILL
-
Pepper Teehankee
(The Philippine Star) - November 13, 2017 - 4:00pm
Early this year, the Bank Bar in Bonifacio Global City, Taguig was named one of the seven most intriguing speakeasies in the world by CNN Travel.
Recently, this world-class speakeasy hosted The Moment Group's fifth anniversary parties, which kicked off with an early afternoon event dubbed "Insider Afternoon."
The event, which also served as the launch of Bank Bar's new menu, featured guest bartenders from Hong Kong Pawel Mikusek, Edgar Santillan and Marek Vojcarcik who gave talks on Tiki culture and designing taste through flavors.
The celebrations continued on the evening of the same day. Bank Bar was bustling as early as 7 p.m. as Mikusek, Santillan and Vojcarcik went on head to head in a "Battle of the Bartenders," with their own one-night-only cocktail menus. Glow sticks, party hats, stick-on mustaches, Tiki drinks and flamingos added the festive vibe in the speakeasy.
Sparklers at midnight signaled the launch of Bank Bar's new menu. Staple drinks (with two of my favorites: Nutter Club and Mary Got Inked) and twisted classics like Truffle Whiskey Sour and Mezcal Negroni were downed with late night meals like bone marrow and Wagyu tacos or salted egg shrimps.
Aside from Bank Bar, The Moment Group also owns Liguini Fini, Phat Pho, Ooma, Mecha Uma, Manam, 8Cuts, The Mess Hall and Din Tai Fung.
(Check out Bank Bar's new bar chow and drinks at the ground floor, RCBC Savings Bank Corporate Center, Bonifacio Global City, Taguig.)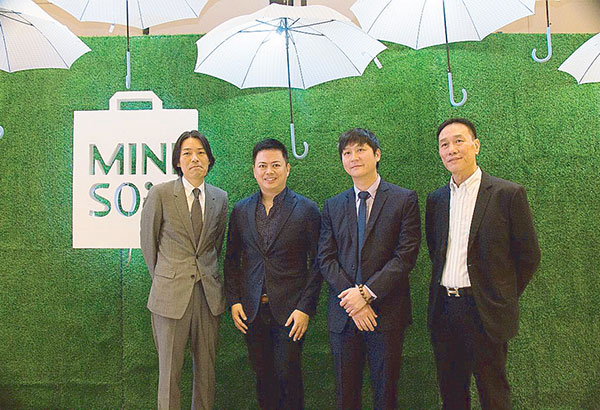 (From left) Miniso International co-founder and chief designer Miyake Junya and Voltaire Tayag with Mini Depato Corp. president Michael Hong and VP Mariano Guy.
Miniso expands in the country
Japanese brand Miniso opens 80 to 100 stores every month worldwide. In the Philippines, it recently opened in SM Center Tuguegarao Downtown, which means Miniso was able to open 40 outlets in the country in just 16 months, including SM City San Lazaro, SM Makati, SM Megamall, SM North EDSA, SM City Cebu and SM City Davao.
Miniso was founded in Japan in 2013 by Japanese Miyake Junya, the chief designer; and Chinese businessman Ye Guo Fu, the company president. Since then, Miniso has opened over 2,000 stores in over 50 countries.
It is not surprising that the store's popularity has sky rocketed in the Philippines because of its consumer-friendly products sold at very reasonable prices. Its partnership with SM Retail Inc. also helped Miniso reach a broader market nationwide.
It was my sister who first introduced me to Miniso, which carries a variety of amazing finds. In fact, the trusty powerbank I am using now to charge my gadgets is from Miniso!
Miniso Philippines is now offering partnership through the Miniso Franchising Program. Through such program, the brand will be able to reach more people and provide them with high-quality, everyday products and also establish a presence in emerging provinces in the country. Recently, a franchisee meeting with the theme "Coming Home to Miniso" was held at the Conrad Hotel in Pasay City. By partnering with Miniso, franchisees can rest assured that customer satisfaction will always be a top priority.
(For inquiries, call 559-7777 or e-mail franchise.minisoph@gmail.com.)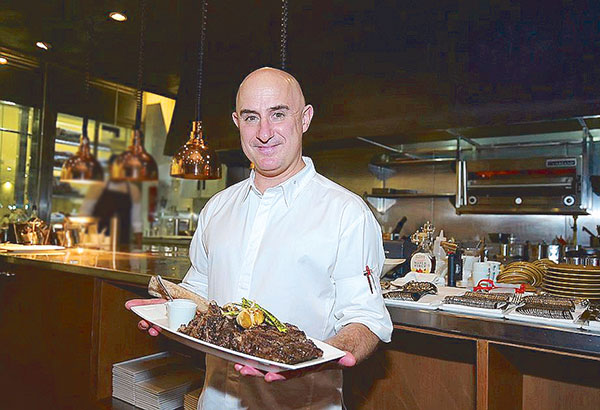 Chef Matthew Crabbe.
What's new at Ruby Jack's?
Well-loved Ruby Jack's Steakhouse and Bar recently launched a new menu to complement what it is best known for: premium selections of Japanese A5 Wagyu, Australian and US char-grilled and dry-age beef steaks.
Chef and owner Matthew Crabbe flew in to Manila to personally cook for us. Incidentally, the only Tokyo bar I frequent is Two Rooms, which I found out is also owned by Matthew.
Chef Crabbe worked for Japanese-born, Australian-based chef Tetsuya Wakuda at Tetsuya of Sydney. In Japan, Crabbe worked as a chef at the acclaimed New York Grill and Bar at Park Hyatt Tokyo (made even more famous by the film Lost in Translation) and as an executive sous chef at the Grand Hyatt Tokyo. In 2005, he was the pre-opening executive chef of the Hyatt Regency Kyoto before setting up Ruby Jack's in Tokyo and its only other branch here in Manila. Ruby Jack's is named after Crabbe's grandparents, Ruby and Jack.
"In every dish, Ruby Jack's culinary team tries to bring out the true and natural flavor profile of each ingredient and use it in harmony or in contrast to the flavors of the other ingredients. We add new dimensions of flavors to the way guests enjoy their steaks," Crabbe said.
He added that it is in the restaurant's starters and side dishes that one can find fresh ingredients such as the sweetest tomatoes and distinctive natural umami taste of shio konbu from Japan, coconut rum from Africa, truffle and olive oil from Italy, local citrus and nuts, and homemade ricotta cheese.
Some starters we tried were coconut flamed foie gras with caramelized pineapple and cashews, black Angus carpaccio with whipped homemade ricotta and sugar tomatoes, and my favorite sizzling scallops with whipped shio konbu butter and burnt local dalandan.
Options for steaks include char-grilled beef cuts from Japanese Wagyu (with marbling score from 1 to 5). Also available are A5 saga Wagyu sirloin, USDA prime rib eye, Australian Stockyard 200-day grain-fed cube rolls, John Dee Super Gold 160-day grain-fed black Angus beef fillet, T-bone, Tomahawk and in-house dry-aged beef. Chef Crabbe cooked us a perfect Australian Tomahawk, which I had with a very interesting new siding I tried, the cauliflower gratin with truffle scent.
Other char-grilled meats on the menu are cherry-smoked premium double lamb chops and USA Snake River Farm's Kurobuta pork chop. Non-meat lovers will enjoy the Atlantic salmon with preserved lemon black sesame dust kale, char-grilled local yellowfin tuna with tomato, sesame, pickled cucumber and rocket, or char-grilled live Palawan lobster with hollandaise sauce.
Dessert chef Christine dela Fuente prepared sumptuous desserts like Pearls of Asia with lychee and agar, coconut espuma and tapioca pineapple, olive oil pistachio pound cake with grounded pistachio, whipped ricotta and lavender jasmine ice cream (which was my favorite that night), double-baked sizzling cheesecake served with coriander ice cream and salted caramel, and Jaffa chocolate dome with chocolate sorbet and Jaffa orange agar.
(Ruby Jack's is located at the upper ground floor, The Shops at the Boulevard, City of Dreams Manila, Parañaque City. For inquiries, call 801-8888 or e-mail contact_cod@rubyjacks.ph. For more information, visit rubyjacks.ph.)
(Follow me on Instagram @pepperteehankee.)