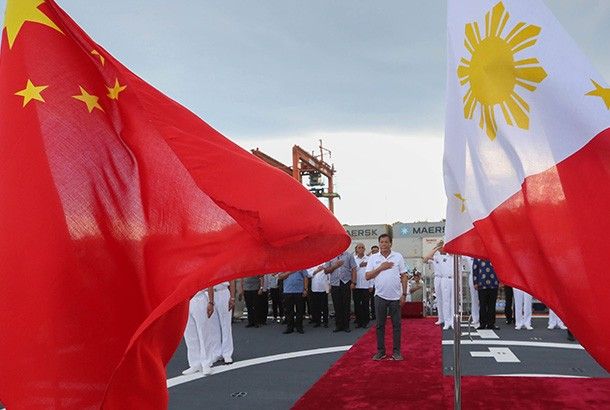 This handout photo taken and released on May 1, 2017 by the Presidential Photographers Division (PPD) shows Philippine President Rodrigo Duterte (C) standing in front of Philippine (R) and Chinese national flags during a tour of the Chinese guided missile frigate Changchun berthed at the Davao international port on May 1, 2017. Philippine President Rodrigo Duterte on May 1 visited Chinese warships docked in his home town and raised the prospect of future joint exercises, highlighting fast-warming relations despite competing claims in the South China Sea.
Simeon Celi/PPD/AFP
Commentary: Philippines as a security threat
Since Rodrigo Duterte assumed office in 2016, China has managed to score a number of diplomatic achievements in light of the territorial row in the South China Sea. With Philippine assistance, it has succeeded in stifling concerns from within ASEAN regarding Beijing's territorial ambitions and militarization of the area.
China has continued construction and improvement of power projection capabilities in the artificial islands they created with little or no vehement objection from Manila. This was a marked change from 2015, when China seemed to be on the verge of diplomatic isolation following a sustained Philippine effort to take Beijing to task for its unprecedented territorial claims and militarization of the disputed waters.
Both the Malacañang and Department of Foreign Affairs spokesmen proclaim that the Philippines' effort to appease China is all part of a so called independent foreign policy. However, a year and a half into the Duterte administration, the Department of Foreign Affairs has frequently issued statements contradictory to those of the Department of National Defense's, suggesting a lack of a united stance, especially on matters concerning China.
This lack of a coherent administration policy on China aside from the usual accommodation of Beijing's interests by Manila may have contributed to an unhindered consolidation of Chinese military presence in the South China Sea.
It is not a coincidence then that ASEAN member states felt the need to voice concerns about regional security in the face of such Chinese military actions.
Just recently, in a meeting in Singapore, Singaporean Foreign Minister said the regional bloc's foreign ministers had taken "note of the concerns expressed by some ministers on the land reclamations and activities in the area, which have eroded trust and confidence, increased tensions and may undermine peace, security and stability in the region." The same official said ASEAN "reaffirmed the need to enhance mutual trust and confidence, exercise self-restraint... and avoid actions that may further complicate the situation."
These foreign ministers must have been bemused to witness the transformation of the Philippines from a leader in the campaign against Chinese aggression to being somewhat of a vulnerable state, for lack of a better term. Most glaring is the shelving of the country's victory at the arbitration tribunal, which frustrated many in the international community.
Some foreign diplomats have observed that the ease upon which they could work with the DFA during the previous administration on matters pertaining to China has now changed. Attempts to discuss such issues with their Philippine counterparts are frequently met with delay or indifference. The current Philippine government, some claim, is either fearful of provoking Beijing leadership or is simply pro-Beijing.
Architects of foreign policy must understand that the South China Sea issue does not solely affect the Philippines. There are strategic ramifications that stretch far, distressing, for instance, the other countries involved in disputes vis-à-vis a growing Chinese threat.
In particular, other countries like Vietnam, Indonesia, and Malaysia will now have to deal with Chinese air and maritime assets free of Philippine interference. Therefore, given the Duterte administration's general passivity and Manila's possible adoption of a pro-Beijing stance prevents ASEAN states from toughening their defenses and coordinating some form of action against China's actions in South China Sea.
In particular, the news that the Duterte administration has allowed the Chinese to conduct anti-piracy patrols at the Sulu and Celebes Sea will most likely invite not only derision but a more serious kind of inattentiveness, both of which has led to the furtherance of China's territorial ambitions.
The Philippines may have made so many noises in the past and in the present as to how the United States' commitment to the Philippines as its ally has become uncertain. However, such uncertainty also lies on Manila's policy with regard to the South China Sea.
The Philippines used to be seen by many countries in the region as a minor security threat, and this might only be due to the spillover of terrorist activities by separatist and terrorist elements in Mindanao. A careless dalliance with Beijing just might change that.
Jose Antonio Claudio is a non-fellow resident of think tank Stratbase Albert del Rosario Institute, a partner of Philstar.com.