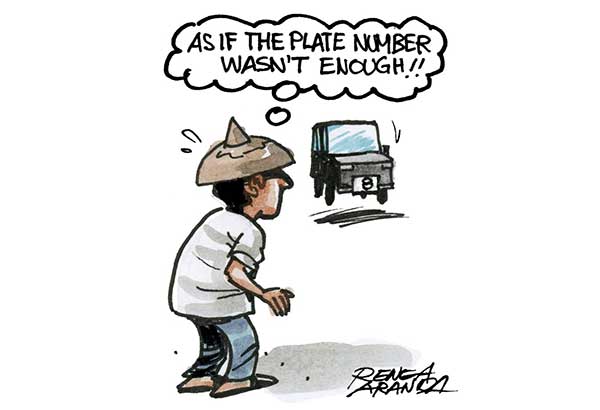 Congressmen above traffic rules – Fariñas
MANILA, Philippines — Deprived of their wangwang or vehicle sirens, congressmen now want to be exempted from obeying traffic rules.
House Majority Leader Rodolfo Fariñas and other Congress leaders have reminded the Metropolitan Manila Development Authority (MMDA) to accord them immunity whenever they violate minor traffic laws.
To explain the House's directive to MMDA, Fariñas quoted the constitutional provision that states that senators and congressmen cannot be held liable – or arrested – if the offense committed is punishable with less than six years imprisonment.
Invoking parliamentary immunity, the Ilocos Norte representative warned MMDA traffic enforcers against flagging down lawmakers who may be found to have violated traffic rules.
"A senator or member of the House of Representatives shall, in all offenses punishable by not more than six years imprisonment, be privileged from arrest while Congress is in session. No member shall be questioned nor be held liable in any other place for any speech or debate in Congress or in any committee thereof," Fariñas told MMDA officials in yesterday's inter-agency transportation briefing at the House called by the transportation committee.
"Please read Section 11, Article VI of the Constitution. It's called parliamentary immunity that is universally accepted," he said, defending at the same time his record of being consistently punctual at 4 p.m. every session day – from Monday to Wednesday.
The House leadership under Speaker Pantaleon Alvarez has adopted a policy of closing all the entry and exit doors of the plenary hall at the Batasan Pambansa complex so that latecomers will be marked tardy while those who are not around will be automatically marked absent.
Since then, the House always managed to obtain a quorum of more than 200 lawmakers.
Almost all senators and congressmen either have their personal or official drivers.
Fariñas, however, advised the public not to vote for lawmakers who violate traffic laws.
The MMDA backed the idea of exempting congressmen from being apprehended for minor traffic violations, but said that it would still depend on the decision of the Metro Manila mayors.
Jojo Garcia, assistant general manager for planning of the MMDA, said that their hands are tied in coming up with the decision whether to give exemptions to members of the House, but said that MMDA chairman Danilo Lim would back it up.
Garcia emphasized that the final decision will come from members of the Metro Manila Council (MMC), which is the policy-making body of the MMDA composed of 17 Metro Manila mayors. – With Robertzon Ramirez