'Huwag kang papatay' campaign launched
MANILA, Philippines - You cannot solve a crime by committing another crime.
An official of the Catholic Bishops' Conference of the Philippines-Episcopal Commission on Laity (CBCP-ECL) made this statement during yesterday's launch of the "Huwag Kang Papatay" or Thou Shall Not Kill campaign amid the reported extrajudicial killings in line with the government's intensified campaign against illegal drugs.
"You cannot do something good by committing something evil. You cannot get rid of crime if you will commit another crime. Killing is a crime," said CBCP-ECL chairman Manila Auxiliary Bishop Broderick Pabillo.
"Since May, 400 people have been killed, or about 20 people a day. That is a big crime statistic," he said.
At 5 p.m. yesterday, a concelebrated mass was officiated by Pabillo and Archdiocese of Manila public affairs ministry director Fr. Atiliano Fajardo at the St. Vincent de Paul Church of Adamson University.
The mass was intended for victims of summary executions and their families.
Fajardo, who is also the convenor of the Huwag Kang Papatay campaign, said he was not certain if relatives of victims of extrajudicial killings showed up.
One of the volunteers, Christine Amontos, said some relatives confirmed attendance at the mass but were a no-show.
Fajardo said they might have been afraid to catch the ire of the police.
Pabillo urged victims of extrajudicial killings to come out and speak up.
The victims could seek help from their local churches, he said.
"Killing is wrong, whatever their offenses may be, especially if there is no due process. You do not know the extent of their sins, or if they are at fault in the first place," the CBCP official added.
He said they would coordinate with other organizations on what help could be extended to the families of the victims.
Pabillo said it was not intentional that the mass coincided with the State of the Nation Address of President Duterte.
Violation of human rights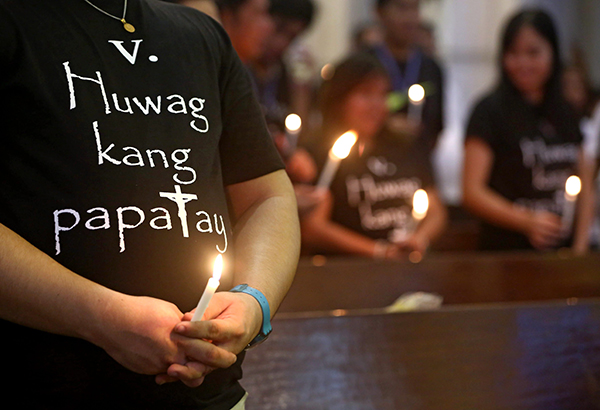 Members of Huwag Kang Papatay Movement offer candles during a mass for victims of extrajudicial killings at the St. Vincent de Paul Church in Manila yesterday.
MIGUEL DE GUZMAN
The Association of Major Religious Superiors of Women in the Philippines (AMRSWP) also expressed alarm over the reported extrajudicial killings, saying these are violations of human rights.
"The execution of suspects, without due process of law, is a violation of their right to life – the most basic of all human rights," the AMRSWP said in a statement. – With Mayen Jaymalin, Ghio Ong