Trending: October 31 a holiday?
MANILA, Philippines — Online Filipinos on Wednesday continued scouring the Internet for any confirmation that Oct. 31, 2014 has been declared a holiday.
The story "Oct. 31 not a holiday" still trended on Philstar.com as among the week's most read articles, indicating that netizens are still interested to know whether they are in for a treat of a long weekend.
The Official Gazette, however, quoted Presidential Communications Operations Sec. Herminio Coloma Jr. earlier this week that the date is not a holiday and not part of the list of holidays approved by President Benigno Aquino III.
Riding on the trend are fake news sites such as Adobo Chronicles announcing that Aquino has "signed an executive order" declaring October 31 as an extra-day off for Filipino to honor their dearly beloved.
All Saints' Day on November 1 and All Souls' Day on November 2, falling on Saturday and Sunday this year, are traditionally declared by the President as special non-working holidays.
October 31, meanwhile, was last declared a holiday in 2011 by then President Gloria Macapagal Arroyo.
The next scheduled regular holiday this year is on November 30, the birth anniversary of hero Andres Bonifacio.
Here is the complete list of holidays for 2014: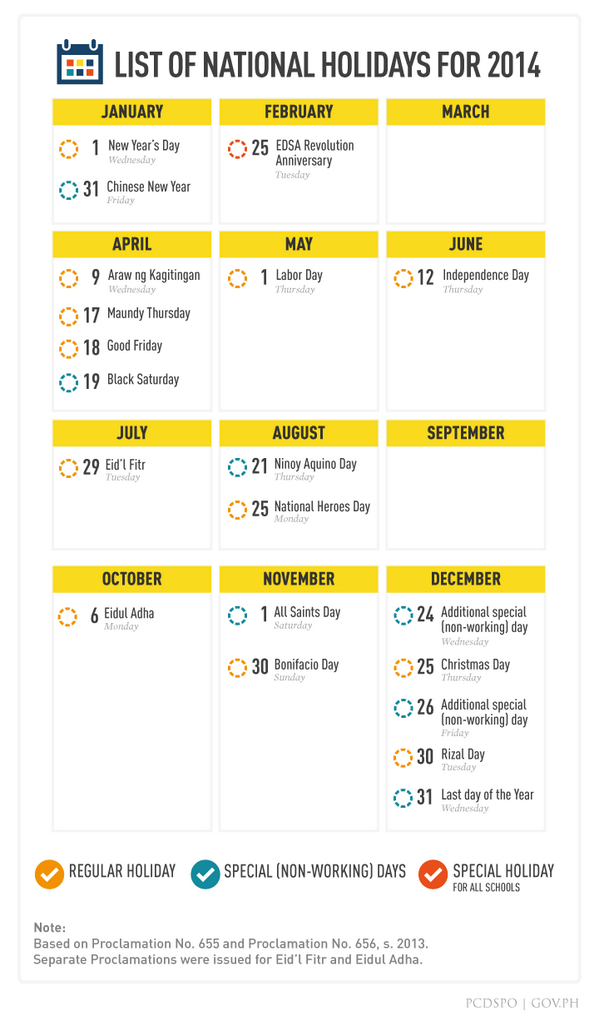 Infographic by the Presidential Communications Development and Strategic Planning Office and the Official Gazette