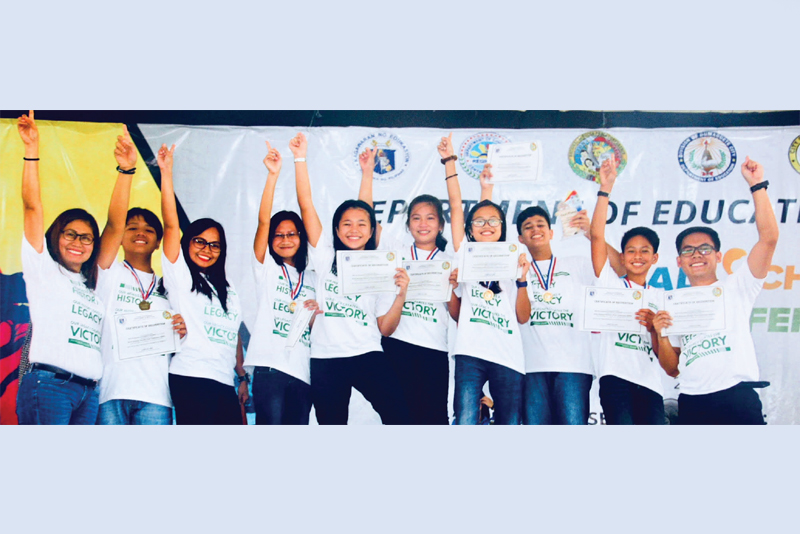 The Graders campus journalists and advisers celebrate after defending their championship title in Collaborative Desktop Publishing (English) at the 2018 NSPC in Dumaguete City.
MANILA, Philippines — If I gave up and listened to what others had told me, I would never have known what campus journalism had in store for me.
Quite a number of children my age go through hardship from life's merciless obstacles. Most of them succumb to negative thoughts that swirl inside their heads.
My journey in campus journalism began when I became part of The Graders, the official publication of Wesleyan University -Philippines Elementary Department. As a young writer who started with overflowing confidence, I overestimated my knack for writing. I thought that weaving words together was a simple task, but I was wrong.
Fate gave justice to my pride: to make me taste defeat in the press conferences that I participated in, not only once but a couple of times. That made me doubt myself. Honestly, I am one of those who nearly gave up. But my younger and oblivious self didn't have a clue so I continued to be a writer despite self-doubt.
The words inscribed in our The Graders' Creed make me realize what I need as a writer: "My journalistic skills alone will not make me a winner so I declare that God's favor will be with me and my articles." It is part of our everyday training to recite this creed.
After years of losing, doubting and trying again, I continued to pursue what my heart really desires. The same self-doubt made me do something I wasn't able to do before: to win. That's when the cycle of winning happened one after the other.
As Abraham Lincoln, former US President, put it, "Success is going on from failure to failure without losing enthusiasm."
I believe that sheer luck has nothing to do with my success. My enthusiasm to write, coupled with journalistic skills, gave me the edge to be in Dumaguete City this year for the 2018 National Schools Press Conference.
True enough, the key to success is consistency. After challenging times in the past, here I am with my team reaping the fruits of our labor as a back-to-back champion in Collaborative Desktop Publishing (English) elementary level.
It was a surreal feeling to see The Graders team composed of Jhulia Amor Marquez, Nabih Tarek Jaber, Ma. Ericka Lyn Villaseñor, Lael Ballesteros, Jan Lancelot Ramos, Heart Lorraine Ventura and Fitero Garlitos VII make a podium finish.
Our advisers, Alfredo Esteban Jr., Emelita Urbano and Crystalyn Galindo, never ran out of words of encouragement, motivating us to always give our best no matter what. The training helped us grow not just mentally but also spiritually.
If I gave up and listened to what others had said, I wouldn't have reached every campus writer's dream: the NSPC, the Olympics of Campus Journalism. I wouldn't have tasted sweet victory. I wouldn't have shared memories with my fellow journalists. And more importantly, I wouldn't have lived up to our creed, "This is my year. This is The Graders' year. We are going to be a champion."
Heart Lorraine E. Ventura is a Grade 5 pupil of Wesleyan University - Philippines Elementary Department.