EDITORIAL - Get the vote buyers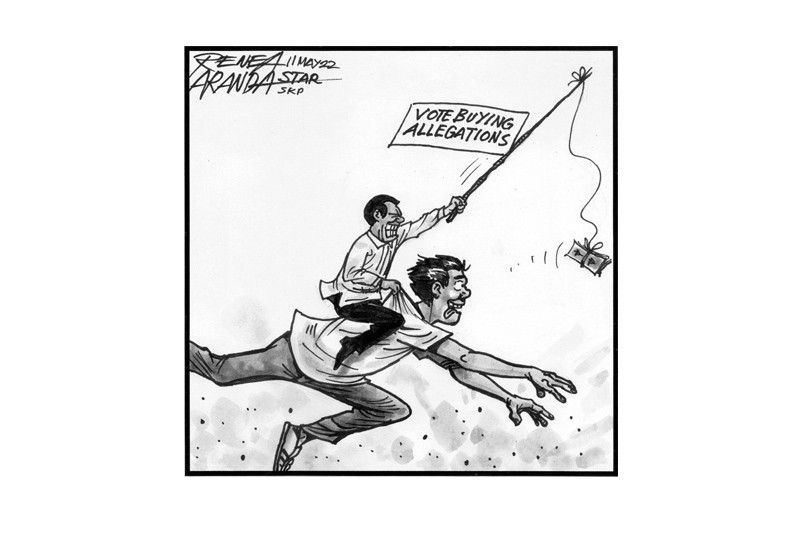 The Commission on Elections has vowed to act on complaints of vote buying and other forms of fraud. With reports of outright vote buying and allegations of technical tampering emerging, the Comelec should make good on its promise.
Vote buying and electoral fraud are not new; the late PDP-Laban co-founder Aquilino "Nene" Pimentel was a confirmed victim of vote shaving and padding or Oplan Dagdag-Bawas. The "Hello Garci" vote-padding scandal that marred the election of Gloria Macapagal-Arroyo in 2004 has not been conclusively resolved, although she finished the full six-year term.
In this year's elections, there were the usual reports of cash being distributed in envelopes to voters. There are allegations of tampering with the voting machines. What's new in this year's vote is the prevalence of e-wallets for better concealment of the buy and sell of votes.
One case stands out because the complainants claim they were offered cash assistance from the Department of Social Welfare and Development by barangay officials accompanied by the campaign staff of local candidates in exchange for their votes. The cash was supposed to be coursed through their GCash accounts, but would require vetting and approval by the candidates. The complainants are seeking the disqualification of two local candidates for violation of the Omnibus Election Code's express prohibition against such acts.
The Comelec should not only conduct a thorough and credible probe of the case but also make an effort to assess the extent of such activities, by providing hotlines for anonymous tips or formal complaints.
For their part, GCash and other mobile wallet app providers should follow guidelines released before the elections by the Bangko Sentral ng Pilipinas. The BSP guidelines directed banks and financial institutions including e-wallet providers to be on alert for certain transactions that could indicate digital vote buying. The guidelines were detailed and the BSP can seek post-election compliance reports from the banking and financial services industry.
If the banks and financial institutions report possible vote-buying activities through certain accounts, these should be forwarded to the Comelec, which should act promptly and decisively on the complaints, and go after the perpetrators. Comelec officials have lamented the difficulty of catching vote buyers, and their lack of authority to efficiently regulate campaign finance. The BSP move should help correct these problems.