EDITORIAL- An experiment gone awry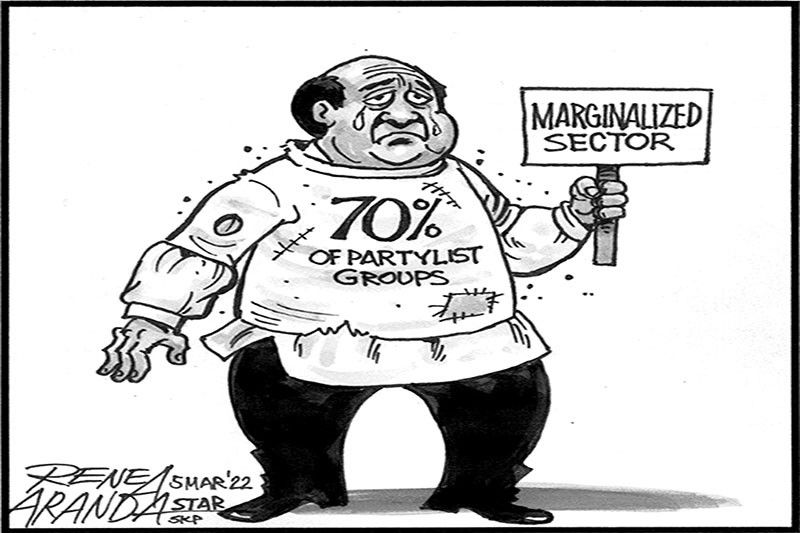 Framers of the 1987 Constitution have said the party-list system was meant to give marginalized sectors a voice in Congress. The intent, though not directly stated in the Charter, can be gleaned from the sectors specified: "… labor, peasant, urban poor, indigenous cultural communities, women, youth, and such other sectors as may be provided by law, except the religious sector."
But because the objective was not specifically written into the Charter, the Supreme Court has effectively allowed not only all sectors and vested interests to be represented, it has also allowed nominees who do not even belong to the sector they seek to represent.
Since the landmark 2013 ruling of the Supreme Court, the abuse of the party-list has exponentially worsened. The specific prohibition on the religious sector has been ignored. Some party-list lawmakers even openly brag that they represent all sectors. In the current party-list race, election watchdog Kontra Daya says at least 120 of the 177 groups vying for seats in Congress do not represent marginalized sectors and are instead linked to powerful interests.
Kontra Daya says 44 of the contending groups are controlled by political clans, 21 are connected with big business and 32 with the government or military. At least 26 groups have fielded incumbent local officials as nominees; 19 groups face criminal charges or have pending court cases. Thirty-four groups "have unknown or unclear advocacies and representations," Kontra Daya said.
The poll watchdog says the party-list system has been "hijacked by the rich and powerful." In the current race, it notes that 67 percent of the contending groups "are being used as a backdoor to further entrench their political and economic interests."
In the 2019 midterm elections, Kontra Daya counted 62 of the 134 accredited organizations with links to powerful interest groups. Ask the Commission on Elections about the proliferation of dubious organizations in the party-list and it will point to the Supreme Court ruling.
Little wonder then that so many groups are out to take advantage of this institutional weakness. In the current race, 270 groups applied for accreditation; 165 were accepted and 93 were rejected by the Comelec. But 12 of the 93 were kept in the ballot after they secured restraining orders from where else but the Supreme Court. This failed experiment in marginalized representation is yet another manifestation of the weaknesses of the country's institutions.