EDITORIAL - Recalibrating the drug war
January 25, 2022 | 12:00am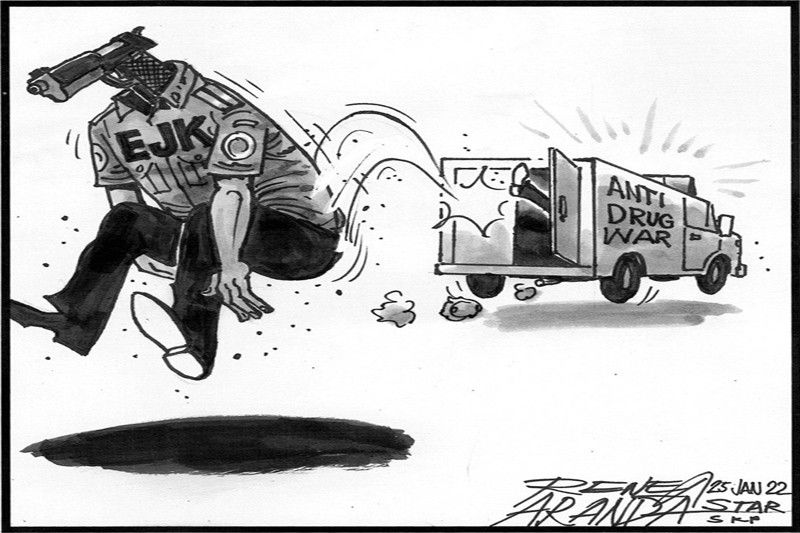 With five months left in the term of President Duterte, people are wondering about what will happen to his priority program: the war on drugs. The President rose to power partly on a promise of killing drug personalities and ending the illegal drug menace in six months.
Six years into his term, and with over 6,000 drug suspects killed in police operations, the President himself has admitted that there is no quick fix to the illegal drug scourge. Once he steps down, he faces the prospect of a full-blown investigation by the International Criminal Court for possible crimes against humanity in connection with the bloody war on drugs. His administration has denied engaging in extrajudicial killings to fight drug trafficking.
Even the world's most authoritarian states have failed to end the illegal drug trade in their societies. As long as the demand is there for substances that alter reality, there will be people who will come up with the products to meet the demand. Fighting the drug menace is a continuing and multipronged effort.
Four of the five presidential aspirants who accepted the invitation to an interview with GMA's Jessica Soho have said as much: in case any of them wins, the campaign against illegal drugs will continue. But all four were also unanimous in vowing an end to the take-no-prisoners approach to the campaign.
The illegal drug trade is one of the most lucrative businesses in the world. Drug dealers, with their enormous funds, can buy not only top-of-the-line weaponry but also crooked public officials who can facilitate the movement of their illegal products across international borders and allow unhampered local distribution.
Operation plans Tokhang and Double Barrel showed the holes in the belief that drug dealers can be scared by lethal violence into stopping their hugely profitable business. Shabu and its precursors continue to be smuggled into the country, at one point being waved through Customs by the ton, according to drug enforcement officials.
The Tokhang approach also opened opportunities for gross human rights abuses. Sen. Ronald dela Rosa, who initiated Tokhang when he was the national police chief, has publicly lamented that his mistake was waging the war without first undertaking a thorough cleansing of those tasked to carry out the campaign.
No one will disagree with the need to fight the drug menace. But this is a continuing scourge, and no country has eliminated it through mass executions. The upcoming leadership change this year opens opportunities for a recalibration of the campaign.