EDITORIAL - Make it worth the pain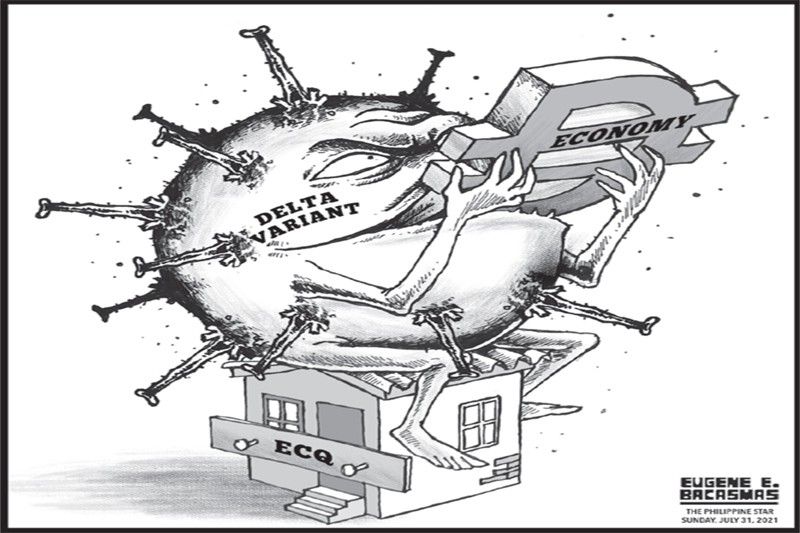 Although some members of the economic team reportedly supported the proposal to implement a two-week hard lockdown in Metro Manila, the economic cost has been placed at billions of pesos. The national government must make sure the displacement will be worth it.
The enhanced community quarantine begins in the National Capital Region on Aug. 6, after a week of "heightened" general community quarantine to allow businesses to prepare for the strictest restriction classification. The ECQ is intended as a circuit breaker against a possible COVID surge driven by the more infectious Delta variant.
Businessmen led by presidential adviser for entrepreneurship Joey Concepcion pushed for the circuit breaker, as endorsed by the OCTA Research Group, to prevent Delta from fueling another killer surge similar to the one last summer, and therefore to save the economy in the critical fourth quarter coinciding with the Christmas holidays.
The National Economic and Development Authority estimates the two-week hard lockdown to cause economic displacement amounting to billions of pesos. Local government units in the NCR, while supporting the hard lockdown, want the national government to ramp up vaccination and provide social amelioration funds for their residents whose jobs and livelihoods will be affected by the ECQ.
With the steep cost of the circuit breaker, the government must see to it that the lockdown is accompanied by heightened capacities for COVID containment. Apart from ensuring that people stay indoors except for essential activities and strictly adhere to health safety protocols, the government must improve access to testing, which remains expensive for many households.
Quarantine and isolation facilities have been expanded considerably, and both public and private hospitals have been alerted to expand their COVID facilities and equipment including ICU beds and oxygen tanks. More hospitals and doctors now offer home care services for asymptomatic and mild COVID afflictions.
But contact tracing – a critical component especially in containing the highly transmissible Delta – is one of the weakest aspects of the pandemic response, whether through the StaySafe app or the acutely limited number of persons employed for the task.
The country has confronted the spike in cases last year and the surge this summer, believed driven by other infectious variants. Lessons have been learned and must be applied as the NCR and the rest of the country brace for Delta. The two-week lockdown is going to be costly and must be worth the pain.