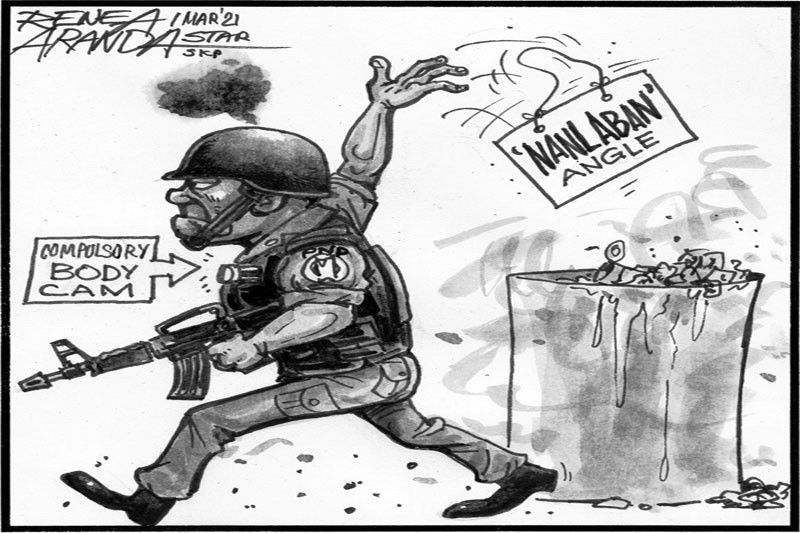 (The Philippine Star) - March 1, 2021 - 12:00am
Long before the COVID pandemic, agencies involved in the campaign against illegal drugs had been talking about the procurement of body cameras for use by their operatives. The devices are meant to promote transparency amid criticism of the brutal way the war on drugs has been carried out.
The Philippine Drug Enforcement Agency procured 100 body cameras together with 20 aerial surveillance drones back in 2018. PDEA agents underwent training in May of that year on the use of the equipment. Media workers accompanying PDEA teams during operations were also required to use body cameras.
Meanwhile, the Philippine National Police procured 2,696 body cameras, to be used for all its operations and not just against illegal drugs. Training on the use of the cameras began only last Friday, involving members of the National Capital Region Police Office. The waterproof camera can record video for up to eight hours. Its configuration cannot be altered and it cannot be switched off by the police officer until his or her duty ends.
It's unfortunate that neither the PDEA nor the PNP considered using the body cameras for the anti-drug operation that resulted in a shootout between members of the two agencies in a fast-food outlet last week in Quezon City. Two policemen, a PDEA operative and a civilian allegedly serving as an informant were killed in the shootout that is now the subject of a probe by the National Bureau of Investigation.
Instead of body camera footage, what investigators have are video or photos of the shootout and its aftermath, taken by bystanders, by civilians caught in the crossfire, and by the Quezon City police officers who staged the drug sting. The use of body cameras would have made the search for the truth over what happened easier. Thousands of the cameras are now available for use. Both the police and PDEA should be reminded that the cameras are supposed to be used for law enforcement rather than for taking selfies.