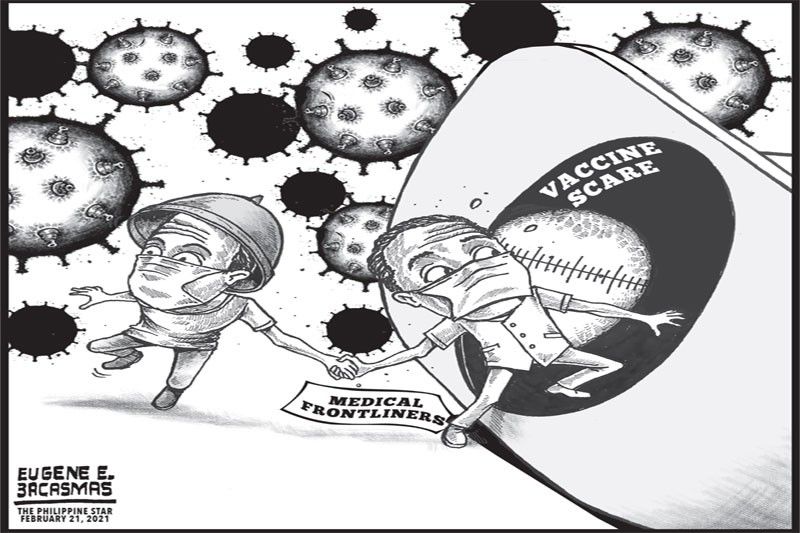 (The Philippine Star) - February 28, 2021 - 12:00am
With a military plane transporting the cargo, it looks like the Philippines will finally get the first batch of vaccines against COVID-19 today, and the inoculation program can finally get underway in the coming week.
As originally projected by the Duterte administration, the first vaccines are coming from China – a donation from Beijing of 600,000 doses of the jabs developed by private Chinese biotechnology firm Sinovac. The delivery of Pfizer and AstraZeneca jabs under the World Health Organization's COVAX Facility was delayed by the lack of guarantees from the Philippines government to protect the vaccine makers from lawsuits and indemnification responsibility in case of adverse side effects from the emergency use of the jabs.
Sinovac Biotech's CoronaVac has been hounded by questions about its widely varied efficacy rates in clinical trials in different countries, with a low 50.4 percent in Brazil where the participants were mainly healthcare workers. The Food and Drug Administration initially disallowed the emergency use of the vaccine for healthcare workers, but changed its mind apparently after being told by technical evaluators that the jab had a low efficacy only against mild infections, but high efficacy against medium and severe COVID cases.
The WHO has yet to come up with its final assessment of the Sinovac jab, which is now being used in Indonesia, Turkey and of course China and its administrative region, Hong Kong. Philippine vaccine assessors have stressed that the best jab to take in an emergency is the one that's available – and at this point, there's only Sinovac. Health frontliners nevertheless will not be forced to take the vaccines. Instead the vaccine will be given to members of the military and police, who also work in the frontlines of pandemic response.
Resistance to the vaccines made in China is best overcome if the health frontliners themselves lead by example. If most of the health workers refuse, however, government officials should lead the way, starting with those directly involved in the pandemic response who are younger than 65.
Even if the Western vaccines already approved for emergency use by the world's stringent regulatory authorities finally arrive, it's likely that the Philippine government will still procure vaccines from China. Vaccines have a short shelf life. If the government wants to ensure that no China-made vaccines will go to waste, officials should help dispel vaccine hesitancy among Filipinos by setting the example and getting their Sinovac shot in public.