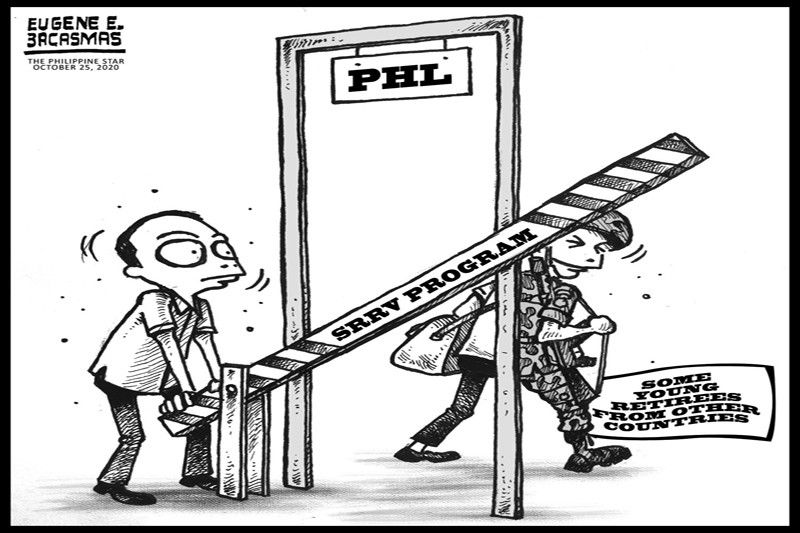 EDITORIAL - Young retirees
(The Philippine Star) - October 25, 2020 - 12:00am
There are lucky folks who manage to accumulate assets that allow them to live in comfort and retire at the age of 35 but anywhere in the world, such people are just a handful.
In the Philippines, "retirement" has a different meaning. Lawmakers have noted that a foreigner as young as 35 can "retire" in this country if the prospective retiree opens an account with a minimum of $50,000 in a Philippine bank or purchases a condominium unit worth at least P2.5 million.
In 1993, the government lowered the minimum age requirement for granting foreigners a Special Resident Retiree's Visa, from 50 to 35 years old. The move aimed to encourage foreigners to make the Philippines their second home or an investment destination. As of end-2019, the Philippine Retirement Authority had enrolled tens of thousands of foreign nationals in the SRRV program.
Holders of the multiple-entry SRRV, according to PRA date, include 13,912 South Koreans, 5,971 Indians, 4,801 Taiwanese, 3,950 Japanese, a smattering of Americans, Hong Kong residents, British, Germans and Australians, plus the biggest group – 26,969 Chinese nationals.
Among the Chinese, 10,813 are registered as the principal retirees, with 8,130 of them between 35 to 49 years old. Last Tuesday at a Senate hearing on the proposed PRA budget for 2021, senators expressed concern over this, raising issues of national security amid the country's continuing maritime dispute with China. A senator noted that 35 is a "soldier's age" and the country could be setting itself up for the creation of a "fifth column" in case conflict breaks out. Several senators also noted that 35 is still a working age, and such relatively young foreigners could be taking away jobs from Filipinos with the same competence.
On Friday, the PRA suspended the SRRV program as it reassesses its policy on retirees. The multi-agency PRA board will convene on Nov. 6 to determine the fate of the retiree program.
The Philippines prides itself in its hospitality, and retirement programs can generate investments and tourism. Senators, however, also raised valid concerns that must be addressed in the reassessment of the retirement program. The country can open its arms to foreigners in friendship without compromising national interests.