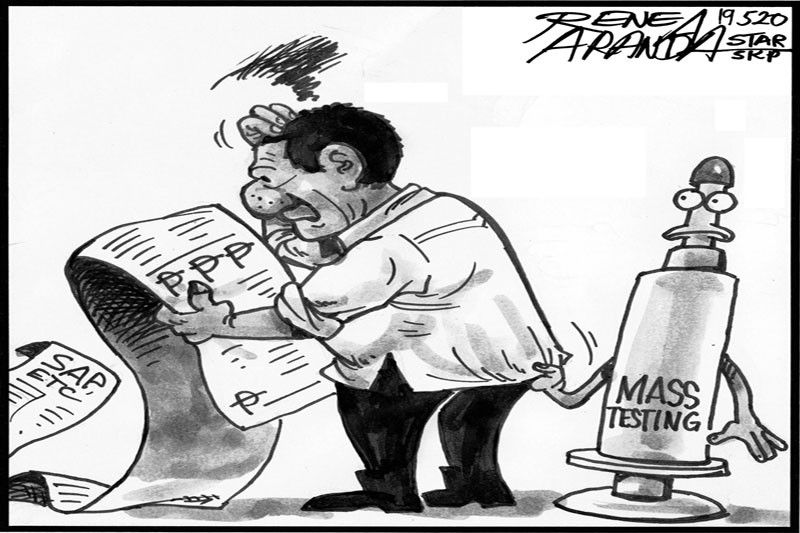 EDITORIAL - Investing in mass testing
(The Philippine Star) - May 19, 2020 - 12:00am
About half a million antibody rapid test kits for the coronavirus disease 2019 have arrived in the country as part of a private sector-led initiative. Project Antibody Rapid Test Kit or ARK, initiated by Go Negosyo founder Joey Concepcion, aims to bring in a million antibody test kits to be used mostly by private businesses as economic activities gradually resume amid the COVID-19 pandemic.
The Department of Health, for its part, says it is on track to realize its target of 30,000 daily tests by month's end using the "gold standard" in COVID-19 testing, the real-time polymerase chain reaction test. The RT-PCR test is still needed to confirm the results of the antibody test. But the rapid test enhances COVID detection, contact tracing and prevention of contagion.
While it can be difficult even for advanced economies to subject entire populations to regular COVID testing until a cure or vaccine becomes commercially available, there is general agreement that heavy investment in mass testing is indispensable in easing from crippling quarantines to the new normal in doing business.
China, the world's second largest economy, is reportedly aiming to test all 11 million inhabitants of Wuhan within just 10 days amid reports of new clusters emerging in the city where the COVID virus first emerged last year. Taiwan began mass testing long before Wuhan was locked down. Vietnam invested heavily in mass testing and contact tracing capabilities as it closed its doors early to visitors from Wuhan. South Korea has extensive capability even for drive-through COVID testing.
Certain quarters in the Philippines are pointing out that if the government had quickly poured massive investments into mass testing, contact tracing and isolation facilities at the start of the contagion, the country would have saved trillions in continuing economic losses. But such what ifs at this point should just serve as indelible lessons for dealing with future public health crises. In the meantime, despite improvements in mass testing, the country still has a lot of catching up to do, and no time to waste.