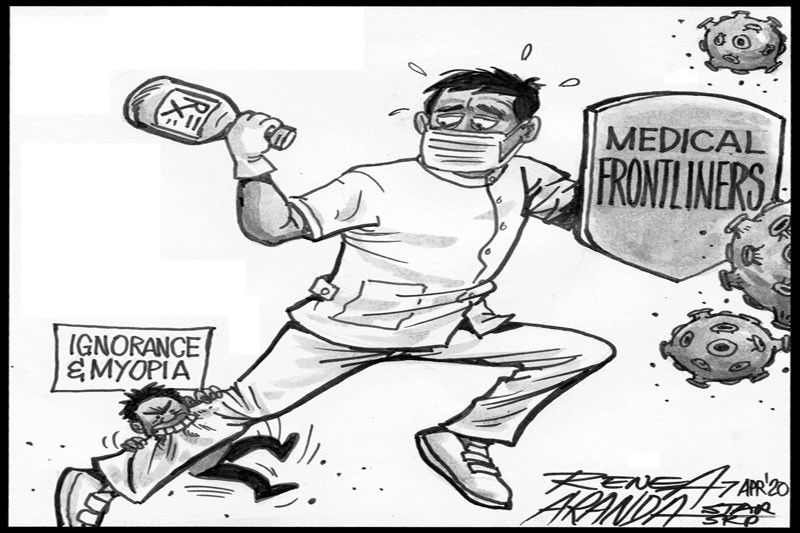 EDITORIAL - Harassing the heroes
(The Philippine Star) - April 7, 2020 - 12:00am
Around the world, songs have been performed for them. In the Philippines, the Department of Tourism has put together a video cheering them on. Pope Francis, in his homily to mark the saddest Palm Sunday of his ministry, hailed the "real heroes" in this dark hour of humanity – "they are not famous, rich and successful people; rather, they are those who are giving themselves in order to serve others."
The pontiff need not spell out who he was referring to; in Rome and the rest of Italy, and nearly the entire planet now affected by the coronavirus disease 2019 pandemic, health workers are on the frontline of a battle against an unseen, deadly enemy. Many are ill equipped for the war, but soldier on nevertheless, carrying out their sworn duty to save lives even at the risk of losing their own to COVID-19 and endangering their loved ones.
So why are health workers suffering not just discrimination but even violent attacks in the Philippines? One health worker was splashed with bleach. Others have complained of being kicked out of their rented dwellings by landlords worried about COVID-19 contagion.
Most people understand the great risks being taken by health professionals in this battle, and are aware that physicians account for nearly a tenth of all the COVID-19 cases in the Philippines. That same awareness, unfortunately, makes people consider health professionals as top risks for spreading the coronavirus. Such concerns are behind people's efforts to avoid health professionals in public places.
The avoidance is in fact encouraged in this season of physical distancing. Discrimination and violent attacks, however, are unconscionable. This also goes for similar maltreatment of confirmed COVID-19 cases, who forgo their privacy rights and publicly identify themselves to facilitate contact tracing and prevent more infections.
Both the national and certain local governments are moving to stop the harassment and discrimination. Appealing to people's best nature may not be enough; those who commit such acts must be identified and penalized.