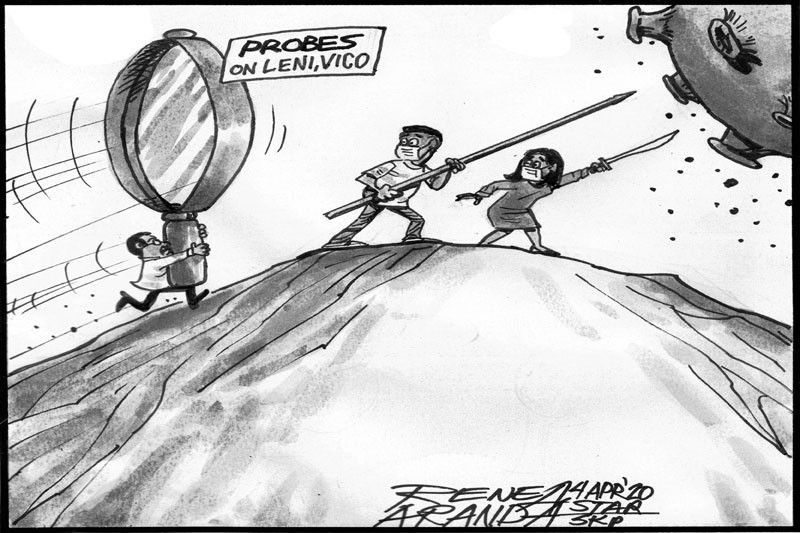 (The Philippine Star) - April 4, 2020 - 12:00am
Confined to their homes for nearly three weeks now, some government officials must be suffering from cabin fever. A commissioner of the Presidential Anti-Corruption Commission wants Vice President Leni Robredo investigated for what he claimed were her activities that compete with efforts of the national government to contain the coronavirus disease 2019 or COVID-19 pandemic.
Commissioner Manuelito Luna cited the Office of the Vice President's provision of free shuttle service and dormitories for health workers as well as distribution of personal protective equipment to the frontliners including state forces manning checkpoints.
Fortunately, someone at the PACC isn't going stir-crazy yet while under community quarantine. Luna's fellow commissioner Greco Belgica stressed that the PACC is not calling for a probe of Robredo and that Luna was merely expressing a personal opinion.
Meanwhile, at the National Bureau of Investigation, officials are getting a beating from netizens for going after Pasig Mayor Vico Sotto on accusations that he disobeyed quarantine directives from the Inter-Agency Task Force on the pandemic. Sotto had initially allowed tricycles to continue plying Pasig streets, against the IATF directive to suspend all mass transport operations. But he stopped it after two days when called out by the IATF – about a week before the Bayanihan to Heal As One Act or Republic Act 11469 went into effect.
The Bayanihan Act is being invoked by the NBI in its "invitation" to Sotto for questioning. Does the law have a retroactive effect? Accused of selective investigation, the NBI said it was also subjecting to an inquiry Sen. Aquilino Pimentel III. This was for his visit to the Makati Medical Center when he knew he was a person under investigation for COVID, prompting the MMC to put at least 22 of its personnel under home quarantine. Health Secretary Francisco Duque III said the visit constituted a breach of quarantine protocols. Pimentel won't be facing the NBI anytime soon; he is currently confined in a hospital as a confirmed COVID-19 patient.
In this crisis, local government executives are hard-pressed enough to address the needs of their constituents, many of whom have lost their livelihoods and are worrying about how they will survive while at the same time avoiding infection. All officials, including the Vice President, should not be distracted from their efforts to help the nation get through the pandemic. This is a period that calls for all hands on deck. As one senator commented, officials who can't help in this emergency should just put their mouths on quarantine.