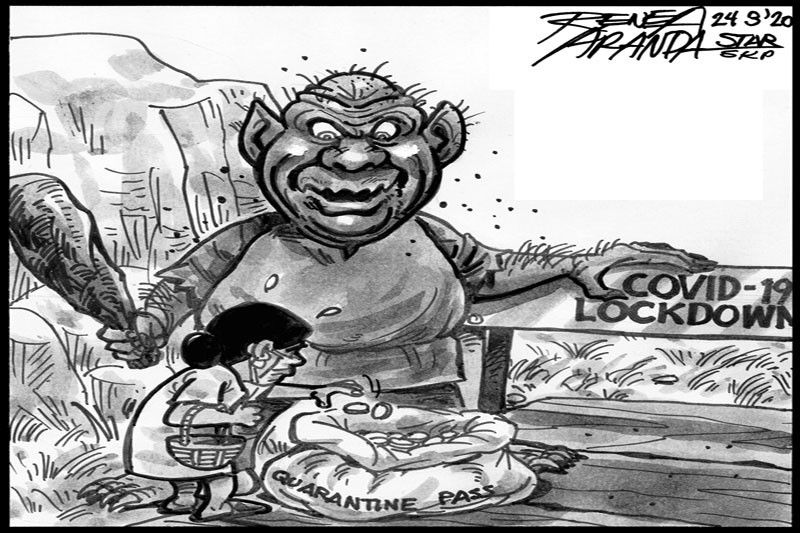 EDITORIAL - Abuse of authority
(The Philippine Star) - March 24, 2020 - 12:00am
Making good on the government's threat, law enforcers arrested on Sunday a barangay captain in the Lanao del Sur town of Marantao. Police said Barangay Mantapoli captain Cassar Abinal was selling community quarantine passes for P20 each to residents.
Even with the cost of paper and printer toner, nothing justifies P20 for a coronavirus disease 2019 quarantine pass. In fact, as stressed by both the Inter-Agency Task Force on Emerging Infectious Diseases and the Department of the Interior and Local Government, there is no requirement for the issuance of quarantine passes, although LG units have the discretion to enhance local measures to encourage people to stay home. Both the DILG and the task force stress that LGUs and barangay offices are not authorized to collect any fee for COVID-19 passes.
While P20 is just loose change for socialites who cringe at the sight of the great unwashed waiting in line at checkpoints in an effort to eke out a living, it's another layer of burden for those who have lost their livelihoods and don't know where their next meal will come from. Being required to present a pass just to be able to buy food, medicine and other necessities is vexing enough; being asked to pay for the pass is aggravating public misery.
This unjust fee imposition is not unique to Mantapoli; similar complaints have been received in various parts of Metro Manila and other areas, especially those where quarantine measures imposed constitute a total lockdown, with the amounts collected reportedly ranging from P20 to P50 per pass.
Another complaint is that barangay officials are shaking down vehicles transporting food and other basic commodities before allowing them to pass, despite repeated reminders from the task force that all cargo movement must be "unhampered."
People must report such abuses to authorities. These barangay personnel must be apprehended and immediately sanctioned, apart from being slapped with administrative and, where applicable, criminal charges.
The crisis is bringing out the best – and the worst – in people, with all the epal and sawsaw politicians crawling out of the woodwork. This should come in handy when we pick our next set of officials in 2022.
The quarantine has been painful enough for the public. Abusive officials tasked to implement it will only discourage the kind of public cooperation that is indispensable in a unified fight against the COVID-19 contagion.