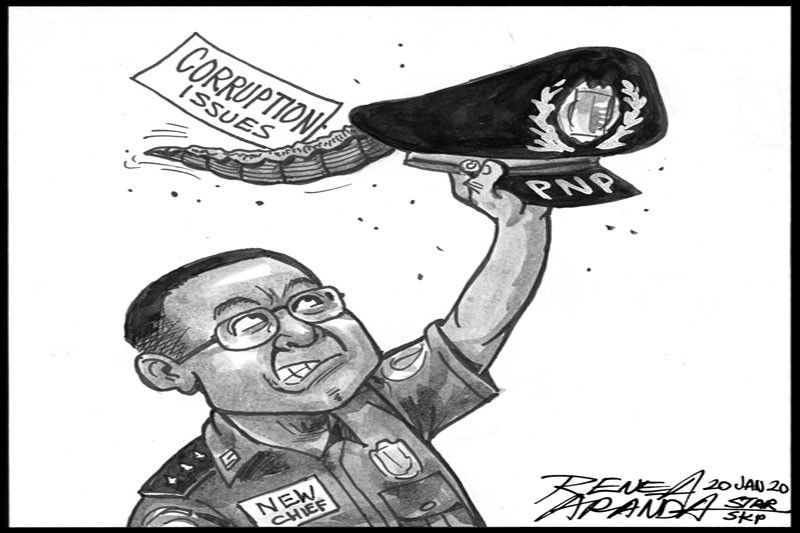 EDITORIAL - Finally, a PNP chief
(The Philippine Star) - January 20, 2020 - 12:00am
Three months after Oscar Albayalde effectively went on terminal leave amid a drug trafficking scandal, President Duterte has finally appointed a new chief of the Philippine National Police.
Lt. Gen. Archie Gamboa, a classmate in the Philippine Military Academy of both Albayalde and their predecessor-turned-senator Ronald dela Rosa, has in fact headed the PNP as office-in-charge since October. This was when Albayalde went on "non-duty status" after he was implicated in the recycling of shabu by "ninja cops" when he was provincial commander of Pampanga.
President Duterte openly expressed "deep disappointment" over the ninja cops controversy. In the past months, he had also lamented his difficulty in finding a person of integrity to head the PNP.
In December, he tasked Interior Secretary Eduardo Año, whose department has supervision over the PNP, to "lead" and "fix" the police service. Earlier this month, the President also said Año would henceforth handle all procurement by the PNP. This was after the President came across a PNP quotation for radar speed guns priced at P950,000 each, when he had procured speed guns for Davao City when he was mayor for as low as P10,000.
Instead of being slapped with a graft complaint for the apparent overpriced proposal, Gamboa is now PNP chief, although Año would continue to handle all PNP procurement. With such conflicting signals about his integrity, Gamboa must show that the President's trust in him is not misplaced.
Even when he was OIC, Gamboa had implemented a reorganization of the PNP, to improve efficiency and weed out misfits. He has talked about a holistic approach to the drug menace and the need to prevent police abuses in waging the drug war.
Gamboa is heading the PNP as the controversial war on drugs is being recalibrated, and while the organization is trying to win back public trust amid accusations of corruption and egregious violations of human rights. No longer just an OIC, the new PNP chief can show that his reform agenda is not just rhetoric.