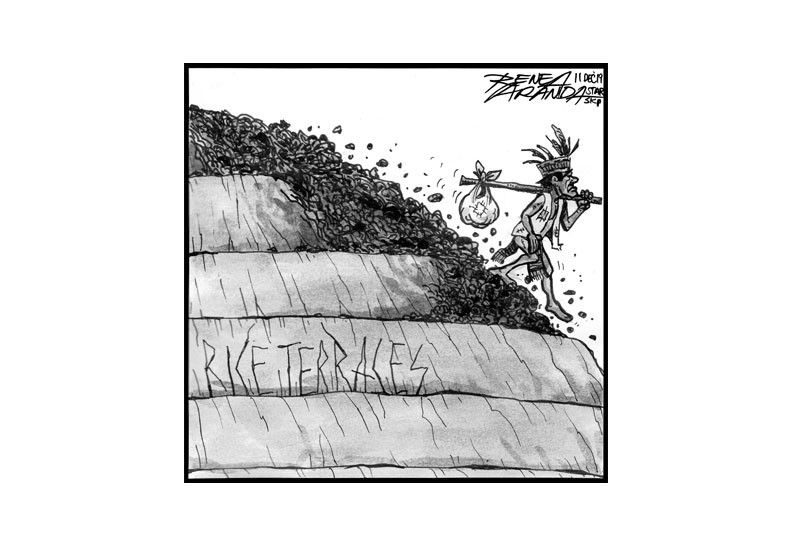 EDITORIAL - Critical stage of deterioration
(The Philippine Star) - December 11, 2019 - 12:00am
For many years now, older generations in the Cordilleras have lamented the progressive decline in the number of people who still want to grow rice in the Ifugao Rice Terraces. In recent years, giant worms have compounded the problem by eroding the paddy walls in several areas.
Although the terraced paddies have attained global renown and are listed among the World Heritage Sites of the United Nations Educational, Scientific and Cultural Organization, manual rice farming on the slopes of the Cordilleras is backbreaking work. With palay prices plummeting due to unlimited rice importation under the rice tariffication law, the last holdouts in the Ifugao terraces may abandon farming for good.
Even before this happens, the Food and Agriculture Organization has warned that the Ifugao Rice Terraces are now in a critical stage of deterioration, with farming in the paddies failing to be an instrument for overcoming poverty in the area.
The situation is dire but not irreversible. Agriculture experts can help locals grow artisanal mountain rice, while trade and industry personnel can assist in marketing the pricey product to gourmet outlets both here and abroad. With proper packaging of the Ifugao story, mountain rice farming can be profitable.
Other high-value crops can be grown in the province to guarantee a decent income for those who want to make a living from agriculture. Highland coffee is pricey but has a ready market. There is a huge global demand for cut flowers; just ask the flower farmers in Thailand's Chiang Mai highlands. Experts can even try growing high-grade green tea in the Cordilleras.
The rice terraces remain a spectacular sight and need boosting as a tourist destination. The panoramic view from what was once a scenic road to the main tourist site in Banaue, unfortunately, is now obscured by dwellings and commercial establishments. This might be forgiven if the structures feature distinctive Ifugao architecture and design motifs, but they don't.
With political will, effective governance and support from various sectors, the Ifugao Rice Terraces need not die from neglect.