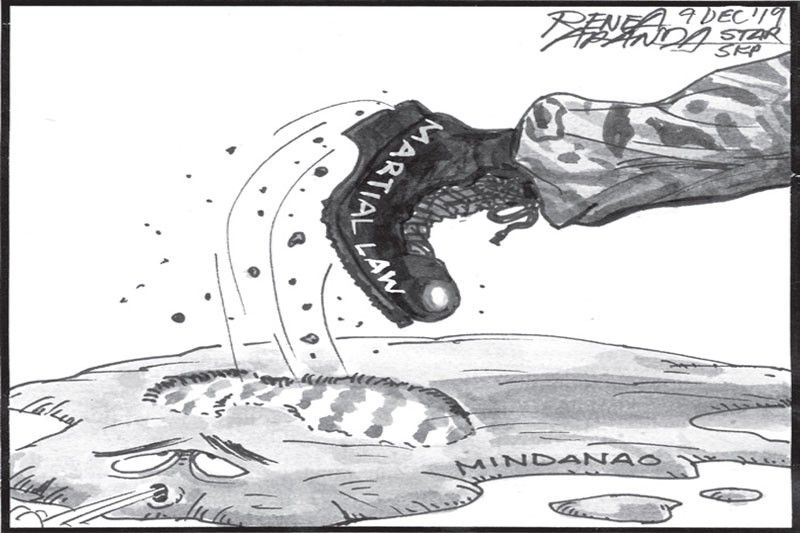 (The Philippine Star) - December 9, 2019 - 12:00am
With President Duterte himself denigrating martial law and his defense chief recommending its lifting, it looks like there will be no further extension of martial law all over Mindanao in the coming year. It's high time.
Martial law was imposed in 2017 initially in Marawi after the city came under siege by Maute and Abu Sayyaf terrorists. It was later extended and expanded to the entire Mindanao, with the government explaining that the Mautes could continue sowing terror outside Marawi.
Congress went along with the extension and expansion of coverage, plus two more that each lasted for a year. The city council of Davao, whose mayor is the eldest daughter of the President, has since passed a resolution calling for the lifting of martial law in his home city.
While it has been called a "smiling martial law" and completely different from the military rule imposed by Ferdinand Marcos during his dictatorial regime, the imposition of martial law is an extraordinary measure that implies instability and, at worst, the presence of an extreme threat. Among foreign observers, investment and travel plans can be put on hold until martial law is lifted in a particular place.
While there has been no repeat of the Marawi siege anywhere in Mindanao and it looks like Maute sympathizers have failed to regroup after their leaders were neutralized, kidnapping for ransom, bombings and other terrorist attacks have continued even under martial law. A new threat – the suicide bomber – has even emerged in Mindanao while martial law is in place.
Martial law is not needed to address these threats. A better response is the amendment of the Human Security Act, which has been so skewed against the presumption of regularity in counterterrorism that law enforcement and security forces refuse to apply it in going after violent extremists and other enemies of the state. Legislation is also needed to cut off terrorist financing.
The original reason for declaring martial law in Mindanao has long passed. It's time to lift it.