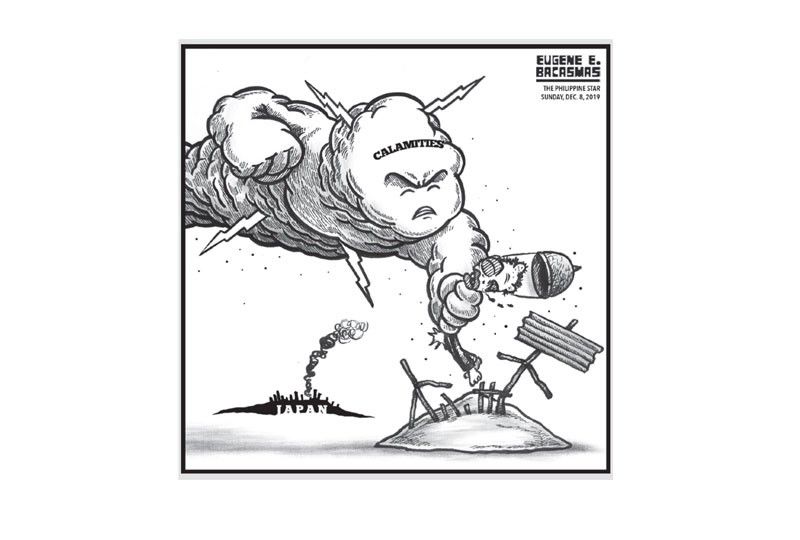 EDITORIAL - Second most vulnerable
(The Philippine Star) - December 8, 2019 - 12:00am
Typhoon Tisoy left 17 people dead and destroyed over P800 million worth of crops as it roared across Luzon this week. Filipinos are used to such late-season powerful tropical cyclones, but this does not minimize the concern over reports that the Philippines is among the most vulnerable to climate change and extreme weather events.
The latest such study is the Global Climate Risk Index 2020, which was released by Germany-based environmental think tank Germanwatch during the United Nations Climate Change Conference or COP25 in Spanish capital Madrid on Dec. 4.
The study showed that in 2018, the Philippines ranked second only to Japan among countries most affected by extreme weather events. Japan ranked alongside Germany as the hardest hit by heat waves and drought, while the Philippines ranked second among those battered by tropical cyclones.
Japan and Germany are members of the Group of Seven most advanced economies, and can cope better with natural calamities. On the other hand, the Philippines, with its limited resources, must be more innovative in disaster preparedness and climate change adaptation.
COP25 is currently discussing measures to assist lower- and middle-income economies particularly in terms of financial and technical resources. The Duterte administration, however, has been cool to receiving foreign aid from some of the biggest members of the global donor community. This stance must be backed up by intensified efforts to make the Philippines more resilient, not only to extreme weather events but also to the numerous natural calamities that hit the country regularly.
Earthquakes and even ordinary typhoons in this country can cause extensive destruction and displace thousands, sometimes permanently. Authorities say approximately 1,700 schools nationwide currently need rebuilding or major repairs due to such disasters, disrupting education. Extensive crop damage undermines food security. Extreme heat damages coral reefs and threatens aquatic resources. Periodic droughts destroy rice harvests.
The impact of extreme weather is widely known in this country. With experts raising the alarm over the extreme vulnerability of the country, complacency is not an option.